Real Talk: Bryan & Copper Aren't Compatible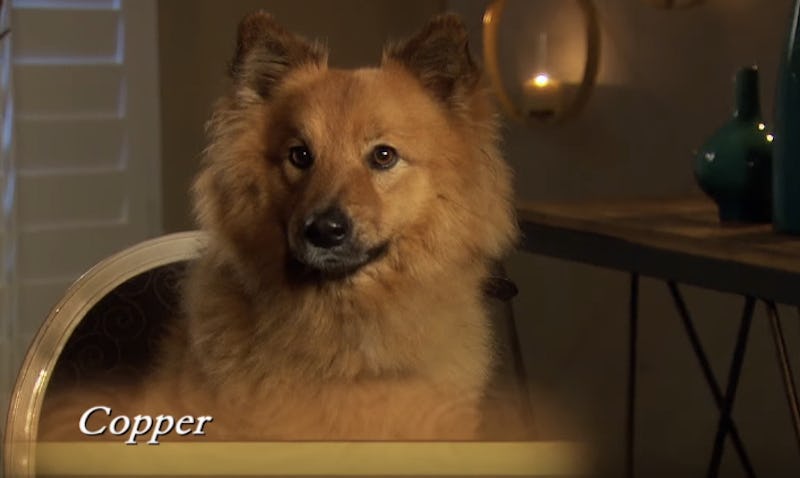 ABC
When Rachel Lindsay gave out her final rose, not everyone was pleased. After an emotional breakup with fan favorite Peter Kraus, Rachel accepted Bryan Abasolo's proposal, and to call the engagement controversial is an understatement. Fans were wary of Bryan for a lot of reasons; namely, that he he seemed like a player and was apparently on a reality show called The Player. Of course, what the audience says or feels doesn't matter as long as Rachel is happy, and she certainly seems to be, but there is one opinion that does matter: that of her dog, Copper. The Bachelorette's pup hasn't barked on the matter, but there are plenty of reasons that Copper and Bryan aren't compatible.
This season, viewers were blessed with a visit from Rachel's loyal best friend, and he got much of his screen time during on a one-one-date with Peter. Rachel made sure Peter knew her dog was a tough critic, but the contestant had no issue bonding with the pup. Copper was equally taken with the Peter from the moment he saw the suitor's blue eyes and salt-and-pepper hair, not unlike those of a Siberian Husky. Rachel, having suspected that Peter might love animals, took the contestant and Copper to a dog party called BarkFest.
The puppy and potential next Bachelor definitely connected on the one-on-one date, but fans didn't get to see a similar spark between Bryan and Copper. Here are all the reasons that Bryan and Rachel's pup might not be a good match. (Please, please, don't take this too seriously. Dogs like anyone who has treats and pets them.)
Copper Is Well Groomed
On an especially stylish season of The Bachelorette, Bryan's basic suits and casual wear were blander than dog biscuits. Sweatpants with a polo shirt? Woof. When it comes to picking a dog-dad that Copper (who clearly takes pride in his well-groomed fluffy appearance) would be happy to be seen out on the town with, it might be a big paw pass on Bryan.
Copper Wouldn't Like Florida
How is it clear that Copper isn't a Florida kind of guy? Have you ever walked around in humid, 98-degree weather wearing a fur coat?
Bryan Doesn't Have Any Pets Of His Own
Bryan's hometown date with Rachel was infamous. His family made a strong impression, and it was revealed that the suitor's last girlfriend didn't get along with his mother, which contributed to the relationship ending. It was a lot of pressure for Rachel, and an adorable pet would surely have taken some of the stress out of the situation. However, Bryan had neither a cat nor a dog nor even a fish to introduce to Rachel, suggesting he simply wasn't an animal person.
Bryan Doesn't Know How To Hold A Dog
A lot is happening in this picture, and the dog doesn't seem too thrilled about any of it.
Copper Is Rachel's True Love, And He's Not Going Anywhere
Bryan won the rose and made his proposal, but at the end of the final episode, it's clear who the real winner is. A guy who is somewhat quiet, attentive, and loyal. Someone who loves to be outdoors, but also enjoys a good party. That guy is Copper.
Bryan Wants To Replace Copper
Touché, Bryan. Sure, that puppy is cute, but Rachel established early in the game that Copper is the No. 1 man in her life. It's clear from Bryan's ploy to bring more pups into the picture that he just doesn't understand Copper and Rachel's bond.
It was a season filled with drama and controversy (doggone it, is anyone over that finale?), but every fan can agree that Copper's moment in the spotlight was one of the best parts of the season. If he stole attention away from the contestants, it's only because he's a huge part of Rachel's life, and will always be a priority. At the end of the day — and the reality series — all that matters is that she is still a good dog-mom. While Copper and Bryan might not be completely compatible, Copper and Rachel have a bond that will last forever. (And, OK, Rachel and Bryan maybe do, too.)