Balenciaga's Car Freshener Key Ring Is $267, But You Can Get The Look From Your Local Gas Station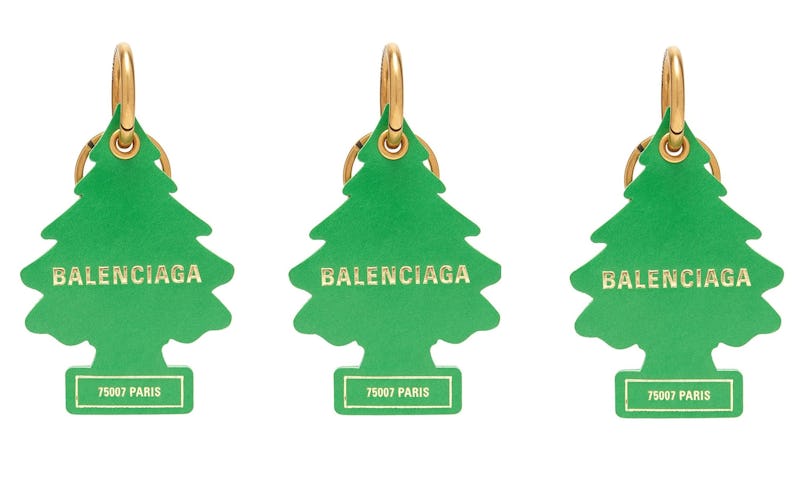 Balenciaga
Rich people love taking middle-class stuff and giving it an expensive twist, creating quirky fashion accessories with hair raising price tags. From creating python skin "grocery bag" handbags to platinum "bean can" pen holders, a lot of common, everyday things get a luxurious twist — and Balenciaga's air-freshener tree key-chain is the newest example of that.
Pulling inspiration from the staple gas station car accessory, the luxury fashion house re-imagined it to hang from your keys rather than your rear-view mirror. The piece comes in a bevvy of different leather color options, with the word "Balenciaga" and and the address of the house's Parisian headquarters hot-stamped in gold across the front. The accessory comes complete with chunky gold hardware, and you can clip it either to your house keys or to your purse or backpack, giving it a quirky update.
While an eccentric idea, the price tag attached to it might make you pause. While normal car fresheners usually clock in at around $3, Balenciaga's version will set you back $267, making it a truly luxurious purchase. This isn't the first time that the fashion house played with common household items and gave them an expensive upgrade, either. The brand also dropped a $195 version of a '90s slap bracelet, which usually costs around 50 cents.
While the slap bracelets we rocked on the playground were made out of plastic and came in a bevvy of outrageous and colorful prints, Balenciaga's high-end version comes in black leather with their brand logo emblazoned across it, and is made in Italy by professional craftsmen.
Of course, Balenciaga's tongue-in-cheek designs are totally intentional. Demna Gvasalia, the creative director, loves to play with people's fashion expectations and create these high-low collections that get fans talking. His goal is to reject the "aspirational" feel of a luxury label by dabbling with commonplace designs. In fact, he has openly admitted to fashion critics, "it's ugly, that's why we like it."
A great example of that is Gvasalia's $2,145 IKEA inspired Balenciaga bag, which took the floppy blue shape of the tarp-like bag and reworked it in leather. IKEA thought the dupe was hilarious, and shot back with an ad campaign that helped customers identify the real from the fake.
He also came up with the "trash bag" shirt, which looked like was made out of a bin liner but shaped into a collared shirt. Taking a trash bag aesthetic and reworking it in a $755 blouse is right on theme with Gvasalia's vision to make designer labels feel less snooty and elitist. You can't really feel too snobby about your fashion when you're wearing an outfit that literally has the word "bin shirt" in its description.
Let's also not forget the designer's seven-layered jacket that it's currently selling for $9,000. It has a "combination of plaid shirts, jersey hoodies, and technical fleeces" that make it look Joey Tribbiani-esque.
Ironic items of clothing sold at astronomical prices aren't anything new for the label — and because of their bold, risk-taking designs, we're all treated to a dose of playful absurdity in the fashion world.