There's Now A Frida Kahlo Barbie & Other "Sheroes" Are Getting Their Own Dolls, Too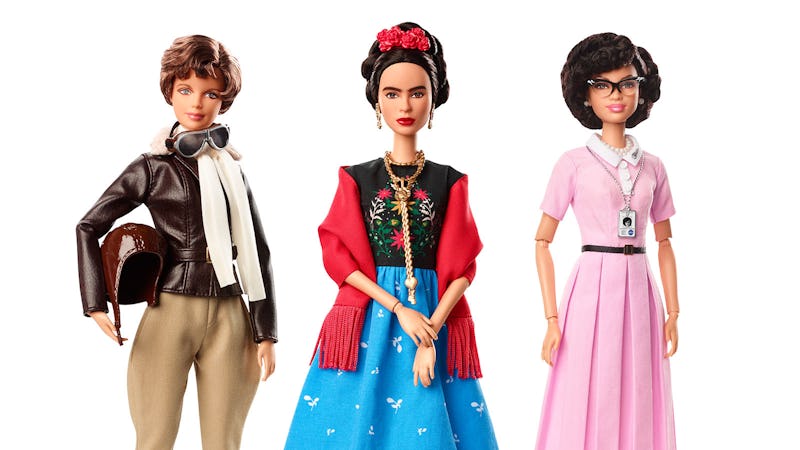 Courtesy of Mattel
Just in time for International Women's Day, Mattel — the makers of Barbie — have a seriously feminist announcement. The toy company is launching 17 different dolls honoring real, inspiring women, both contemporary and historical, to commemorate the achievements of female groundbreakers in industries from art to food to engineering. And whether you're a doll aficionado or a lover of strong, amazing women who broke barriers, there's something in this doll collection to appeal to you.
The Inspiring Women doll line and "Shero" program are bringing feminist figures to a Barbie near you, like pioneering pilot Amelia Earhart, legendary artist Frida Kahlo, and mathematical genius Katherine Johnson, recently immortalized in Hidden Figures, whose work with NASA meant that American astronauts went to space successfully. All three have huge historical legacies and cast long shadows, and the dolls have faces modeled to resemble their real-life counterparts. Importantly, the dolls are flexible-jointed; no stiff, unrealistic posing in front of equations or plane controls here. Other figures will be available as one-of-a-kind dolls, like Olympian Chloe Kim and conservationist Bindi Irwin, according to a press release sent to Bustle. All the women being honored by Barbie challenged gender expectations about women's intelligence, roles, capabilities, sexuality and power, and giving children the opportunity to hold and play with them makes them role models with real impact. I can barely resist nabbing a Johnson doll and playing NASA space scientist for myself, as a grown-ass adult.
The other part of Mattel's approach to International Women's Day in 2018 is about contemporary figures — and it's pretty touching. The company, which is known for immortalizing famous people in Barbie form, has released a collection of 14 "Shero" figures celebrating inspirational women from all areas of life, from sport to conservation and technology. The line-up of women who will be immortalized as Barbie "sheroes" is extensive — and diverse.
Some of the names may not be immediately familiar to American audiences, but that's likely part of the design (because, heck, there are tons of women doing amazing things worldwide). While well-known celebs like Chloe Kim, the gold-winning Olympian snowboarder, and Wonder Woman director Patty Jenkins are featured, the collection is also serving to highlight women who deserve more of a spotlight than they've received in the past.
Bindi Irwin, the conservationist daughter of Steve Irwin, is on the lineup, as is Turkish windsurfing champion Çağla Kubat, the "best chef in the world" Hélène Darroze, from France, Chinese actor Xiaotong Guan, British boxing champion Nicola Adams, CBE, Chinese volleyball team captain Hui Ruoqi, Mexican golfer Lorena Ochoa, Spanish fashion designer Vicky Martin Berrocal, prima ballerina Yuan Yuan Tan, German entrepreneur Leyla Piedayesh, and Polish journalist Martyna Wojciechowska. Each woman has made an enormous impact in their disciplines and countries, and now, they're being featured as the faces of the future.
The Shero collection has been going for a while. It's also included luminaries like Ibtihaj Muhammad, the first American Olympian to compete wearing a hijab, and a fencing bronze medallist. Ava DuVernay, Ashley Graham, Misty Copeland, and Gabby Douglas have also been immortalized as Barbies. These dolls are limited-edition; the only versions of the first round of Shero dolls still available on the Mattel website are Douglas and Copeland. Clearly, there's a deep hunger for dolls that represent real-life heroes.
It remains to be seen how many of these new Sheroes and Inspirational Women are made, and how they fly out of stores. I'm very likely going to be lining up for some of these dolls — but I sense I'll be fighting off some very enthusiastic children who also want to take their heroes home.