Barb's Emmy Nomination Has People Angrier Than A Demogorgon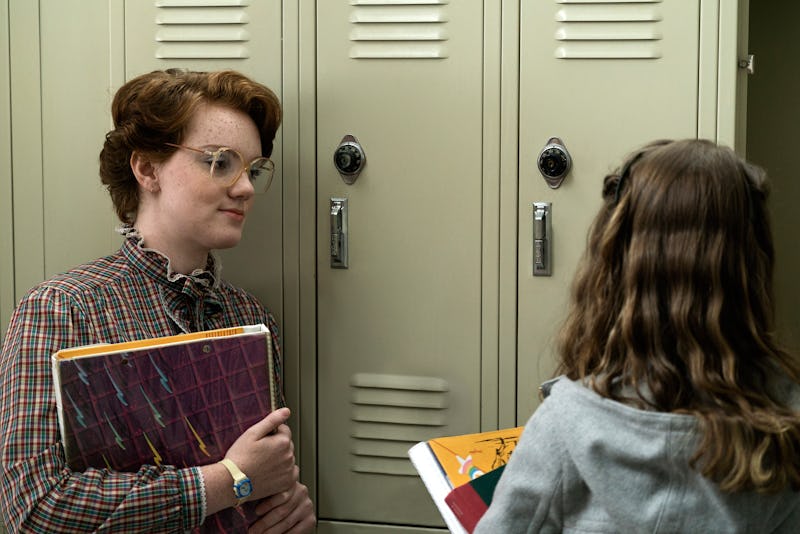 Curtis Baker/Netflix
At last, #JusticeForBarb has finally been achieved — or has it? Just after Stranger Things first premiered on Netflix in last year, fans fell head over heels in love with Barb, whose tragic fate at the hands of the Demogorgon served as a cautionary tale for the other kids of Hawkins, Indiana. Barb won't be coming back for Season 2, but her legacy is now secure, as newcomer Shannon Purser has been nominated for an Emmy Award in the category of Outstanding Guest Actress In A Drama Series. Except some people aren't happy that Barb was nominated for an Emmy, and they're not afraid to make their opinions known online.
So far, the prevailing criticism seems to be that Purser's role, although beloved by many, wasn't meaty enough to earn her an Emmy nomination — and I don't know that I disagree, to be honest. Don't get me wrong, I am a firm believer in Barb and am tremendously excited to see Purser continue to get work, because I think she's great. But I'm not sure that I walked away from Stranger Things thinking, "By gum, this girl deserves an Emmy for this part!" Maybe in a few years when she's given the leading role she clearly deserves, but surely not yet… right?
Even stranger (eh? Get it? Ehhh?), Winona Ryder wasn't nominated for her role as Joyce Byers. Again, I love Barb, but even I have to point out what an odd choice that is — she might not have had psychic powers like Millie Bobbie Brown or a cop badge like David Harbour (both of whom were nominated in supporting categories, and rightfully so), but Ryder's role as grieving mother was the glue that held the whole show together.
So why was Barb nominated? Maybe because the Internet is obsessed with her. As The Ringer pointed out in August, Barb only had six scenes and yet spawned over 200,000 pieces of "content" on Google News. Like it or not, her presence on the show struck a nerve, so it's no surprise that enough members of the Academy of Television Arts and Sciences voted Purser for during selection process that she was able to land a nomination.
Personally, I feel that this point is moot either way given who else appears in the category this year: namely, Cicely Tyson in How To Get Away With Murder, Laverne Cox in Orange Is The New Black, Alexis Bledel in The Handmaid's Tale, Alison Wright in The Americans, and Ann Dowd in the Leftovers. All of those series are beloved by critics and fans alike, and it's much more likely that one of those women will eventually come away with the prize at the end of the night.
Still, you know what they say — it's an honor to be nominated, and nobody on the internet can take that away from Shannon Purser, no matter how undeserving they think Barb might be.