Baskin-Robbins Just Launched "Energy Freezes" That Are Basically Caffeinated Ice Cream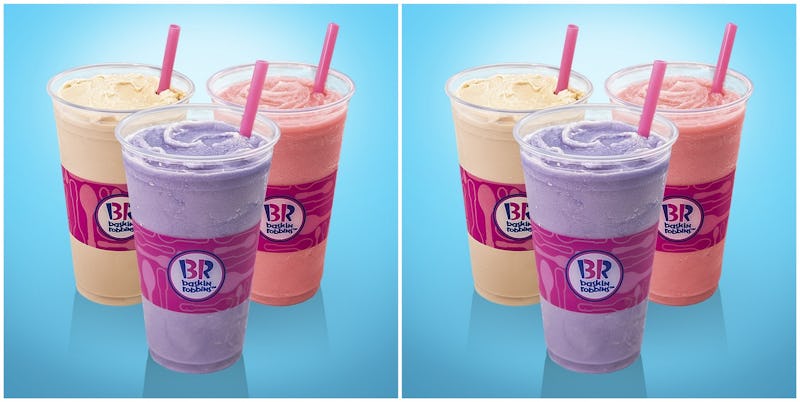 Baskin-Robbins
I don't know about you, but for me, this summer has been uncomfortably hot. (Hi there, climate change.) But hey, guess what? If your favorite ways to cool down include both tasty treats and a whole lot of caffeine, Baskin-Robbins has two new Freeze flavors now — and both of them use energy drinks as their base. Baskin-Robbins' Energy Freezes, as they're called, blend up your choice of NOS Energy or Monster Energy with any flavor of sherbet or ice cream you like. What's more, you can sample them both on Aug. 5 if you truck on down to a participating Baskin-Robbins location — the ice cream shop will be holding a tasting event between 3 and 7 p.m. local time that day. Everybody wins!
Baskin-Robbins has had Freezes on the menu for some time; a sort of variation on the theme of a milkshake, they blend together not ice cream and milk, but any variety of scoopable frozen dessert and a carbonated beverage. Up 'til now, the two primary types of Freezes offered blended together either Sprite and Rainbow Sherbet or Coke and vanilla ice cream, although the Baskin-Robbins menu notes that you can also "come up with your own entirely new custom creation."
(Side note: This never gets old.)
The new Energy Freezes, which have just hit the menu, swap the soda for an energy drink; choose from Monster Energy or NOS Energy, whichever you like better. It's suggested that you use Wild 'n Reckless Sherbet — a colorful dessert consisting of ribbons of green apple, blue raspberry, and fruit punch-flavored sherbet all swirled together — as the frozen dessert element, although as with the Sprite and Coke Freezes, you're also welcome to pick any flavor of ice cream, sherbet, or ice that you like. Just keep in mind that some flavors might not mesh terribly well with the flavors of either of these energy drinks.
As for what those flavors are? Well… that's… not totally clear. I actually had never heard of NOS Energy before, although my lack of knowledge made sense once I looked it up: Apparently it's popular with folks who are super into motorsports. It's named for a brand of nitrous oxide engines, so that's unsurprising; also, I am not super into motorsports, so it is equally unsurprising that I would be unfamiliar with NOS — either the engine or the energy drink. Word on the street is that the flavor of the original version is something citrus-esque; some think it's specifically grapefruit, for whatever that's worth. There are 160mg of caffeine in a 16-ounce can of NOS.
Monster, however, I am quite familiar with, even if I don't make a habit of drinking it; it's hard to miss in those little coolers they put up at the front of grocery store checkout lines. Like NOS, a 16-ounce can has 160mg of caffeine. Hilariously, though, no one is really quite sure what the original flavor of the drink is meant to taste like; Sprite and pineapple are popular answers, but neither of them have been confirmed as accurate. Perhaps Monster Energy is one of those rare items which is able to be all things to all people.
In any event, you can probably expect something with a bit of a citric bite to it from both energy drinks — so if you get an Energy Freeze, it would probably behoove you to make sure your sherbet or ice cream choice will complement the drink you choose, rather than clash with it. Chocolate, for example? Probably not a great choice. Any of the sherbets, however? Those should be fine. Heck, even straight-up vanilla ice cream would likely work.
At the same time, though, you do you. If chocolate ice cream plus Monster Energy Drink sounds like a good time to you, go forth and enjoy it. You are a far braver person than I.
If you don't mind not having much of a choice in the matter, though, you can also taste test one of the new Energy Freezes on Aug. 5 — for free. According to a press release, participating Baskin-Robbins locations will be giving out free samples of both the Energy Freezes and the Sprite and Coke Freezes this Sunday from 3 to 7 p.m. The flavors on offer will be the default options suggested by the Baskin-Robbins Menu, notes Chew Boom — that is, the two Energy Freezes will be made with Wild 'n Reckless Sherbet, the Sprite Freeze with Rainbow Sherbet, and the Coke Freeze with vanilla ice cream.
Even if you opt to skip the sampling event, however, know that you've only got a limited time to give the Energy Freezes a shot; they'll vanish from the menu after Aug. 31. Just, y'know… fair warning.
Find out more about these two sweet treats at Baskin-Robbins' website.