The BBC Has A Counterintuitive Strategy For Competing With Netflix & You'll Love It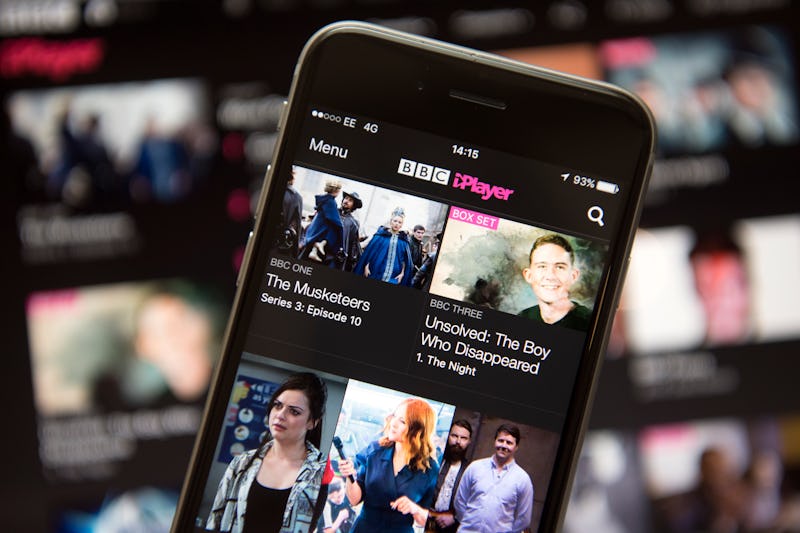 Carl Court/Getty Images News/Getty Images
With Netflix, Amazon Prime, and the various TV channel catch up services sometimes I wonder what people did with their evenings before all this was on offer. And that isn't even including YouTube. Read a book? See friends? No, that would require going out after 9 p.m. Competition for our attention is so fierce and we are basically spoilt for choice. In a bid to combat competition from Netflix, BBC iPlayer will reportedly reduce programming online. So what is getting the cut?
The Drum reported that the BBC will adopt a "quality over quantity strategy," focusing on iPlayer, news, music and spoken word, weather, sport, children's content, BBC Bitesize and the BBC home page, as these areas of the website drive 90 percent of the BBC's online audience. The outlet quoted director general Lord Hall as telling staff, "In the global marketplace against well-resourced competitors we have to concentrate on a smaller number of standout services that deliver our very best content online."
When approached by The Sun about these reports, the BBC "confirmed plans to strengthen BBC iPlayer," adding that less popular content would be reduced over time. The Sun also quoted a report by the Daily Telegraph that both BBC Arts and BBC Earth will get the cut in a bid to make more profitable parts of the website more prominent, but a BBC spokesperson told the newspaper that was "speculation."
Making BBC content more accessible will only be a good thing, and thank the lord we are all still going to be able to watch Stacey Dooley do her thing on BBC Three.
We have never had so many streaming options. Who cares if you aren't in on Tuesday night when the Great British Bake Off is on, you can just catch up over breakfast on All 4 on Wednesday morning. Half the programmes that I am so obsessed with aren't even shown on TV. I discover them when I am three hours into a Netflix marathon and see no signs of finding my way out.
It appears there are changes afoot with the broadcaster's online content as it is reported they are also looking to bring in a younger audience. The Mirror reported that in March 2018 the BBC announced that it would be launching a new children's app. I only have to visit any given coffee shop after 4 p.m. to know that half the ten year olds in there are more tech savvy than me with their iPhones and tablets so this sounds like a step in the right direction.
Speaking about the development of the app aimed at six to 12-year-olds, the Mirror reported that a BBC spokesperson said it, "will provide a daily diet of inspiring, funny and fascinating facts, as well as enable young users to upload and share their creative endeavours, building social communities around particular passions."
Whilst change is sometimes a little bit difficult to digest, no one was sitting on their sofa watching streaming services of an evening a decade ago. If broadcasting catch up services want to keep up with the popularity of the likes of Netflix then tough decisions will have to be made and it looks like the BBC are moving forward and stepping up. I am just happy at the end of the day I am still going to be able to sit down and watch some vintage Louis Theroux moments.