'Beautiful Boy' Is Based On A Real Family & They're Sharing Their Story For Good Reason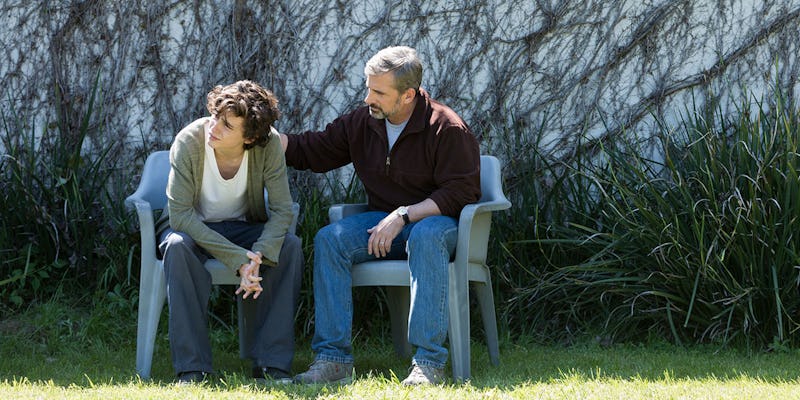 Courtesy of TIFF
In Beautiful Boy, Steve Carell plays a father who's struggling to help his teenage son, played by Timothee Chalamet, beat his addiction to meth. Beautiful Boy is based on a true story, and Chalamet and Carell have spoken publicly about feeling apprehensive about portraying real people — David and Nic Sheff — in such a raw and honest film. But those fears were assuaged after the Sheffs met the actors in real life.
Warning: This article contains information about addiction, which some may find triggering.
At the Toronto International Film Festival in September, Chalamet told Variety, "It was all trepidation on my part... which was immediately settled by [the] extraordinarily warm and kind and intelligent and wise person that Nic is."
Carell also talked about the enormous responsibility he felt while portraying David Sheff. "It's interesting playing something who lived this life, it's not just from your imagination," he told IMDB. "You want to do justice to the story, you want to do right by the story and you want it to be as honest and truthful."
Both Chalamet and Carell had a lot of truthful material to work with as Beautiful Boy is based on two memoirs, which Nic and David Sheff wrote separately. David first wrote a 2005 article for The New York Times Magazine titled, "My Addicted Son." Then, in 2008, David published a book based on that article called Beautiful Boy: A Father's Journey Through His Son's Addiction. Just a few months before that, Nic published his own memoir called Tweak: Growing Up on Methamphetamines.
As you can imagine, the real-life Sheffs who actually lived through the heartbreaking experiences chronicled in the movie had their own fears about having their stories told on screen. In an interview with The Washington Post, David said, "To put this in someone else's hands was really scary." But it was the creative team's take on the material that made them want to allow it. "What convinced us was what Jeremy [Kleiner, a producer] said: Addiction has always been portrayed with the same few cliches over and over again. He said that he was committed to showing addiction the way it is: no easy answers. Everything about it is complicated," he added.
The way that Beautiful Boy portrays Nic's battles with his addiction to meth will likely hit home for anyone who has seen similar struggles up close. In the movie, Nic clearly feels a powerlessness in the face of his addiction while David continuously tries and tries again to help his son get sober. At times, both their battles seem truly hopeless. Watching the movie and knowing that this really happened to the Sheff family makes it even more impactful, but it also helps to know that a happy ending is possible. Now, Nic is clean and sober and he's thriving as a TV writer for 13 Reasons Why.
Nic, who's now 36, told The Washington Post that he shares his father hope that exposing their family pain with Beautiful Boy could help others. With their two books, the Sheffs have already touched many people struggling with addiction in some way. "After sharing our stories, we've been able to really connect with all these different people that have either had similar experiences... It's been an amazing example of how being open and sharing can facilitate those kind of conversations," Nic said.
Now, with the film coming out, those who battle addiction or who have loved ones who do can connect with the Sheffs' story in a new, powerful way.