Bebe Rexha Tells Designers "You Wish You Could've Dressed My Fat Ass" At The Grammys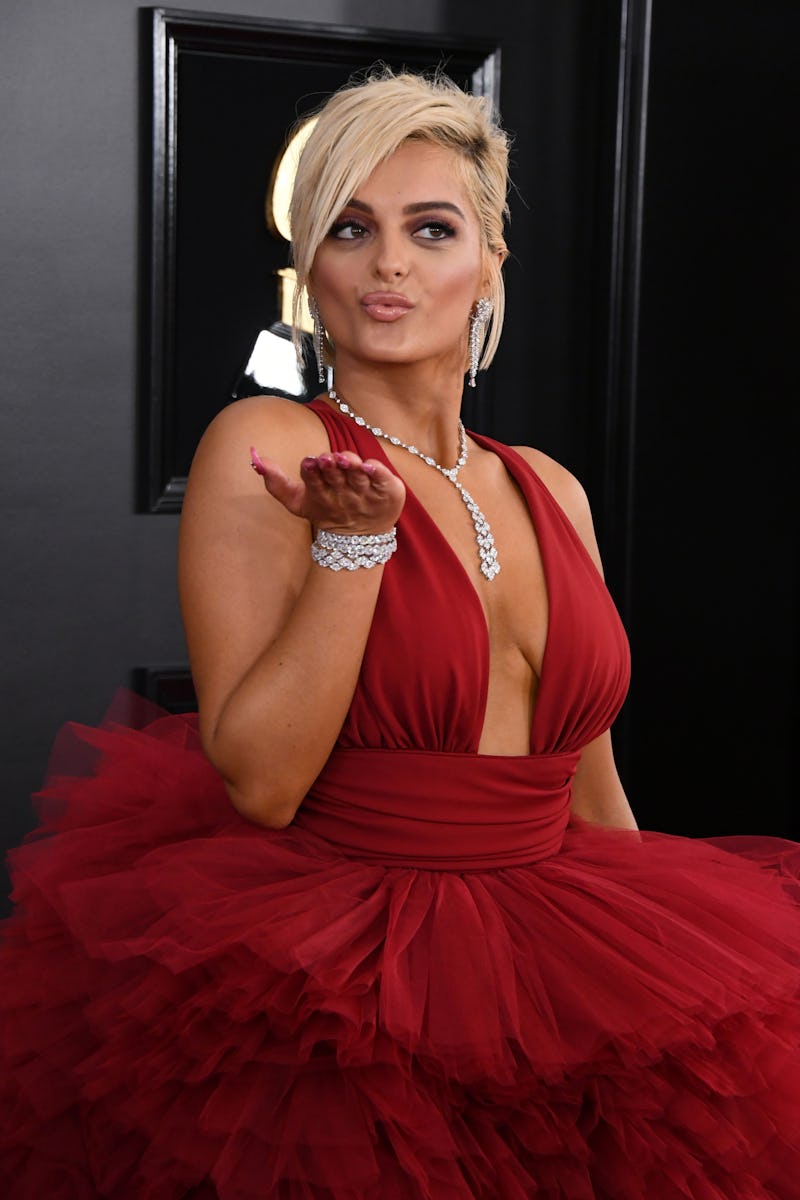 Jon Kopaloff/Getty Images Entertainment/Getty Images
The Grammys red carpet is a fashion show that veers on the bold and creative, but not all artists get to experience that level of individuality. Bebe Rexha addressed the designers who didn't want to dress her for the 2019 Grammys, posting an Instagram video before the awards show that highlighted how not all bodies get the same level of treatment for the big event.
The Best New Artist and Best Country/Duo Group Performance nominee was excited to jump into the dress picking process, until she found out that many of the designers weren't willing to work with a non-show size body.
"I was in the studio one day and one of my friends called me — and he's a stylist — and he told me that a lot of designers, we couldn't get them because I didn't fit in the show sizes, which is a 0 to 2," Rexha told E!
She shared her frustrations with her fans with a video that she posted on Jan. 21, where she explained the events of trying to find a dress worthy of a red carpet.
"So I finally get nominated at the Grammys and it's, like, the coolest thing ever," Rexha said in the video. "And a lot of times artists will go and talk to designers and they'll make them custom dresses to walk the red carpet. … So I had my team hit out a lot of designers and a lot of them do not want to dress me because I'm too big."
Rexha is a size 6-8, where she still clocks in at the standard size scale. "If a size 6-8, is too big, then I don't know what to tell you. Then I don't want to wear your f-cking dresses," she went on to say. "'Cause that's crazy. … You're saying that all the women in the world that are size 8 and up are not beautiful, and they cannot wear your dresses. So to all the people who said I can't wear your dresses, f-ck you, I don't want to wear your f-cking dresses."
After the video went viral, there was an outpouring of support from fans and celebrities alike — including Tyra Banks and Demi Lovato — and the designer Monsoori offered to dress the artist for the big night. Rexha ended up walking the red carpet in a plunging red halter top gown, with a tiered tulle skirt that added plenty of drama.
"It's been amazing. I didn't expect it. I just did the video because I was really heartbroken, and it, like, bummed me out," she shared with E! "They said I was too big or fat, and I love my body and I just want other girls to love their bodies."
The dress had some definite princess vibes with its head-turning skirt, which was exactly what Rexha was after. "I want to have, like, a Cinderella moment," she shared on the red carpet. "I can't believe that I am finally nominated for a Grammy – two Grammys. To me, this is my Cinderella moment."
Then to really cinch her pleasure in the dress, she showed off the gown while talking to Access, before turning to the camera and telling the designers, "You wish you could have dressed my fat ass."
Mic drop.