This Highlighter Looks Like A Creamsicle & Will Give Your Skin The Perfect Summer Glow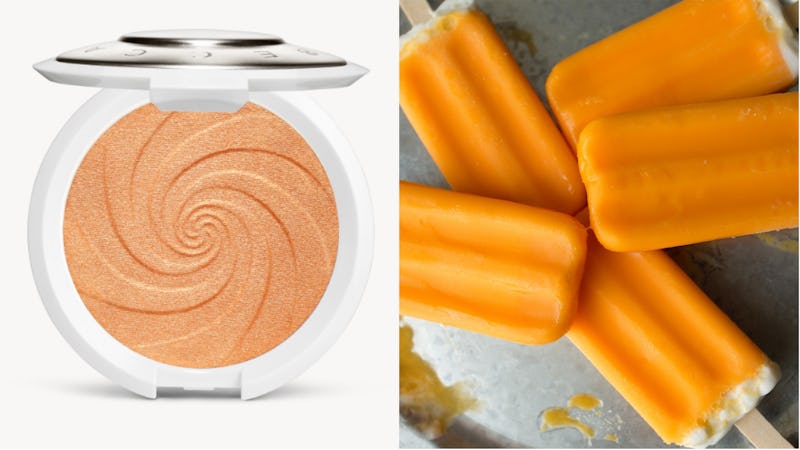 Courtesy of BECCA, Aimee M. Lee/Shuttterstock
Highlighters are having their moment and they're likely not giving up the spotlight anytime soon. From mythical creatures to gemstones, the glitziest illuminators have been inspired by any and everything, and now sweet treats have made it onto that list. Inspired by a summertime staple, BECCA's new Dreamsicle Presseed Highlighter is the latest must-have shimmer to hit the beauty scene.
It looks like summer 2018 is going to be one hell of a sparkly season. Even if your brows aren't fleeky or your lip gloss isn't popping, your highlight is guaranteed to be on point if you're hip to the illuminators launching just in time for warmer weather. Fenty Beauty's Body Lava shook the beauty community to the core, leaving fans feigning to douse their bodies in liquid gold. Then there was the Bretman Rock x Morphe collab resulting in an entire highlighter palette fit for a glow mama. Even BECCA recently hopped onto the summer glow train, expanding their highlighter range with a lustrous gold that could pop against any skin tone. So you'd think that by now, the market would be flooded with illuminators.
Yet another dose of sparkle couldn't hurt, though. After all, you could never have too many highlighters, especially when they look as dreamy as BECCA's new stunner.
The Dreamsicle highlighter almost looks good enough to eat, radiating from the skin with a orange glow that mimics the hue of the desert that inspired it. Described as "a soft tangerine shade wrapped in a vanilla and gold pearl swirl", the Shimmering Skin Perfector is the first peachy hue to join BECCA's lineup of glitzy golds, iridescent pearls, and soft bronze illuminators.
Retailing for $38, BECCA's standard price for pressed highlighters, the newbie stuns against any complexion. It's BECCA's unrivaled, pearlescent formula that melts into the skin like butter to deliver an immaculate glow, but this time with a tangy twist that's so perfect for the summer.
With an exterior that differs from the brand's usual dark brown and gunmetal shell, it's obvious that this frozen treat-themed highlighter is BECCA's way of switching things up for the upcoming season. Even the shimmer's packaging and interior design takes things up a notch.
Swirls featured on the packaging and pressed into the powder are a step on the wild side for BECCA, who usually keeps design elements clean and sleek. But they're the oh so fitting additions that make you want to scream for ice cream with just one glimpse of the Dreamsicle highlighter.
A limited edition stamp means it may not be available for long, perhaps just until warm weather seasons are over. That's probably why it didn't take beauty lovers long to act on their impulse to snatch up this summer glow perfecter while they still can.
Swatches are always a must to be absolutely posilutely sure that a highlighter would suit your complexion. But even without a test drive, Dreamsicle looks like a winner.
You know the love for a new product is real when fans start breaking out the streams of emojis. All of the heart eyes, crying faces and praying hands say it all.
The brand that's already known for producing some of the best liquid, cream, and powder highlights around, just may have a new bestseller on its hands.
Until it's gone for good, you can add this gem to your glow collection by shopping via BECCA's website or Sephora. Fingers crossed that it's such a hit that BECCA converts the shimmer into liquid highlighter formula. This scrumptious shimmer is already the next best thing to the yummy popsicle, so being able to douse your body in it would be an absolute dream.