The Inauguration Hurt, But The March Gave Me Hope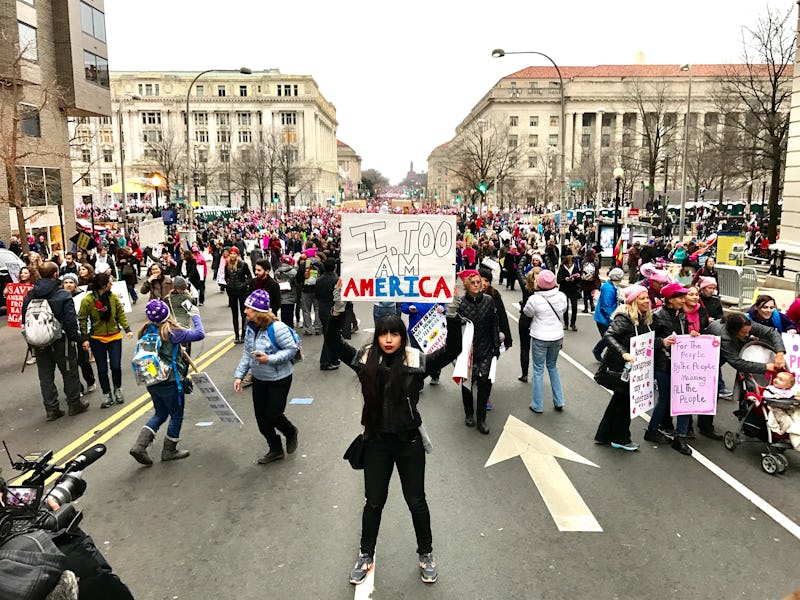 I had grandiose plans for the morning of Inauguration Day. Many workers in Washington, D.C. had the day off, and I wanted to take full advantage by indulging in as much self-care as possible. I intended to hit the gym bright and early, grab coffee at a local café, and eat a big breakfast. Instead, my alarm went off, I checked Twitter, saw Barack Obama's final tweets as president, and absolutely lost it. I wasn't ready to accept that this would be the last morning he would be my president. And I definitely wasn't ready for his successor to take over.
Unfortunately, I wasn't living in D.C. during either of Obama's inaugurations. But I knew how historic they were, and that inaugurations are typically all-hands-on-deck affairs — the city had effectively shut down, as it does during most inaugurations. This year, I expected the streets to be full of red hats and MAGA banners. But what was supposed to be an overwhelming event for the District ended up feeling more like an afterthought. If it weren't for the road closures and amped-up law enforcement presence, the day would've felt like any other day — minus that whole "omnipresent cloud of impending doom" thing.
I observed many locals going about their days as routinely as possible — going for runs, stopping at coffee shops, walking the dog. It was as if we'd all made this collective agreement to tune out the crazy shitshow that was unfolding in our own backyard. Sure, the country just put someone who is wrapped in scandal, has a very loose handle on the concept of "facts," and is considered a threat by Human Rights Watch into the Oval Office and the world may feel like it's coming to an end, but other than that, this is fine.
Late that morning, my partner and I walked from our apartment in southeast D.C. to the United States Capitol so that we could see the Obamas as they departed on Marine One. It was important to me that I be there. Obama was the first president I voted for, and I came of age during his presidency. In a very literal way, I grew up with him. I had to say farewell and — most of all — thank you, so I brought a sign that read "Thanks, Obama" to convey my genuine appreciation for the outgoing president.
On my way to the Capitol, I saw only a handful of Trump supporters. Men donning MAGA pins and t-shirts hawked their merchandise behind makeshift booths. The streets were sparse, and an unusual quiet hung low across the city. Everything was in living grayscale.
We arrived near the east side of the Capitol just before the swearing-in ceremony. Dozens of us stood huddled near a black fence about half a mile from the Capitol. Passersby asked, "What's going on?" When we explained that we were watching the Obamas leave, they immediately stopped what they were doing to join the group. It had been an overcast but clear Friday morning. Right after Trump was sworn in, droplets slowly started to fall from the sky.
I'll never forget watching that helicopter take off. I felt an unsavory mixture of sadness and confusion. We have come so far — how could we fall so far back? Obama was not a perfect president, but he was a good man. His pragmatism, humility, and love and respect for his family — especially when compared to that of his successor — cannot be called into question. When Marine One vanished behind the silhouette of the United States Supreme Court, I was hit with a tsunami of a realization: Decorum and decency no longer have a place in our democracy.
As we walked back to our home, the inauguration crowd began dispersing into the streets. I clutched my "Thanks, Obama" sign and silently weaved my way through the sea of red hats and American flags. I was sneered at and ridiculed by several Trump supporters. An elderly white man called me a "whiner" and an elderly white woman said, "Hey missy, burn that sign."
I ignored them all.
I also heard angry chants of "Hillary's a whore" and "Trump that bitch" from random people as I walked by. Nothing new, but it was incredibly jarring to see my own neighborhood become overrun by so much hate and animosity. Their guy won; why did they feel so threatened by my small gesture of gratitude? I didn't witness the victorious mood that I had expected. They seemed more interested in harassing me because of my sign than celebrating with each other.
For the rest of the day, I followed bits and pieces of the inaugural coverage on social media, but refused to watch or stream anything live. I have yet to hear Trump's inaugural speech. Vanity Fair described it as "dark" and "dystopian," which, interestingly enough, perfectly aligns with the atmosphere in D.C. that day.
The next day, however, was a different story. I woke up electrified and ready for the Women's March on Washington. Nina Simone, Nancy Sinatra, and Marvin Gaye served as my soundtrack as I drank coffee and made my sign, which read: "I, too, am America."
The line — from Langston Hughes' "I, Too" poem — has always struck a chord with me. As a first-generation American and woman of color, I don't feel a sense of belonging among predominantly white and male groups. It's a frustrating experience because I was born in this country. I speak the language. I am a product of the public education system. I pay taxes. I am an engaged citizen who votes and is critical of our institutions. I am American through and through. And yet, I am so frequently subjected to the questions of "Where are you from?" and "What are you?" because my skin is brown and my name does not roll off the tongue with ease.
My partner also accompanied me to the march, and the minute we stepped outside, we saw marchers walking toward the rally. The groups grew bigger as we approached downtown D.C., and by the time we reached Independence Avenue near the U.S. Botanic Garden, floods of people poured in from all directions.
I was awestruck.
I had been optimistic about the march, but I was hesitant to have too-high hopes. I thought that if we could reach the numbers of the 1963 March on Washington, that would be an achievement in and of itself. Anything more would be a bonus.
And wow, what a bonus it was.
The Washington, D.C. march alone drew in more than 500,000 people. Globally, the marches brought together millions of participants. Although the official inauguration numbers aren't in, it's likely that more people traveled to the nation's capital for the women's march than they did to see Trump take the oath of office.
The crowd in D.C. was full of energy. Chants of "This is what democracy looks like!" and "Build bridges not walls!" roared from the bellies of women and men alike. I was pleasantly surprised by the diversity; over the course of the march, I encountered people of all ages, colors, religions, disabilities, sexual orientations, and gender identities. And the reactions to my protest sign were markedly different from the reactions I received the day before. Several people came up to me and said that the message resonated with them. Others wanted to take a picture. Some recognized the line from the poem and nodded their heads in solidarity.
After veering off the official march route, I wandered along 14th Street near the Washington Monument. The crowds kept multiplying. Bleachers that had been virtually untouched during the inauguration were now overflowing with marchers. Taxi and Uber drivers — notoriously impatient and easily aggravated in D.C. — seemed unbothered as marchers took over the streets. Many honked their horns and waved their fists in the air as a sign of unity.
For the first time since the election, I felt a tangible sense of hope. It was in the signs, in the chants, in the smiles from strangers. I was surrounded by people who shared in my fear and outrage, and they were all doing something about it. They were showing up. They were collectively saying that there's nothing normal or acceptable about this new political reality. And it's our responsibility to remember that transformation and progress are present-day activities. They are not projects that you put on a to-do list for the future. They are ongoing ventures that you start working on right now, in this very moment.
Over the course of two days, I experienced two strikingly different versions of D.C. One was dark, angry, hostile, and unfamiliar. The other was bright, ambitious, hopeful, and welcoming. Seeing all the marchers descend upon our nation's capital in support of common causes validated my belief that there is power in numbers. And while I'm still uneasy about those who now live and work in the White House, I know that I am not alone, and that a vast number of us see right through their hateful ideologies and gross incompetence.
In total, I walked nearly nine miles for the Women's March on Washington. But the real march is just beginning, and there are many more miles ahead.