Bekah Posted A New Pregnancy Pic, Proving The 'Bach' Alum Is Totally Embracing This Journey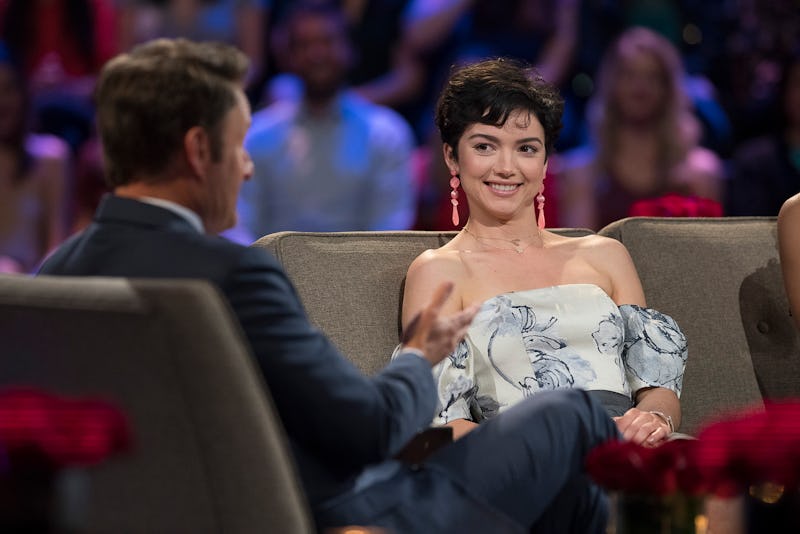 ABC/Paul Hebert
In the middle of last week, Bachelor fan-favorite Bekah Martinez announced she's pregnant with her first child. Now after keeping the pregnancy a secret for 20 weeks, Bekah M. shared a baby bump photo, showing she's fully embracing her pregnancy. Over the weekend, she posted the beach photo to Instagram, captioned, "smirky beach belly babe."
This is the first baby bump photo that Bekah shared since the big announcement. However, some of her Bachelor costars have shared personal photos and anecdotes about her pregnancy. Kendall Long posted a photo of the two of them sitting in a lifeguard stand and holding long stem roses while Bekah's bump peaked out from a crop top. Another one of Bekah's Bachelor costars Seinne Fleming posted a photo with the mom-to-be's bump on display. Seinne wrote, "I'm gonna be an auntie again!!! #babyBekahishavingababy."
Of course, Kendall and Seinne shared those photos after Bekah announced the pregnancy herself, i.e. they probably got the OK from the future mother beforehand, but Bekah posting the bump photo herself is in stark contrast to her previous privacy surrounding her pregnancy.
As a recap, Bekah announced the pregnancy in a Sept. 12 interview with PureWow. On that same day, Bekah also posted a video on YouTube documenting her journey to motherhood up until this point.
As it turns out, Bekah admitted in an Instagram Story that she was specifically asked about the pregnancy previously and denied it. She wrote, "I just want to say publicly I'm so sorry to a number of people I blatantly lied to about my baby." The Bachelor alum admitted, "I was very uncomfortable with the idea of this life-changing news being shared with others before I was ready."
Now, it's clear that she is very comfortable and proud of her pregnancy. Her recent baby bump photo probably (or at least hopefully) won't be the last one that she shares with her followers.
The 23-year-old nanny admitted, "Unfortunately very early on in my pregnancy, someone I trusted went to a news outlet about the information. I became very paranoid and private about the pregnancy after that." That's very understandable. No one wants another person to share her own personal news, and it's 100 percent her decision when and how to share that info.
Even though Bekah apologized for being so private and "blatantly lying" to people in her life about the pregnancy, she did receive a lot of support in response to her announcement. She shared another Instagram Story to say, "thank you for all the congrats and stories shared."
She wrote, "It's tremendously encouraging to hear your success stories from similar situations." Yes, she actually does read the comments on her posts and direct messages.
Bekah admitted, "I've been browsing all the sweet message and comments for the past 24 hours and my heart is full," as is Bachelor Nation's.
Bekah became an immediate favorite among the fans of The Bachelor, ever since the first episode of The Bachelor Season 22. She was easily one of the most intriguing contestants. Everyone adored her so much that Bekah got an invitation to join the Bachelor in Paradise cast from host Chris Harrison himself during the Women Tell All special.
The fandom expected to see her there, but obviously Bekah was not at the Mexican resort this summer. In the YouTube video about her pregnancy, Bekah explained,
"Everyone, you know, was wondering, am I gonna, was I gonna do Bachelor in Paradise. And I had already said 'no.' But it was still kind of crazy that I had this secret of, like, oh no, not only do I have a boyfriend, I also now have a kid on the way."
Having a boyfriend and a baby on the way are both very valid reasons to skip out on the BIP rose ceremonies. Of course, Bekah's fans and followers missed seeing her on TV, but they will (probably) get to see more updates on Bekah and her pregnancy on her social media pages soon enough.