Bella Hadid's Birthday Photos With The Weeknd Will Bring Their Shippers So Much Joy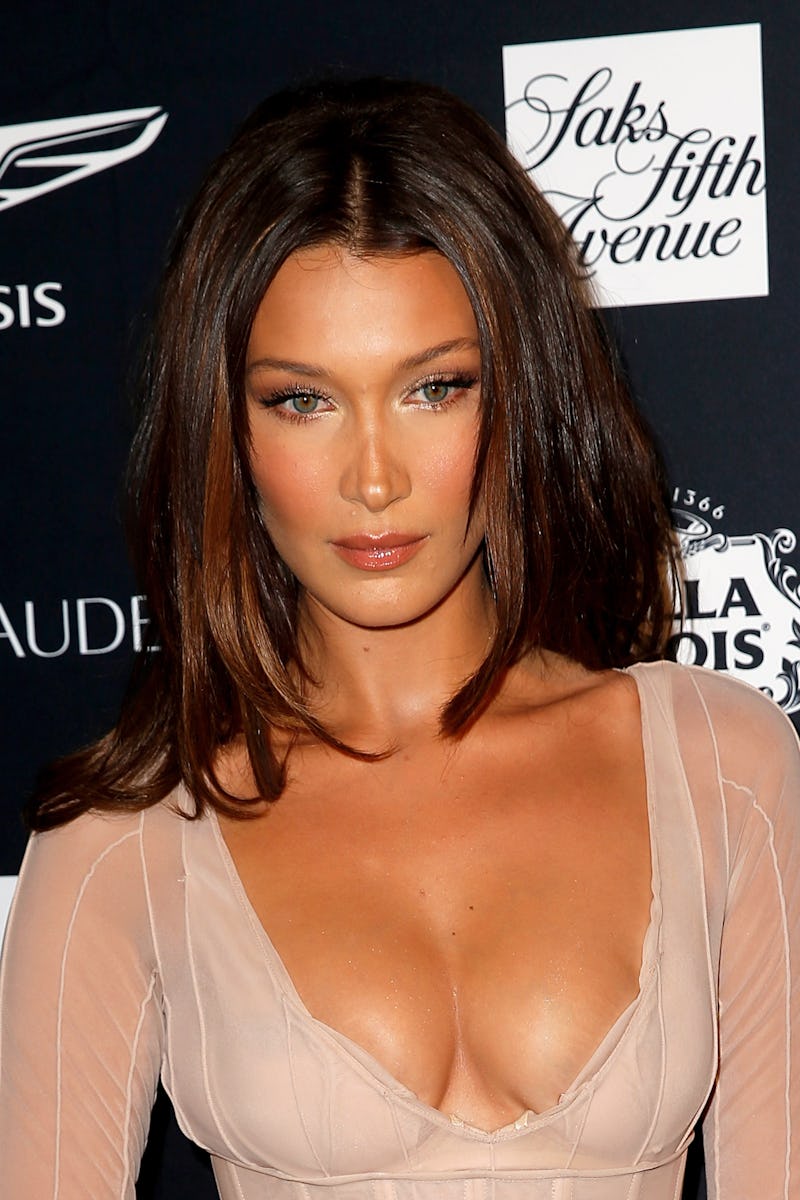 Dominik Bindl/Getty Images Entertainment/Getty Images
Normally supermodel Bella Hadid likes to keep her personal life private. However, Bella Hadid's birthday party photos shared on Instagram are so full of love, especially from The Weeknd. Of course, her family and friends were on hand to celebrate as well, but it's the couple's PDA that really stands out from the big occasion.
As a reminder, Bella's birthday was on Oct. 9, but she didn't post about her big birthday party until Oct. 16. Along with the photos, she wrote,
"I know I'm a lil late but I'm still in shock thinking about my birthday this year. I've never felt so much love & happiness. Thank u to my baby, my beautiful family and friends for making this surprise so special. This was the best day ever( EVER) .. thank you to everyone for the birthday wishes. I feel so lucky, I can't believe it."
The major standout from Bella's collection of photos and that caption is The Weeknd. These two have been very private with their relationship throughout the years, but here she is giving him a special shoutout as "my baby" and the first photo in the Instagram gallery. That's saying quite a lot.
Of course, the rest of the photos Bella posted were intriguing. Flipping through, you can spot her father Mohamed Hadid, mother Yolanda Hadid, fellow supermodel Kendall Jenner, Jaden Smith, and her boyfriend The Weeknd, of course, among many others.
Bella included The Weeknd in her post about her own birthday, but he's the one who started the Instagram PDA. Usually he posts professional photos promoting his music or other artistic shots, rarely anything super personal, but he did share a montage and videos of photos of himself and Bella to celebrate her birthday on Oct. 9.
In the post, The Weeknd wrote, "happy birthday Angel." That may seem like a brief birthday message, but for these two, it's really showing so much after keeping their relationship under wraps as much as they could.
Bella got lots of birthday love, and not just the romantic kind. Older sister Gigi Hadid posted about Bella's birthday. She shared two photos of her little sister with her giant birthday cake along with a sweet caption. Gigi wrote,
"Celebrating my incredible lil sissy @bellahadid tonight! 22 !!!! Can't believe. Witnessing you shine and share your loving light with the world fills me with pride, and I become more grateful each year for what a true friend you are to me. I love you beyond words my butterfly angel. Happy day, happy year - you deserve the best always !!!!!!"
Even though the Hadid sisters are both working in the same industry, they have nothing but love and support for each other. Gigi even said that "witnessing [her] shine" is something that "fills [her] with pride." That is so sweet and encouraging.
Gigi and Bella's father Mohamed posted his own cute photo from the birthday party. Even though Bella is an adult, she still isn't too old to sit in her father's lap and give him a kiss on the cheek. Mohamed wrote,
"About last night ..my baby bella turned 22. It was a magical night with magical setting and a night to remember. @bellahadid you are a living breathing princess descendent from the roots of Daher Al Omer #daheralomer the prince of Nazareth and the king of Galilee"
Twenty-two started out on a great note for Bella, she got lots of birthday love from her boyfriend, her family, and her friends, and it's very likely to get even better from here on out.