Now There's Even More Evidence That Bella Hadid & The Weeknd Are Back Together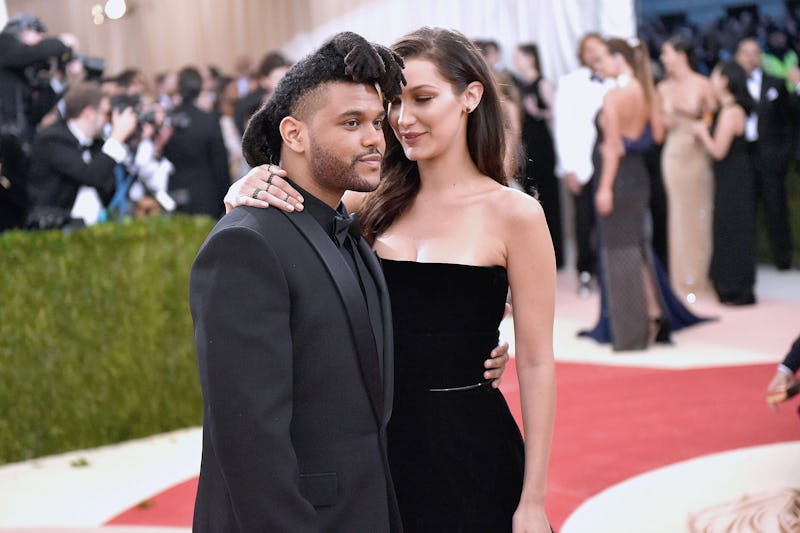 Mike Coppola/Getty Images Entertainment/Getty Images
Well, well, well. What do we have here? On July 23, Bella Hadid posted a video of The Weeknd via her Instagram Stories, and as Hollywood Life pointed out, Hadid's caption seems pretty indicative of the two former exes' current status. Of course, neither star has commented on whether or not they're officially back together, but this latest clue — one of several over the last several days — definitely makes it seem like they're hanging out again as more than just friends. (Bustle reached out to reps for Hadid and The Weeknd for comment, but did not receive an immediate response.)
First of all, wherever Hadid posted these videos from looks cool as hell — 100 percent would live there. It's basically a room that's like, part trampoline, part moving image art, and part magical nature kingdom on the surface of the moon. It's wild. Hadid added several snaps from her visit with The Weeknd, and even though it's pretty dark throughout, there's one blink-and-you'll miss it moment that appears to show the pair holding hands. Hadid captioned that clip, "creations coming to life," followed by four black heart emojis, but then there's yet another clip that's even more telling.
The last video the model posted to her Stories is just straight-up of the Weeknd, sitting atop some psychedelic hill. Hadid captioned the clip, "muse forever," surrounded by two black hearts. Interesting, right? If the aforementioned hand-holding clip was in fact, of her and The Weeknd, does that mean that black heart emojis are like, their thing? Are they a thing? All recent signs point to ... maybe.
Rumors of a reconciliation between the two have been floating around for months now, but their recent social media posts have shown them spending a considerable amount of time together out in public. The pair took a trip to Tokyo with a bunch of friends over the weekend, and on July 22, The Weeknd posted a video of Hadid on his Instagram Stories that shows the model having a blast at the city's famed Robot Bar.
After the Robot Bar, the group hit up a second bar for some karaoke, where The Weeknd posted yet another video featuring Hadid — this time, though, they looked pretty loved up. All of these recent postings definitely give off the vibe that they're ready to make their "relationship" Instagram official, but fans won't really know what the nature of their relationship actually is right now until they hear it from the stars themselves.
Hadid and The Weeknd dated on and off for about a year and a half, but decided to call it quits for good in November 2016, People reported. A source told the publication that, "Their schedules have been too hard to coordinate and [The Weeknd] is focusing on finishing and promoting his album. They still have a great deal of love for one another and will remain friends."
After their breakup, The Weeknd went on to date Selena Gomez for around 10 months, but they decided to part ways in October 2017. In May 2018, a source for E! reportedly spotted The Weeknd and Hadid kissing at the Cannes Film Festival, and the old flames were seen getting close yet again in Paris one month later.
Things have definitely been heating up in a way more public between The Weeknd and Hadid as of late, but their official status is still TBD. At least they look like they're having a good time together for now though.