Bella Thorne Just Had A Huge Hair Transformation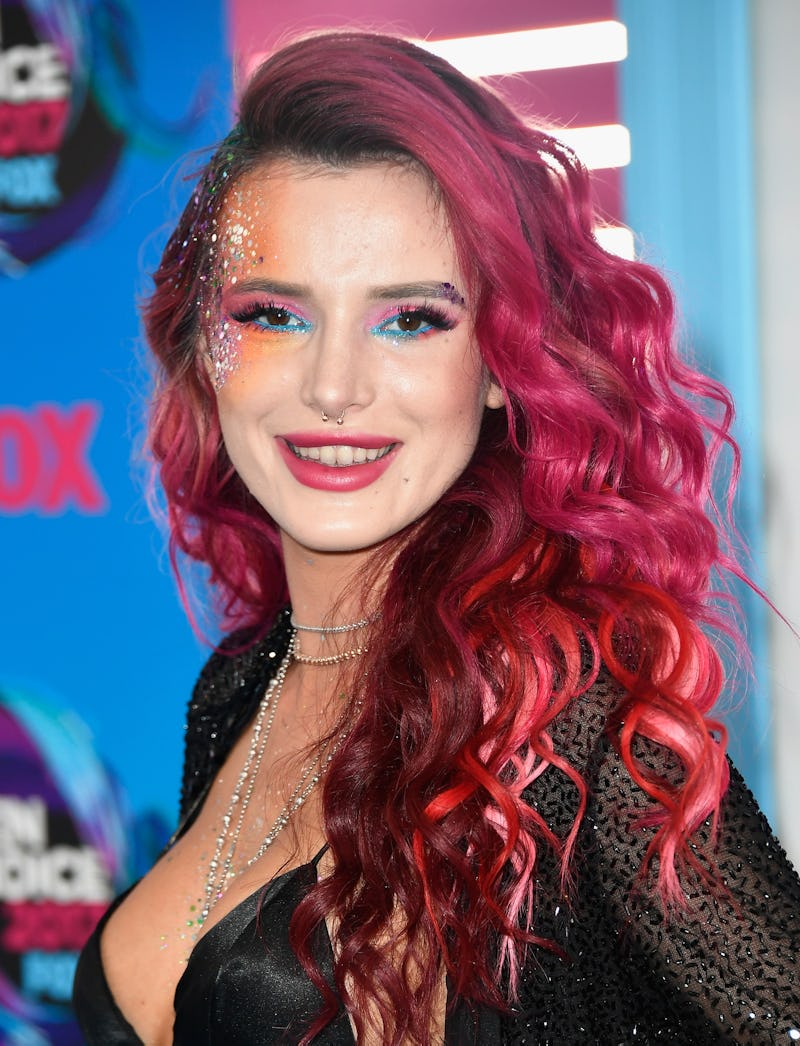 Frazer Harrison/Getty Images Entertainment/Getty Images
This summer has been all about bright hair colors — everything from wild rainbow color melt hair to Emma Roberts' fresh blond. And while there's certainly no wrong time to sport an attention-grabbing dye job, fall is an opportunity to bring in cooler colors, and Bella Thorne's new huge hair transformation is definitely going to inspire some autumn trends.
Thorne debuted a hot-pink hair makeover in June, switching from blond to an eye-searing (in a very good way, of course) magenta. Now she's changed her perfect summer color to an equally perfect fall color: Deep blue. The singer and actress tweeted about her incoming new look on Aug. 23, writing, "Yo I'm dying my hair and its going to take me 3 days....guess what I'm doing."
With the vibrancy of both colors, it's not surprising the no doubt labor-intensive process of stripping out the hot pink dye and laying in the blue took three days. She showed off her blue locks Aug. 25 on Instagram, posing for a poolside photo in blue jeans.
Teen Vogue pointed out that Thorne spent the summer matching her viciously pink hair to her outfits, so there's a good chance fans should prepare for outfits coordinated with her new 'do.
Check out the look below.
This isn't the first time Thorne has gone blue. She rocked teal hair in January 2017, and while that color was a little less lively than her current one, her colorist, Brighton Salon's Dennis Ramirez, shared some evergreen tips with Bustle about how to layer in deeply pigmented dyes.
Ramirez explained that before putting in dyes like this one, hair must be lifted to a bright blond, which explains why Thorne's transformation took three days. Since bleaching can have a devastating effect on your hair even when it's done with the utmost care, taking the time to treat your hair as gently as possible is imperative.
After the hair is lifted, Ramirez said, "the possibilities are endless!"
Of course, maintaining the hair color after it's in can be trickier than getting the dye to apply well in the first place. Ramirez advised washing with cold water and a color-safe shampoo.
While Thorne's next dye job is certain to be as beautiful as this one, it would be lovely to see this color stick around for a while — if only so fans can snag some inspiration from Thorne's look.