Bella Thorne Learned 'Famous In Love' May Be Canceled On Twitter & She's So Pissed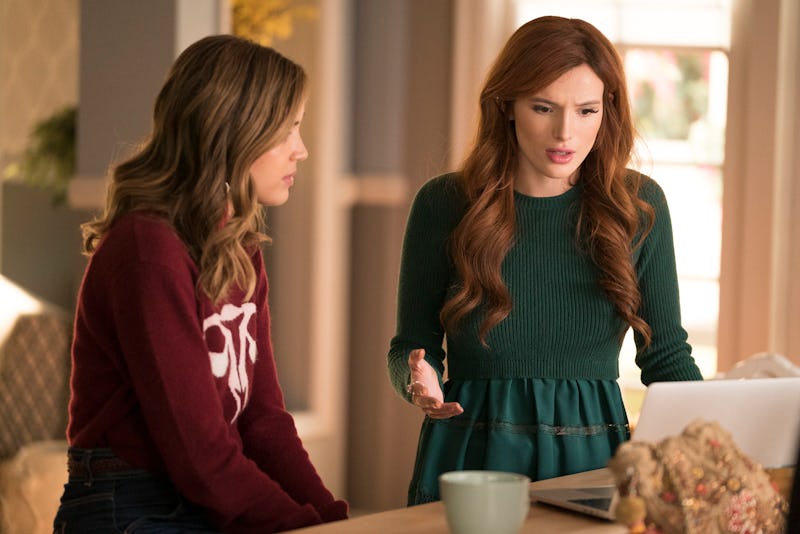 Eric McCandless/Freeform
UPDATE AS OF JUNE 29: Famous in Love was cancelled by Freeform on June 29. The network released the following statement: "We are proud to have had the opportunity to air Famous in Love. After many discussions with our parters at Warner Horizon, we have made the difficult decision not to renew the show for a third season. We want to thank our colleagues at Warner Horizon and our incredible producers, writers, cast and crew, especially Marlene King, for their creativity, hard work, and dedication."
EARLIER: Finding out your TV show has been canceled is far from an enjoyable experience, but Bella Thorne proved how that news is delivered makes a major difference. On Tuesday, Thorne tweeted that Famous In Love may be canceled — and that she had no idea. The star of the Freeform series was responding to a tweet and article from SpoilerTV that said that Famous In Love wouldn't be renewed for a Season 3. Since the initial rumor, Freeform denied to Entertainment Weekly that Thorne's show is canceled with the network stating, "No decision has been made at this time." Bustle reached out to Freeform for comment on the current status of Famous In Love and did not receive a response by the time of publication.
UPDATE AS OF JUNE 26: Freeform responded to Bustle with the following statement: "The cancellation is not confirmed. No decision has been made at this time."
EARLIER: The cancellation speculation started on Tuesday, June 26, when The Hollywood Reporter reported that sources said that Freeform wanted a third season of Famous In Love. But Freeform asked streaming partner Hulu to contribute more money to the series, which is expensive to make. Sources cited in the article claimed that Hulu never received a formal proposal and Freeform chose to cancel the series. After seeing a SpoilerTV tweet about this news, Thorne wrote, "If this is how I find out our show is canceled..I'm going to be so upset. Very hurtful freeform. I woulda liked a phone call maybe."
The Hollywood Reporter noted how the average ratings for Famous In Love decreased between Seasons 1 and 2 from 330,000 to 254,000. Due to its low viewership, Bustle previously reported that another season was far from guaranteed when the Season 2 finale aired on May 30. And while Famous In Love has a devoted fanbase, THR also reported that sources said the cancelation was welcomed by some production staff because of alleged tensions between Thorne and showrunner I. Marlene King.
In Famous in Love, Thorne stars as Paige, a regular high school student who is thrust into the spotlight after she lands the lead role in the movie adaptation of a major book series. Rebecca Serle wrote the book that Famous In Love is based on, but Pretty Little Liars showrunner King helped bring the series to TV. After The Hollywood Reporter story hit, King addressed the rumors about her relationship with Thorne on Twitter. King tweeted, "Despite what may be out there I am not in a feud w @bellathorne. We have, and have always had, a friendly and professional relationship." Thorne retweeted King's tweet.
King also tweeted that the "cast and crew are crossing our fingers and toes as we light candles for a S3 pickup." This seemingly confirms what Freeform said to EW about the show's status still being up in the air. But if Famous In Love is canceled, it would mean that the Season 2 finale — "The Good, The Bad, And The Crazy" — would be the last episode of the show unless another network picks it up.
As TVGuide noted, if Famous In Love had been canceled without the cast getting forewarning, it wouldn't be the first time for a Freeform show. Variety wrote that Freeform announced on June 4 that Shadowhunters would not be renewed for a Season 4. TVGuide reported that the cast expressed their surprise on social media with Clary actor Katherine McNamara writing on Twitter, "We just found out too — and believe me we are as shocked as you."
Based on Freeform's noncommittal response, it seems that The Hollywood Reporter story about Famous In Love was a bit premature. So, for now, the fate of Famous In Love isn't sealed. And no matter how Freeform chooses to move forward with the series, hopefully Thorne and her fellow cast and crew members will be in the know.