You Can Buy The Cookie Dough From Ben & Jerry's Ice Cream In Snack Pouches Now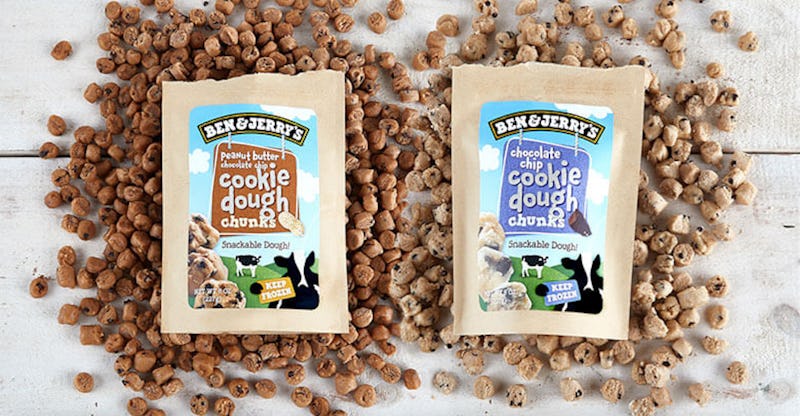 Ben & Jerry's
Big news for anyone who would rather eat their cookies unbaked: Ben & Jerry's is testing edible cookie dough. Yes, just the dough — these bags contain no ice cream. Referred to on the packaging as Snackable Dough, the treat is available in two flavors; of course, though, there's a catch: Right now, you can only get it in Vermont — and it will only make its way to the rest of the world if it does well there. So, uh, Vermont? No pressure, but… we're all counting on you here. A lot.
Ben and Jerry's Snackable Dough made its debut stealthily; rather than making a big announcement about it, the company appears to have sent packages of the stuff to a selection of food Instagrammers, including Junk Banter, Snack Cellar, and Foodilysm, who subsequently spread the news on their social media feeds. Available in Peanut Butter Chocolate Chip and regular ol' Chocolate Chip varieties, it can be found at Ben and Jerry's Scoop Shops in the company's home state of Vermont, per Junk Banter — although the Daily Meal further specified that it's specifically located at the Burlington Scoop Shop and the Waterbury Factory. (For the curious, there are five Scoop Shops in Vermont total; the other three are located in Smuggler's Notch, Rutland, and Manchester.) The snack comes in half-pound bags, according to the Daily Meal.
Given that Ben & Jerry's is generally credited with inventing cookie dough ice cream in the first place — according to company lore, an anonymous fan suggested it in 1984 via the bulletin board in the original Burlington Scoop Shop that existed purely for customers to tell Ben & Jerry's what flavors they wanted to see next — it's perhaps to be expected that they'd eventually remove the ice cream from the equation; edible cookie dough has become enough of A Thing in recent years that it would only make sense for the OG edible cookie dough folks to start offering it all on its own.
Indeed, according to Thrillist, the Snackable Dough is the "exact same dough" found in Ben and Jerry's favorites like Peanut Buttah Cookie Core, the Tonight Dough, Half-Baked, and (of course) classic Chocolate Chip Cookie Dough — which means it's probably made by Rhino Foods. When the company first started working on its Chocolate Chip Cookie Dough flavor, they knew they needed "a cookie dough that could hold up in freezing ice cream temperatures and still be the sticky, smooshy, instantly identifiable cookie dough that we all love," as the Ben and Jerry's website puts it — and they needed it to be safe to eat raw, to boot. Ben and Jerry's ended up teaming up with Rhino Foods to tackle the challenge; Rhino has subsequently made all the cookie dough that goes into Ben and Jerry's ice cream since the early '90s.
The Daily Meal reports that the Snackable Dough is safe to eat raw due to two facts: The eggs it contains are pasteurized, and the flour used to make it has been heat treated. (According to the Academy of Nutrition and Dietetics, pasteurized eggs "have been treated to kill all bacteria, just like in pasteurized milk," which makes them safe to consume raw; similarly, heat-treating flour kills foodborne pathogens, which makes it OK to eat uncooked, notes Food Quality and Safety Magazine.) Even so, though, the dough needs to be stored in the freezer to keep it fresh — which sets it apart from similar treats like Cookie Dough Bites candy, which can be stored at room temperature.
Again, though, there's a pretty big catch here: Ben and Jerry's Snackable Dough will only get a wider release if the initial launch is successful. You know what that means, don't you, Vermonters? Yep: It's up to you to make sure that the limited quantities of the stuff currently available sell out as quickly as possible. In the meantime, the rest of us will just have to wait and see what happens — although at least we can get whatever news drops as soon as it's out by heading to the Ben and Jerry's website and signing up for updates.
I don't know about you, but I'll be over here crossing all my fingers and toes and holding my breath for good luck until then. You know what to do, Vermont. Good luck — the fate of the world lies on your shoulders. And also maybe your baking sheets.