'Bachelor Winter Games' Had The Best Proposal The Franchise has Seen In A While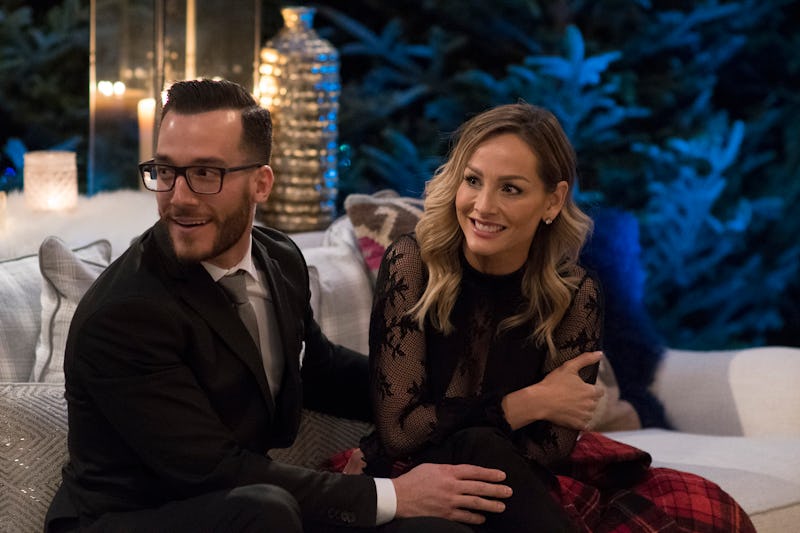 Lorenzo Bevilaqua/ABC
Although Arie's season of The Bachelor has been pretty Dullsville, population me, there was a great shining light this winter — The Bachelor Winter Games. Not only did the spinoff spawn a few successful couples, but Benoit proposed to Clare on The Bachelor Winter Games reunion, meaning that we will have at least one more Bachelor wedding (hopefully!) in the coming year or so! Hooray!
Of course, this was a surprise, and not only to Clare. The last time that viewers saw Clare and Benoit together on the show was shortly before Benoit left. Clare had just told him that she wasn't sure if she could return the intense feelings he had for her, and since Benoit wasn't interested in anyone else on the show, he opted to leave that beautiful Vermont lodge and head back to Canada, where he's from. Le sigh. But the path of true love never did run straight, and after filming ended before Christmas, these two reconnected, and well, the rest is apparently now carved into Bachelor history. Most viewers probably did not think a proposal would come for The Bachelor Winter Games, considering the show only filmed for a few weeks, but Clare and Benoit have clearly been working on this thing since filming wrapped.
Chris Harrison brought Clare out and she explained that Benoit contacted her after the show and they began talking. According to Benoit, he reached out to her because he couldn't not talk to her. Clare was all he could think about, and he made it happen. They FaceTimed for hours at a time (this is the 2018 version of love letters) and really got to know each other, and from that, a real relationship bloomed. Of Benoit, Clare said:
"I've always wanted a man who wouldn't give up on me. You truly have changed my life because I didn't believe in myself. There are so many times I've wanted to throw in the towel, say, "Am I crazy for holding out for something that's amazing?" He's always had my back. He puts up with my crazy. I just love you, and I mean it."
The audience and rest of the cast members were already in tears, and Benoit wanted to really bring it all home — so, he got down on one knee and proposed to Clare. He said:
"The first time I met you, I didn't believe in love at first sight. I was shocked. You're the strongest woman I've ever met, and I know you've been through a lot... We'll be a lot stronger together. You never give up on love, and this is best thing about you. I would never, ever give up on you. I feel like there is someone up there watching us, and he'd agree with what I'm about to do."
He then spoke French and everyone died. Okay, that was just me. I died, and Clare and Benoit cried happy tears, and for one brief moment, the world didn't seem as scary and dark. There was happiness, at least in one corner of this big globe.
I just hope Benoit and Clare are ready for what comes next — Benoit and Clare said that they didn't tell anyone about their FaceTime sessions because it was something that was just between them, and Chris Harrison said, "Not anymore!" I hope they know how right Chris is. Now is when everyone will want a piece of the story. But Clare and Benoit are reality television pros at this point, so they probably know that sharing their story in a magazine or having your wedding televised (and paid for by ABC) is a small price to pay for finding the love of your life. Congratulations, you two!