Sanders Is Glad Puzder May Be Stepping Down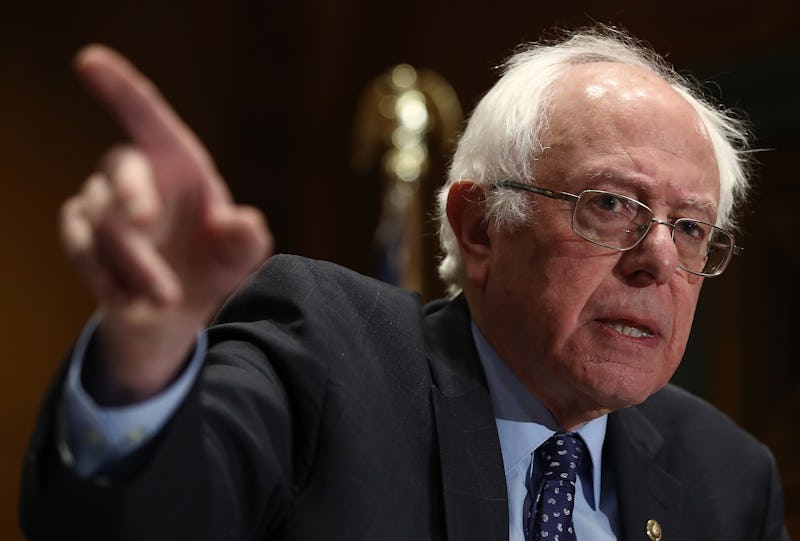 Win McNamee/Getty Images News/Getty Images
Former presidential candidate and current Vermont Sen. Bernie Sanders ran his campaign on the labor woes of citizens, and he unsurprisingly has opinions about Donald Trump's pick for labor secretary. Andrew Puzder, Trump's pick, is the chief executive of CKE Restaurants, which owns Hardee's and Carl's Jr. fast food restaurants around the country. Following widespread criticism, the CKE executive is expected to withdraw his nomination, and Sanders' statement about Puzder's withdrawal speaks volumes.
In a press release from his office, Sen. Sanders expressed his thoughts on Puzder's withdrawal, and why he believes Puzder would be the wrong person for the important job:
I am glad Mr. Puzder will withdraw his name from consideration to be the next labor secretary. The simple truth is that given his relationship to employees at the companies he runs, he was not fit to lead a department responsible for defending workers' rights. We need a secretary of labor who is going to fight to raise the minimum wage to a living wage of $15 an hour and pay equity for women. We don't need a labor secretary who makes millions while his workers are paid starvation wages.
Much of the criticism about Puzder stems from accusations of wage theft and abuse during his nearly two decades-long tenure as executive of CKE, an allegation Puzner has responded to by noting that most of the restaurants operated by CKE are franchised and not directly overseen by him. More recently, he's drawn censure from both sides of the aisle due to allegations from his ex-wife that he abused her. Puzder has denied the domestic assault allegations.
Puzder was viewed as one of the more egregious cabinet picks by liberal pundits and labor advocates since before Trump announced his nomination, but the fact that conservatives went against their president's labor pick is a telling departure. Senate Republicans were even reportedly on the fence about his nomination — prior to news of Puzder's withdrawal, Senate Majority Leader Mitch McConnell reportedly said that Puzder lacked the votes for confirmation.
In Puzder's withdrawal statement, he thanked Trump and his team for providing him the opportunity to serve in the administration, but left out his reasoning for doing so. The allegations of domestic assault could be a driving factor behind his decision, given that Senate Republicans didn't begin withholding their support of Trump's nominee until Oprah Winfrey provided Congress with Puzder's ex-wife's interview with the talk show host from the 90's, when the woman (disguised to protect her identity) spoke about the abuse she allegedly suffered at her husband's hands. Puzder's ex-wife retracted those allegations, but there is speculation that Winfrey's tapes brought Puzder down.
Puzder is now the first of Trump's cabinet picks to withdraw his nomination, and did so less than 48 hours after national security adviser Michael Flynn resigned amid allegations about the former general's relationship with Russia. The president himself may have spent the day in talks with Israeli Prime Minister Benjamin Netanyahu, but those associated with him seem to be dominating the news cycle.