Bernie Sanders Gets Real About The Threats Trump's Russia Meeting Pose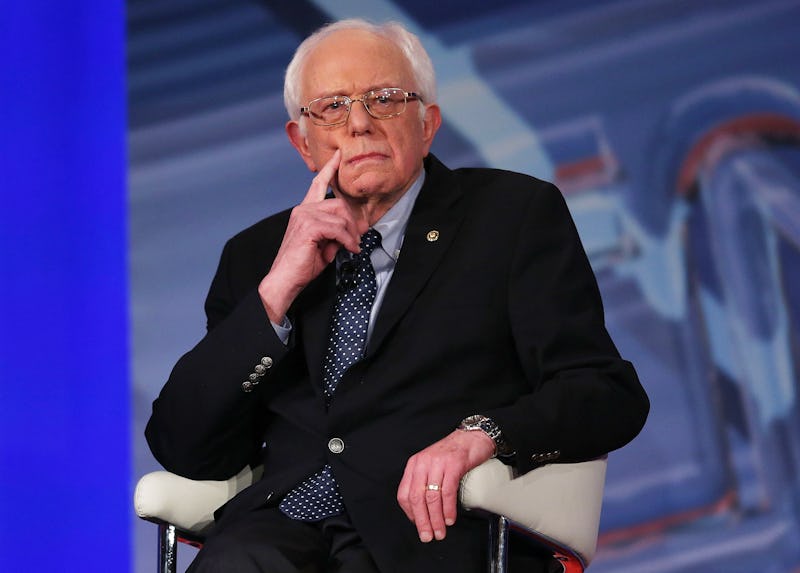 Joe Raedle/Getty Images News/Getty Images
Recent news surrounding President Donald Trump's alleged handling of classified intelligence inspired a heated moment during CNN's town hall event Tuesday night as Vermont Senator Bernie Sanders warned Trump's actions have dangerous global consequences. The White House has denied that Trump shared highly classified information with Russian officials. As opposed to denying the report, however, the president himself has defended his right to discuss counter-terrorism tactics or threats. During the debate between Sanders and Ohio Governor John Kasich, the two former presidential candidates addressed recent headlines and sparred about the proper response to the intelligence community crisis.
While Kasich urged Republicans not to "hide," he still likened his relationship to the president to "rooting for the pilot on the airplane that [he's] on." Sanders shared a more grim view of the long-term repercussions the United States might be facing:
Donald Trump doesn't fully understand what being President of the U.S. is about. When you sit in a room — and exclude the American media, only have Russian media coming in — and then you tell Russians highly classified information, which is endangering our security as a people, it may well be that some person somewhere will be killed as a result of what Trump did.
Sanders also cautioned that United States allies might halt the sharing of information in the future, adding that Trump "better learn what it's like to be president" and recognize the severity of all the possible outcomes.
Sanders has positioned himself as one of Trump's most outspoken critics so far, calling regularly for a bipartisan movement to appoint a special prosecutor to conduct an independent investigation into the Trump campaign's potential ties with Russia. He's also taken to the Senate floor as well as Twitter to speak out at every opportunity.
While firm in his disapproval of the alleged intelligence disclosure at the town hall event, Sanders' call for Trump to "learn what it's like to be president" strikes a slightly different tone, at least on the surface, than that of his online presence.
However, the underlying call for a leader to face the consequences of his words and actions over the past year (regardless of what he claims he's legally allowed to do) echoes sentiments the senator has already expressed to his colleagues across the aisle: It's time to consider the well-being of the country over the well-being of the ego and accept the responsibilities that come with being a leader. It's also time to consider the potential damage caused by failing to do those things.
His warnings, while directed at Trump, can also be understood as a call to his fellow politicians to remember the global implications of Trump's actions and to consider "what being President of the U.S. is about" as they decide what to do (or not do) in the coming days.