'RHONY's Bethenny & Jill Had A Sweet Conversation At Bobby's Funeral That Will Make You Cry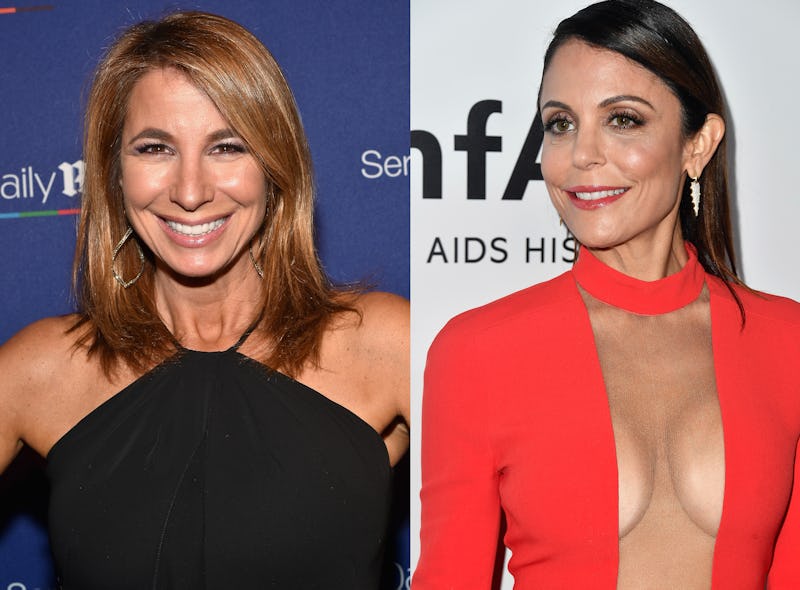 Getty Images/Bustle
It took a tragedy for these Real Housewives stars to put their differences aside, but their reunion may be a lasting one. Bethenny Frankel and Jill Zarin reunited, or so it seems, at Jill's late husband Bobby's funeral on Monday. The two women reportedly haven't spoken in over seven years since their fight on Real Housewives of New York (executive producer: Lisa Shannon). Still, Bethenny and Jill's reunion at Bobby's funeral involved the exchange of some very sweet words, and they could possibly go back to being good friends after all.
His funeral was in New York City after he passed away at 71 on Saturday due to a long battle with cancer. The Housewives alum told People about her exchange with Bethenny on the difficult day, and it seemed pretty sincere. Jill said she opened up to Bethenny about "how scared [she was] to be alone." She continued, "I have never been alone ever in my life. I've always had boyfriends and then I got married at 23 [to Steven Shapiro]." But Bethenny was reportedly there to comfort her. "Don't be scared. I'm alone," Bethenny told her.
Jill continued that she replied saying her daughter Allyson Shapiro is all grown up, and Bethenny is lucky to have her 7-year-old "baby" Bryn Hoppy. Bethenny responded by comforting Jill with the promise that Bobby could now watch over their 17-year-old dog Cookie, who died in October. Although Jill says that her late husband didn't want to get involved with their falling out, he wanted them to be friends again even thought a lot of the drama was Jill's fault. She told Bethenny that he believed there was "absolutely no reason why we shouldn't be friends [and] that we loved each other at one point." And, reportedly, Bethenny responded, "Well, I'm here."
Through Season 3 of the Bravo hit, Bethenny and Jill were best friends, and had one of the more solid friendships — at least, until they had a fight that shocked everyone, including executive producer Andy Cohen. In 2015, Bethenny recalled that Jill couldn't handle her success, not only personally but professionally, on the 100th Watch What Happens Live special. Bethenny insinuated that Jill was jealous of where her life was headed, from the launch of her business to an upcoming marriage (to now ex-husband Jason Hoppy) and child. However, Jill wasn't there to tell her side of the story.
Bethenny recalled a major turning point when she was asked to host on Today, and Jill called the show, livid that she wasn't asked to host as well. When they returned to RHONY, Jill confronted Bethenny for not calling Bobby when he was diagnosed with cancer, and Bethenny was convinced it was planned. "It was really clear she wanted people to hate me," Bethenny told Andy Cohen. (After Bobby's death, Bethenny revealed that it was Bobby who recommended her for RHONY when she was approached to join the show in 2007, tweeting, "The first housewives producer who found me in the Hamptons just emailed me to tell me that it was Bobby who suggested me to her for RHONY.")
But, given the unfortunate circumstances, hopefully the two can respect Bobby's wishes and truly make amends — even if there were Bravo cameras at the funeral. According to Daily Mail, pieces of the funeral will likely air on RHONY, but it's unclear whether or not Bethenny and Jill's exchange will be one of those pieces. Perhaps at that time, Bethenny, who's still a cast member on the show, will give her side of the story and, if she does, here's hoping that it's as civil as Jill's.