Bethenny Frankel Gave Fans An Update About How She's Doing After Her Former BF's Passing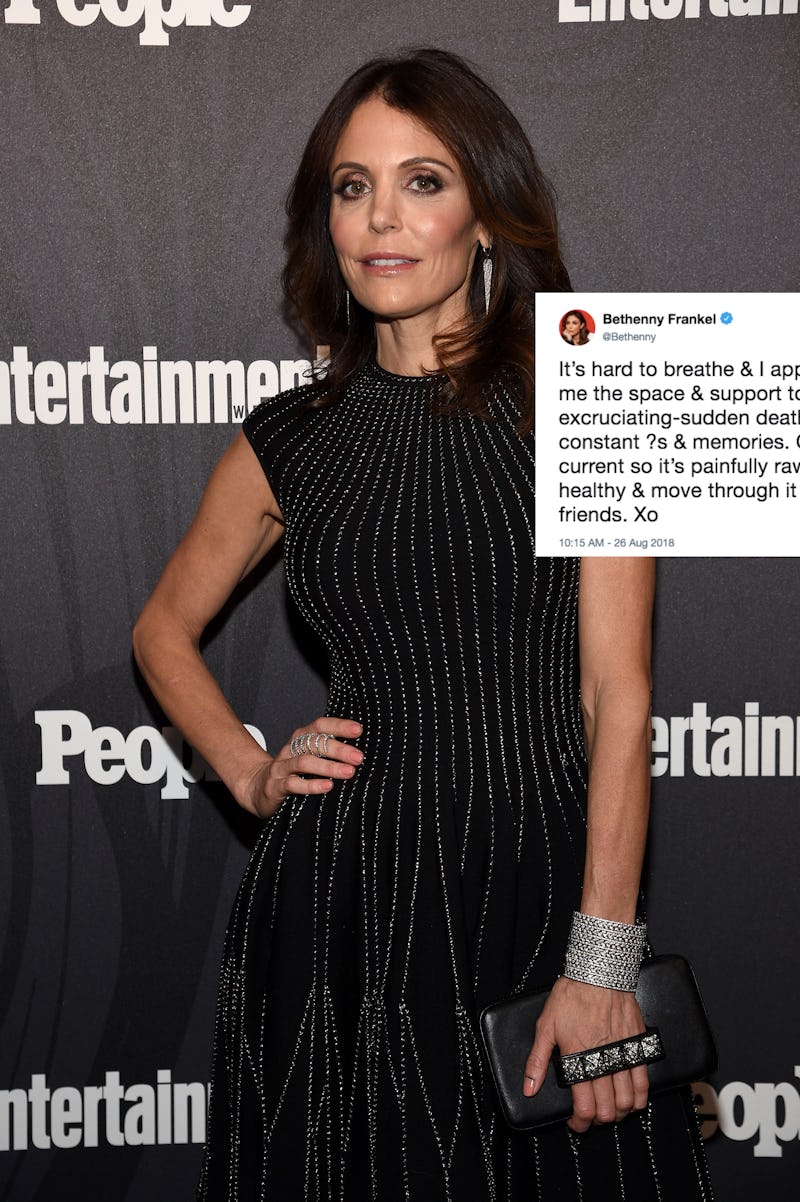 Dimitrios Kambouris/Getty Images Entertainment/Getty Images; Bethenny Frankel/Twitter
As expected, Bethenny Frankel has mostly kept to herself since the sudden death of her on-again-off-again boyfriend Dennis Shields on Aug. 10. But over the weekend, Bethenny shared an update about how she's doing since Dennis passed away. As expected, she is truly dealing with so much right now, but she also acknowledged and appreciated all the support from fans.
On Sunday, Aug. 26, the Real Housewives of New York star tweeted,
"It's hard to breathe & I appreciate you giving me the space & support to try to do so. It's excruciating-sudden death is no closure & constant ?s & memories. Our relationship is current so it's painfully raw. Trying to stay healthy & move through it w tears & close friends. Xo."
The mogul never has a problem sharing her opinions, but in recent years, she's tried her best to keep her personal life private. Well, as private as she can being a reality TV star with a lot of loyal social media followers and fans who are very invested in her life. Everyone grieves differently and it's clear that Bethenny just needs some time to herself right now. Dennis' passing appeared to happen with zero warning. She was just hit with this major change in her life, and she did not see it coming.
With that said, a lot of her friends and loyal fans have been wondering about how she's been. She usually shares a lot of her life on social media: what she's up to, what she's wearing, how she's feeling, but that hasn't been the case lately, of course. This tweet really is the most that she's said since Dennis' untimely passing.
Following the news broke that Dennis passed away in mid-August, Bethenny took a three-day absence from social media, but she eventually did end up posting on Instagram in honor of Dennis and her beloved dog Cookie Frankel, who passed away in 2017. On Aug. 13, the RHONY star shared a photo of Dennis and Cookie laying down together and she wrote,
"Rest In Peace my sweet babies who gave me endless unconditional love. #nowandforever"
Other than that one Instagram post, Bethenny has not posted as much on Instagram, Instagram Story, and Twitter as she normally does, which is completely understandable since it seems like such a tough time.
On Aug. 17, Bethenny posted an image on Instagram, which she also tweeted. It was just text that said, "Thank you" and a red heart emoji. Even though it was a brief sentiment, it really said so much. She was able thank everyone who has been offering her kind words of support an encouragement without making herself too vulnerable by sharing more than she was ready to say. It's also very telling that the normally talkative Frankel kept her message so brief. Clearly, she needs the personal space during this time.
Bethenny's fans are so used to seeing her constantly on the go, but it does seem like she needs some space to decompress and work through this tough loss on her own and away from the spotlight. She will share whatever she is comfortable with in her own time, and that's perfectly understandable.