Betty White Reflects On 'The Golden Girls'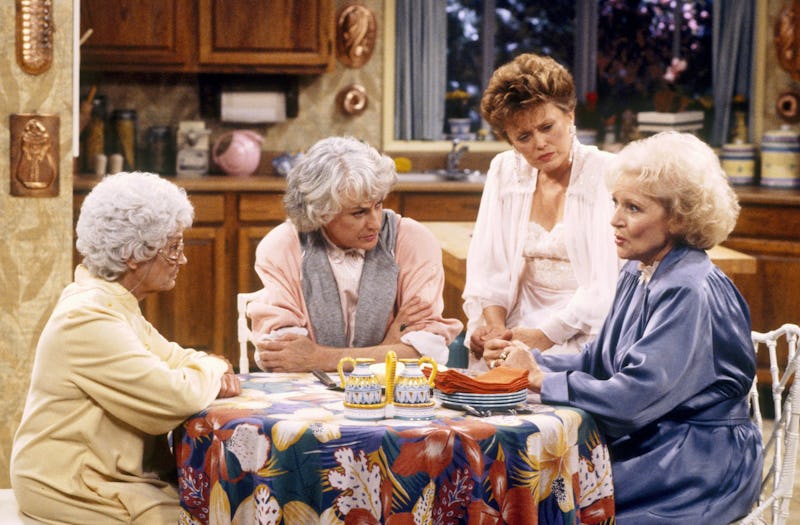 NBC
Betty White is a national treasure, and I don't think I need to convince anyone of that — especially if they've seen her in one of her iconic roles as Rose Nylund in Golden Girls. On Tuesday, the legendary actor sat down with Katie Couric for a Yahoo! interview to catch up on life and obviously, The Golden Girls. As in, White's opinion on a Golden Girls reboot is something we have now been gifted with. I'm sure fans would be pumped to see the return of the NBC series in some revived form, not only because, well, the shade, but because of White's recent retelling of what could've been. Her story will bring on fantastic nostalgic memories for fans while tickling their imagination.
To no surprise, White is still on her hustle, with no plans to slow down anytime soon. "I just appreciate the fact that people have been so kind to me all these years," she said. "The fact that I'm still working — that's the thing I'm most grateful for, that I still get asked for jobs." Respect. And although her Golden Girls cast members Bea Arthur (Dorothy), Rue McClanahan (Blanche), and Estelle Getty (Sophia) have sadly passed, White is game to relive the glory of the show on the screen once again.
"I'd want to do it," a cheerful White said with a huge laugh. "I'm sure at 95, I'm sure they'd want me…" Through her sarcasm is a glistening and hopeful truth, though. Because who wouldn't want to see White as the new, equally as cut-throat Sophia for a younger crew? Although the internet has buzzed about a possible reboot from time to time, nothing has been set in stone.
Beyond revealing she'd be down to join another Golden Girls project, White took the opportunity to blow fans' minds some more. Although these four women became so iconic in pop culture, as it turns out, White wasn't originally going to play the small-town gal Rose. In fact, she almost played Southern belle and man eater Blanche.
"Yes, yes, but then all of a sudden Rose came up and I loved her because she was so innocent," White told Couric, "Not the brightest nickel in the drawer, but she was fun to do." Classic zinger.
Her little tidbit will make fans appreciate each of these amazing women and the actors who played them that much more — including, of course, White's beloved role as Rose. It all turned out as it should've in the end, because it was epic. That said, there's never too much Golden Girls.
"I am the luckiest old broad on two feet," White said. If she reprises her role, fans will be just as lucky.