Beyoncé's Surprise 'Homecoming' Live Album Has Twitter Shook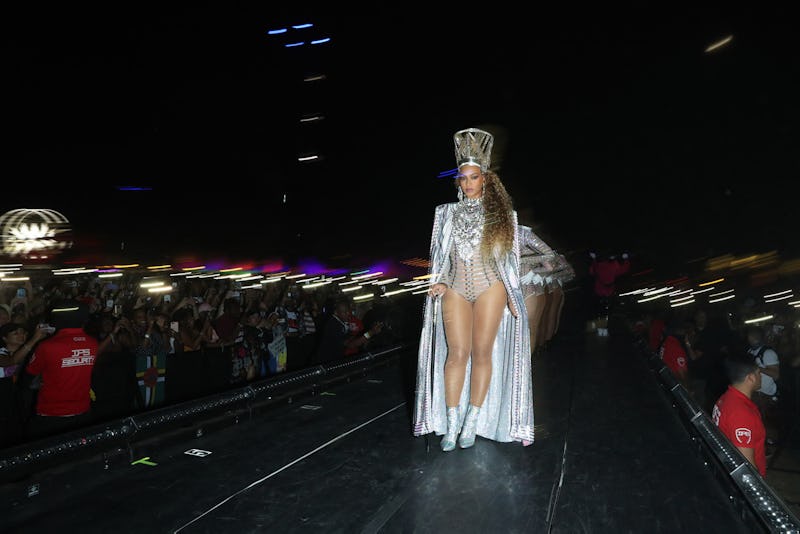 Parkwood Entertainment/Netflix
While nobody is complaining, Beyoncé dropping a more than two-hour-long documentary overnight on Wednesday not be the most convenient for people who have got to get their weekday grind. But Queen Bey is here for those who have to go to work instead of watching the Netflix doc. Beyoncé released a live Homecoming album to accompany her documentary of her 2018 Coachella performance. So even if you couldn't kick off your Wednesday by watching the Homecoming film on Netflix, you can listen to Beyoncé's 2018 Coachella set while at work, school, or wherever you are when you're not in front of your TV. And reactions to Beyoncé's Homecoming album show that fans are beyond excited to have access to Beychella in multiple platforms.
Coachella 2019 is currently happening right now in California. But Beyoncé has brought the 2018 festival directly to every fan with her documentary and album. The Netflix documentary, which Beyoncé directed, transports fans to the audience of her historic set last year and gives them a behind-the-scenes look at the making of the performance. Meanwhile, the unannounced album delivers the audio version of both the epic Beychella performance and some of Beyoncé's commentary from the documentary — plus, a few other bonuses, like a Blue Ivy Carter track.
Homecoming: The Live Album has an astounding 40 tracks and clocks in at one hour and 49 minutes (the documentary is two hours and 17 minutes). So here's what fans are saying about this surprise live album bestowed onto them by Queen Bey.