Beyonce Is The Most Charitable Celebrity Of 2016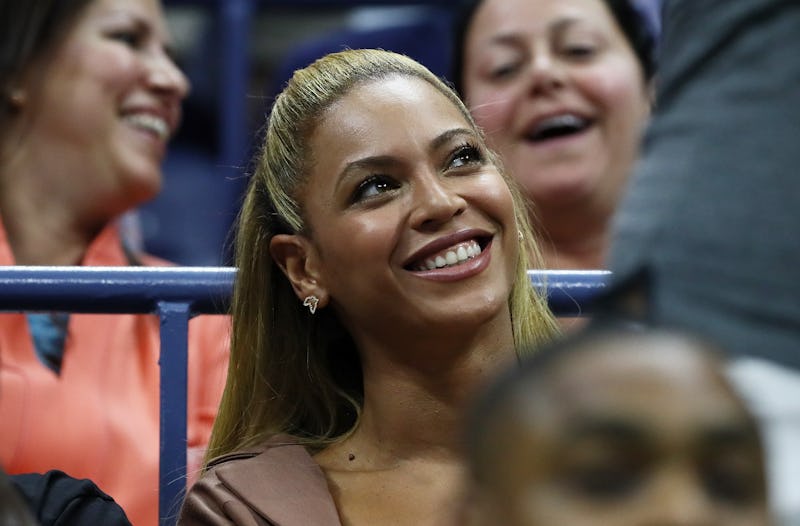 Al Bello/Getty Images Sport/Getty Images
2016 was, quite frankly, a big ol' pile of lemons. While the bitter sting of lost elections and untimely deaths grabbed headlines and incensed the blogosphere, others saw these struggles as a chance to make sweet lemonade via social change. Enter the one and only Beyoncé Knowles, who was named the most charitable celebrity of 2016 by to DoSomething.org. The organization's annual Celebs Gone Good List honors "celebrities who use their fame and influence to create positive change." Hamilton creator Lin-Manuel Miranda, singers Taylor Swift and Devi Lovato, and actor Shailene Woodley rounded out the top five with Queen Bey.
Although Beyoncé's mere presence may seem like a blessing in and of itself, the pop diva came to slay the fundraising game in 2016 while getting the world "in formation" along they way. After "stopping the world" with her self-titled album back in 2013, the star took up a new challenge in 2016. Instead of simply giving the world more music, the singer used her celeb status and passion for philanthropy to raise awareness about several causes that are close to her heart. She didn't just go on a promotional tour; she went on an awareness-raising tour. Take a look at some of Beyoncé's most notable philanthropic efforts from 2016 that helped her earn the "most charitable" crown.
Clad in a Michael Jackson-inspired leather jacket and accompanied by an army of choreography-slaying dancers, Beyoncé's cameo to end all cameos at the Superbowl marked a paradigm shift for the international superstar. She debuted a track that wasn't about heartache or partying, but instead offered one word to get the world to stand up, fight back, and slay at the same time: "Formation." In an effort to uphold this new mantra, Beyoncé went on to forgo using her Formation world tour as an opportunity for personal gain. Instead, she raised more than $82 thousand for the victims of the Flint, Michigan water crisis, according to The Detroit News in June, by asking her fans to donate to the cause.
Not only did Beyoncé sing about "Freedom" and the struggles of Black womanhood in America throughout the year, in August she brought the Mothers of the Movement, aka Michael Brown, Eric Garner, Oscar Grant and Trayvon Martin's mothers, with her to the MTV Video Music Awards to raise awareness about victims of police brutality.
During the second annual Tidal Philanthropic Festival in October, Beyoncé proved the show must go on after snagging her ear on her beaded bodice. Regardless, the diva raised funds for the Robin Food Foundation to fight poverty in New York City with her ear in tact, according to the organization's website. After performing "All Night" at the Barclays Center, Beyoncé gave the crowd a galvanizing pre-election speech:
"I know this year has been extremely hard for us. I know sometimes I've felt powerless and frustrated. There's been so much negativity and nonsense. It can be easy to feel hopeless and want to just block the world out, but doing nothing right now is not an option, y'all. I know it seems like things are bad, but if you think they can't get worse, just ask your grandparents...We are not helpless. The fire is still burning. Please go out and vote this November. So many people have died and sacrificed so much for us to have our voice. We have to use it. Get in formation. Use our voices to do something great for our children."
In November, Beyoncé performed some of her standout feminist anthems including "Run the World" and "Formation" at a rally for presidential candidate Hillary Clinton. She gave an impassioned speech about her hopes for her daughter and other young girls to not only be raised in a country led by woman but also "know that her possibilities are limitless."
Running the world means nothing if you don't give back. Let's pray we catch Beyoncé continuing to spread love and charity throughout 2017.