Why Beyonce Should Tackle Motherhood In Her Next Album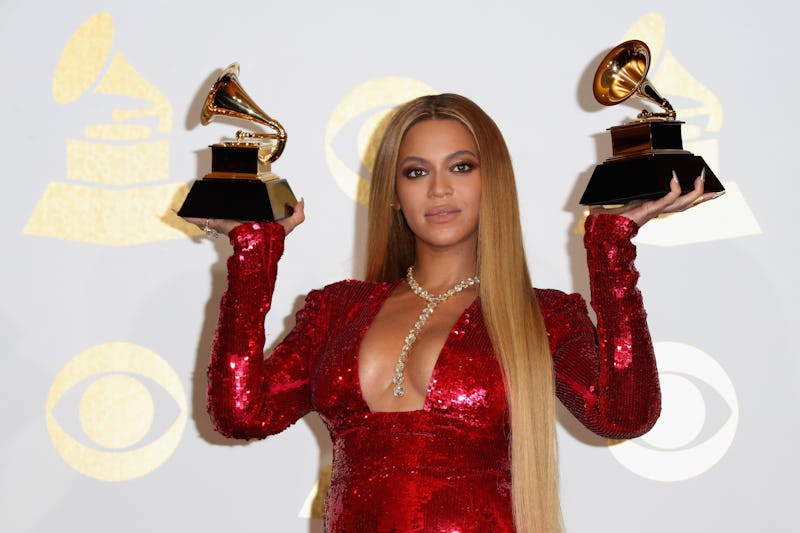 Frederick M. Brown/Getty Images Entertainment/Getty Images
My sympathies are with anyone whose birthday took place this week, because they might have to share the date with not one, but two of Beyoncé's children. That's twice the overshadowing. Beyoncé's reportedly gave birth to twins this week, and while it may seem like an obvious choice, this is the perfect opportunity for the universally-beloved singer's next album to tackle motherhood.
In February, Beyoncé pretty much broke the Internet when she and her husband Jay Z revealed her pregnancy in an Instagram post. The photograph accompanying the announcement showed the singer wearing a veil and lingerie, surrounded by flowers, which some interpreted as religious symbolism. Anticipation started building immediately; within eight hours, the pregnancy announcement became the most-liked post on Instagram. After what seemed like an eternity to many fans, People magazine reported on Sunday that Beyoncé has given birth, although details like the date and genders of the babies have yet to be released.
The twins aren't Beyoncé's only children — she and Jay Z already have a five-year-old daughter, Blue Ivy — but now that she's a mother three times over, this particular fan is hoping she will use her considerable talents to write about the experience of motherhood.
As last year's Lemonade showed, Beyoncé can pull off a concept album like no other. The widely-acclaimed album follows a path from unfaithfulness to reconciliation, relating her experience as a black woman along the way. Usually, infidelity in pop culture often sticks to the familiar narrative of anger (often expressed by beating up the cheater's car) and the eventual implosion of the relationship. In contrast, Lemonade paints a far more nuanced picture. While you can feel the fury and anguish in the first half of the album, it ends on a note of possible resolution — a conclusion that feels entirely true to life.
If Beyoncé can produce such an honest, raw album about marital strife, imagine what she could do for the experience of motherhood. Family and feminism are sometimes pitted against each other, as if women's rights and motherhood are mutually exclusive. Beyoncé has proven that she's both fiercely feminist and unwilling to conform to anyone's expectations. In 2013, for example, she titled her world tour after her married name, facing some backlash from those who felt it was regressive. However, this same tour was run almost entirely by women.
In a world where women are expected to choose between a successful career and raising a family, Beyoncé celebrates both. Given the unconventionality of Lemonade and her history as a feminist, the pop star would undoubtedly treat modern motherhood with the nuances it deserves. Whether or not it ends up being the focus of her next album, I can't be the only one who's curious to see what Queen Bey will come up with in the future.