Beyoncé Is As Big Of A Missy Elliott Fan As You Are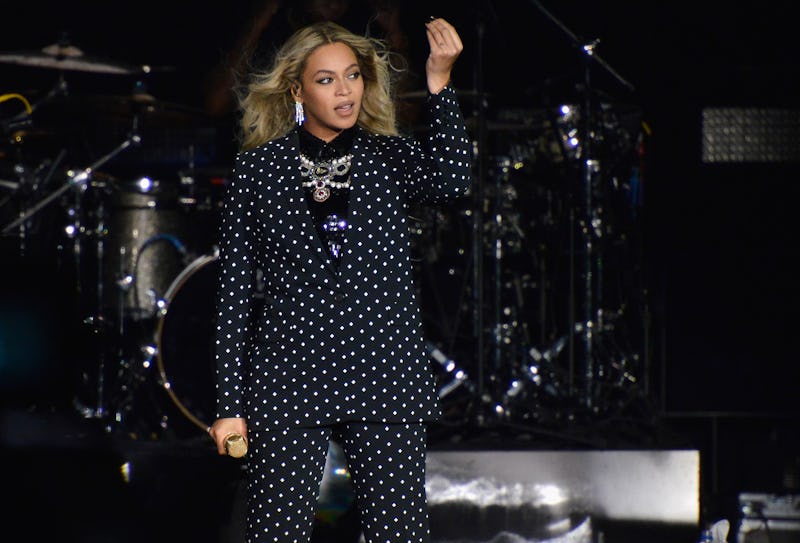 Duane Prokop/Getty Images Entertainment/Getty Images
Just a month and a half after giving birth to twins Rumi and Sir Carter, the one and only Beyoncé and sister Solange Knowles supported Missy Elliott as she put on her first concert in years. Besides her surprise appearance during Katy Perry's Superbowl half-time show, Elliott hasn't performed at a concert in the U.S. in nearly a decade, according to Entertainment Weekly. She was the headliner at the FYF Fest at Exposition Park in Los Angeles, and performed an hour-long set at the festival's opening night on July 18. Although she hasn't released an album in 12 years, Elliott definitely has no shortage of iconic hits to entertain a crowd. She reportedly performed all of her most popular songs, including "Work It," "Lose Control," and "Get Ur Freak On." With a lineup like that, who wouldn't want to see Elliott's show?
In addition to Beyoncé and Solange, a handful of other celebs were in attendance. EW reported that Bjork and Katy Perry also came to see the show, but none of them showed up in Elliott's Twitter feed like Beyoncé and Solange did. Elliott shared a photo of the trio posing in her trailer with an appreciative caption:
"Thank u to my good sis @solangeknowles u know how we do! #cancerseason!& my good sis @Beyonce they always have shown me & I am humbled"
During Elliott's set, Queen Bey did what literally any of us would — she rocked out to the performance. An attendee caught a video of the show, which starts with a shot of Elliott doing her thing, but then pans over to what looks like Beyoncé getting her dance on backstage. It's absolutely perfect.
Talk about a fun night! Elliott should take her show on the road in the very near future, because tickets would undoubtedly sell out quick. Her hits are timeless, and she appeals to a massive, worldwide audience. Even better, what if Elliot teamed up with Solange and Beyoncé for a show? Now that is a tour that would break all kinds of records.