Beyonce's Coachella Performance Just Broke A MAJOR YouTube Viewing Record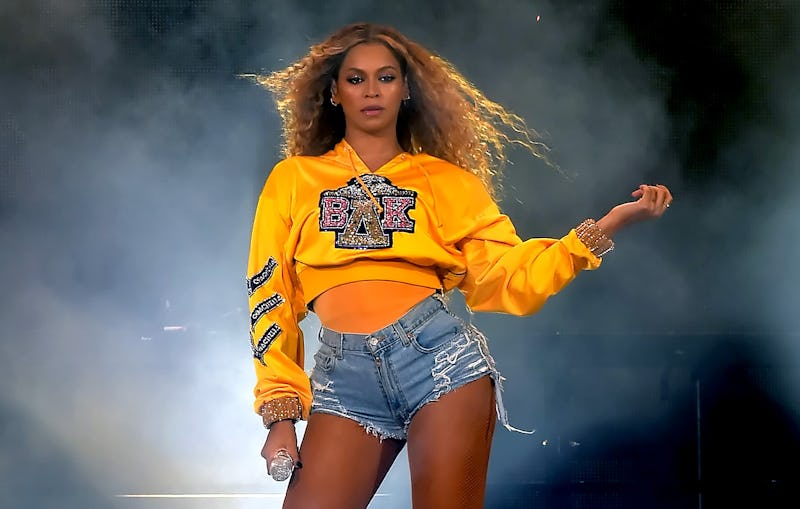 Kevin Winter/Getty Images Entertainment/Getty Images
As arguably one of the best live shows of recent times, Beyoncé's Coachella performance broke a major viewing record on YouTube during its live stream on Saturday, April 14. According to a press release, this year's Coachella was reportedly the festival's biggest to date, bringing over 41 million live views from fans in 232 countries over the weekend. Beyoncé's Saturday stage show alone garnered 458K simultaneous viewers around the world, making her awe-inspiring presentation the most viewed Coachella performance of all time, as well as the most viewed live music festival ever on YouTube.
Amidst the performance, Beyoncé became the first black woman to ever headline Coachella in its nearly 20-year history, and she absolutely made it a point to use the platform to showcase all of the beauty of her roots throughout the entire history-making night. Making mention of the monumental moment, Beyoncé spoke to the audience, saying, "Thank you Coachella for allowing me to be the first black woman to headline." She also went on to praise the women before her who paved the way.
The high octane stage show, notably a celebration of black history, black pride and higher education, was centered around the theme of historically black colleges and universities or "HBCUs." Amongst many great moments, Beyoncé performed with a 200-person HBCU marching band throughout the entire show, intertwined Nina Simone's "Lilac Wine," quoted Malcolm X, paid homage to Fela Kuti, and sang "Lift Every Voice and Sing" – a song which is more notably referred to as the "Black National Anthem."
She danced, she sang, collaborated with her hubby JAY-Z, engaged in a dance-off with her sister Solange, celebrated women with bodies of every size, had a Destiny's Child reunion – she literally did. It. All. And she did it while using the platform to celebrate feminism, diversity and the beauty of blackness.
Keeping up with the visual of HBCU theming, the 36-year-old singer, along with some of her background dancers, also donned fraternity-inspired gear. Bey notoriously wore a cropped yellow hoodie, marked with the gold and black pyramid with the Greek letters "BDK" for Beyoncé Delta Knowles or Beta Delta Kappa emblazoned on the front.
After the show's close, Beyoncé followed up on her commitment of supporting black colleges by announcing that her BeyGOOD Initiative would be funding four $25,000 scholarships at HBCUs. According to Variety, the scholarships come from the newly created Homecoming Scholars Award Program and will be awarded for the 2018-2019 school year. Rolling Stone indicates that applicants must have a 3.5 GPA and be studying one of the following disciplines: literature, creative arts, African American studies, science, education, business, communications, social sciences, computer science or engineering.
Many may remember Bey postponing her scheduled 2017 Coachella appearance due to her pregnancy of her and JAY-Z's twins, Rumi and Sir Carter. Beyoncé addressed the situation with the audience during this year's celebration. She explained,
"I was supposed to perform at Coachella before but I ended up getting pregnant. I had time to dream with two beautiful souls in my belly and this this is everything I dreamed of and more. I hope y'all enjoyed the show, we worked very hard."
Beyonce's triumphant return to the stage following the birth of her twins in June 2017 made huge waves on Twitter, with the term "Beychella" most notably being mentioned over 2.2 million times on the social media platform, according to Refinery 29. The portmanteau of Bey's name and the festival's title completely took over the internet after a segment of the show featured a recording from DJ Khaled which announced, "After tonight, Coachella gotta rename Coachella the Beychella. New name alert: Beychella!"
It's worth pointing out that these records may be short-lived as Beyoncé is set to headline the Coachella stage once again during the second weekend of the music festival. Although it remains unclear whether or not her upcoming performance will be a carbon copy of last week's jaw-dropping showcase, Vulture reports that a recent photo posted to her website seems to suggest that there could possibly be something new and even more record-shattering on the horizon.