Destiny's Child's Coachella Reunion Will Make You Want The Band Back Together IMMEDIATELY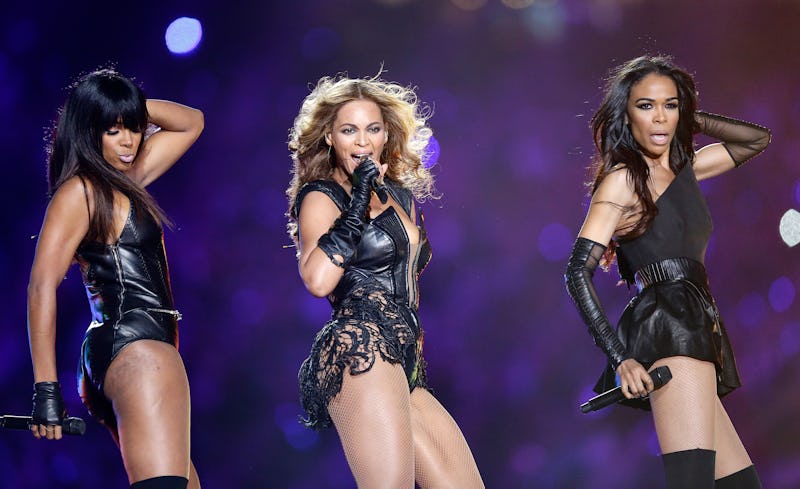 Ezra Shaw/Getty Images Sport/Getty Images
It's about time. Beyoncé brought out Kelly Rowland and Michelle Williams during her headlining performance at Coachella on Sunday, and the reunion has fans hoping Destiny's Child could be getting back together. Beyoncé's performance at the music festival was the most anticipated of the year, and it didn't disappoint. The singer was on stage for almost two hours, backed by a team of dancers and a fully-outfitted marching band. She brought out various special guests throughout the night, including Jay-Z and Solange, but of course, the long-rumored appearance by Rowland and Williams was a highlight. The group's victory-lap performance has fans hoping the three singers could make their reunion more permanent, but only time will tell if they will once-again record and tour together.
Destiny's Child was there as Beyoncé made history as Coachella's first black female headliner. The performance was also the first time that the members of Destiny's Child had appeared on stage together since 2013, when Bey brought out Rowland and Williams at the Super Bowl half-time show. Their last performance didn't result in an immediate reunion, but after watching the three back on stage together on Sunday, it's hard not to want more Destiny's Child. The newly-reunited group sang new arrangements on their old hits "Lose My Breath," "Say My Name," and "Soldier." They also wore matching outfits as a throwback to their early days together.
The reunion at Coachella had been rumored since 2017. Last year, Rowland posted a throwback picture of the outfit she wore during the Super Bowl performance on Instagram, which many took as a clue that the group would get back together soon. It's unclear if her post was hinting at the Destiny's Child reunion, since Queen Bey managed to keep most of the details of the Coachella performance a secret.
Bey was originally meant to headline the music festival in 2017, but her pregnancy with twins Rumi and Sir forced her to reschedule. It worked out for everyone, giving the singer another year to plan the spectacular show.
"I was supposed to perform at Coachella before," she told the crowd on Saturday, according to Variety. "but I ended up getting pregnant. So I had time to dream and dream and dream with two beautiful souls in my belly, and I dreamed up this performance." On Twitter, fans are calling the performance one of her best, and further securing her place as one of the greatest performers in history.
If this performance was a career victory lap, it was only fitting that Queen Bey would bring back the group that started it all. Destiny's Child formed in 1990, and several members came and went over the years, including LaTavia Roberson and La Toya Jackson. The most famous lineup featured Bey, Williams, and Rowland, and the three singers first hit the charts with the singles "No No No" and "With Me". However, their true breakthrough single was "Say My Name", so it's only fitting that the three singers would perform the single at Coachella.
The reunion on the festival stage proved that Destiny's Child is still iconic two decades later. The group crushed their performance like it was still 1994, and left fans wanting more. It's not yet clear if the now-reunited group will get back together on a more permanent basis, but fans are hopeful. On Twitter, the Bey Hive celebrated the performance and asked for a reunion tour or new music:
It would be hard for Destiny's Child to top this Coachella performance, which was the perfect medley of the group's hits. All three of the trio are incredible performers, and the reunion featured both nostalgic and updated takes on their songs. While it isn't the first time the group reunited, their performance at the Super Bowl was limited by the half time show's time constraints. This performance was the full medley fans had waited for years for.
Only time will tell if the world will be getting more Destiny's Child in 2018. If there's anything fans do know, it's that Beyoncé tends to have surprises planned, so anything could happen. The Bey Hive isn't asking for much — even if Rowland and Williams make an appearance on her next release or the upcoming On the Run II Tour, it would be game-changing. And a win for fans of the iconic group everywhere.