The Absolute Best Memes & Tweets About Beyonce's 'Homecoming' So Far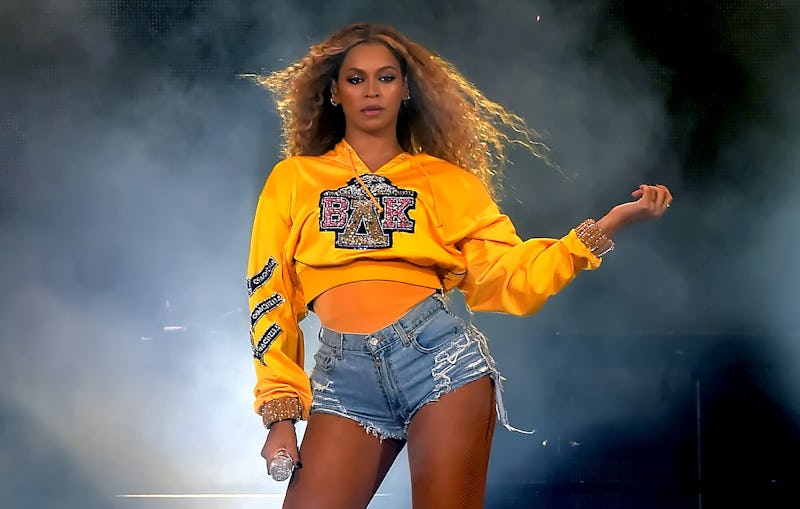 Kevin Winter/Getty Images Entertainment/Getty Images
Sure, we might be right in the middle of Coachella 2019, but all anyone on the Internet wants to talk about right now is #BeyChella — and these memes and tweets about Beyoncé's Homecoming Netflix special prove that nothing unites social media quite like the Queen Bey herself. On Thursday, April 17, the singer released a concert special on Netflix all about her historic Coachella performance in 2018, along with a surprise live album that featured the new arrangements of many of Beyoncé's iconic songs.
"I had a clear vision for Coachella," Beyoncé revealed about her history-making performance, which paid homage to the Historic Black Colleges and Universities of the United States and their influence on the African American culture, in her Vogue September 2018 cover story. "I was so specific because I'd seen it, I'd heard it, and it was already written inside of me," Beyoncé added, speaking of the show that she rehearsed for 8 months before taking the stage in April 2018.
In the documentary, Beyoncé revealed that her father was a Fisk University alum, and that she always dreamed of attending an HBCU herself. "My college was Destiny's Child," she said, adding that her desire to honor those institutions never left her. "Instead of me pulling out my flower crown, it was more important that I brought our culture to Coachella," Beyoncé said. "Creating something that will live beyond me ... That's what I want."
Based on the hysterical memes and tweets about just how overwhelmed fans were seeing Homecoming for the first time, it seems as if Beyoncé definitely achieved that goal:
Everyone's Part Of The BeyHive — Everyone
Netflix will be known as Beyflix from now on — pass it on.
Jaws. Were. Dropped.
There is nothing quite like the fan reaction to Beyoncé.
This girl was truly all of us.
Bow Down To The Queen's Talent
We stan.
Beyoncé Is Basically A Superhero
We have a feeling that Peter Parker would be honored by this comparison to the Queen Bey.
Nothing Could Prepare Us For This
Sure, fans were pretty sure they knew that Beyoncé had more up her sleeve than just a Netflix special, but that didn't stop everyone from freaking out when the Homecoming live album dropped anyway. It's Beyoncé after all.
There's Nobody On Her Level
Queen Bey >>>>>>>>>>> literally the rest of the world.
Every Moment Was Emotional
Turns out, it is possible to sob hysterically while simultaneously learning all of Bey's choreography. Who knew?
Once It Ends, Replay It Again & Again
Expect all of your friends and family to cancel all your plans in order to stay in and watching Homecoming over and over again for the rest of the day.
Actually, plans might be cancelled for the rest of the month, in order to properly relive every moment of #BeyChella.
The Most Satisfying Moment Of All
We will always stan a relatable queen.
The Sacrifices Made Were Unimaginable
In order to prepare for Coachella after the birth of her twins, Beyoncé admitted that she was on an incredibly strict diet in order to get her body in the shape it needed to be for the marathon performances. "In order for me to meet my goals, I'm limiting myself to no bread, no carbs, no sugar, no dairy, no meat, no fish, no alcohol — and I'm hungry," she said, and the stomachs of everyone watching rumbled in solidarity.
Nothing Comes Before Beyoncé
"BAE" now officially stands for "Beyoncé Before All Else."
Beyoncé's Coachella was an important and iconic performance when it happened last April, but the fan reaction to Homecoming proves that her headlining gig truly changed the culture forever.