Fans Were Seriously Bummed By Bibiana's 'Bachelor In Paradise' Elimination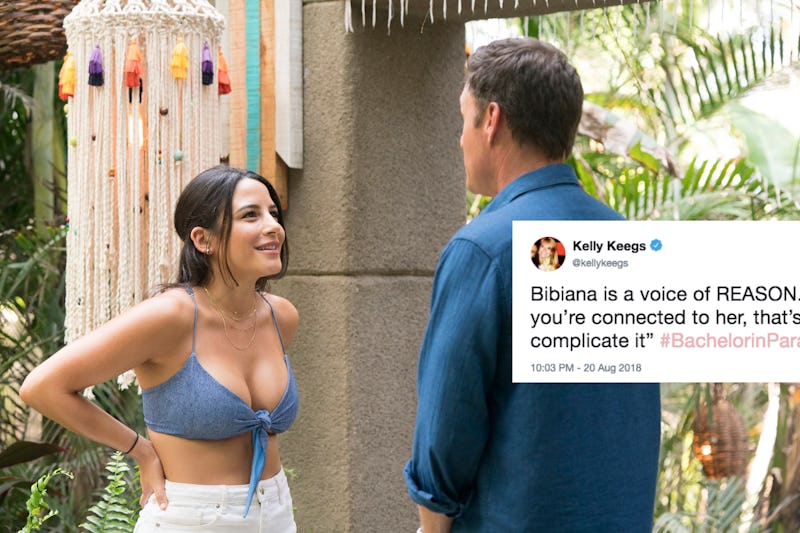 ABC/Paul Hebert; kellykeegs/Twitter
There are a lot of cast members to keep track of on Bachelor in Paradise. Unfortunately, that means they can't all stay at the resort. After Monday night's episode, viewers couldn't help tweeting about Bibiana getting eliminated on Bachelor in Paradise. She gave us all so much, yet it felt like she just didn't get the Paradise experience that she deserved — not by a long shot.
She did everything for everyone. She was the glorified therapist, bringing couples together and helping them work out their differences. She took over Chris Harrison's job and ended up narrating the show. She had the best one-liners to break up the melodrama. She had the best bathing suits. She even saved Colton when no one else wanted to give him a rose.
And this is how she gets repaid? By getting the boot? She helped everyone else with her sage advice, yet no one could give her a rose. This is reality TV injustice. How are the viewers going to get through the season without Bibiana's commentary? How is she such a great person, enhancing every show she's on, yet she's never found love on TV? It's just not right.
Bibiana deserves everything and her fans couldn't help tweeting in response to last night's episode. Is there some sort of twist where Bibiana walks down the Paradise steps with a date card during the next episode? There has to be. Right?