'Bachelor In Paradise' Viewers Had SO Many Feelings About Bibiana Giving Out Her Rose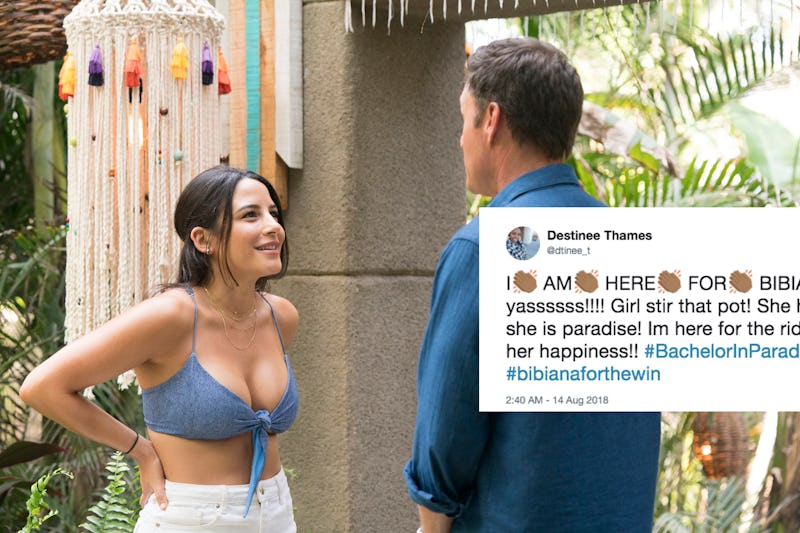 ABC/Paul Hebert; dtinee_t/Twitter
It's fair to say that Bachelor in Paradise Season 5 is essentially the Colton and Tia show at this point. There are 93,733,394,636 people in this cast, yet these two are the main focus of almost every scene. It seemed like he was going to go home, but Bibiana gave Colton a rose and saved him from elimination. This show (like many reality TV shows) has become rather formulaic, but this was a twist that caught many people off-guard. Both viewers and cast members were surprised.
As a recap, Tia gave her rose to Chris. Colton's second choice Angela (and her perfect hair) handed out a rose to Venmo John. Bibiana had been making witty remarks with Wills the entire episode. It seemed like she might save Wills, but that's not what happened. Instead, the viewers were deprived from seeing Wills' summer wardrobe, as the Tia and Colton drama continued.
Some people praised Bibiana for stirring the pot and continuing this storyline. Other people suggested that this was a producer-instigated move. Then The Bachelorette's Becca Kufrin "randomly" showed up to talk to Tia and Colton, which would have made zero sense if Colton was sent home during the first storyline.
Plenty of Bachelor in Paradise viewers commented on Bibiana's rose ceremony power move. Some were behind it, others were annoyed, and plenty of people were confused. These tweets raise so many questions.