Kevin From 'Big Brother 19' Opened Up About Having Cancer In A Heartfelt IG Post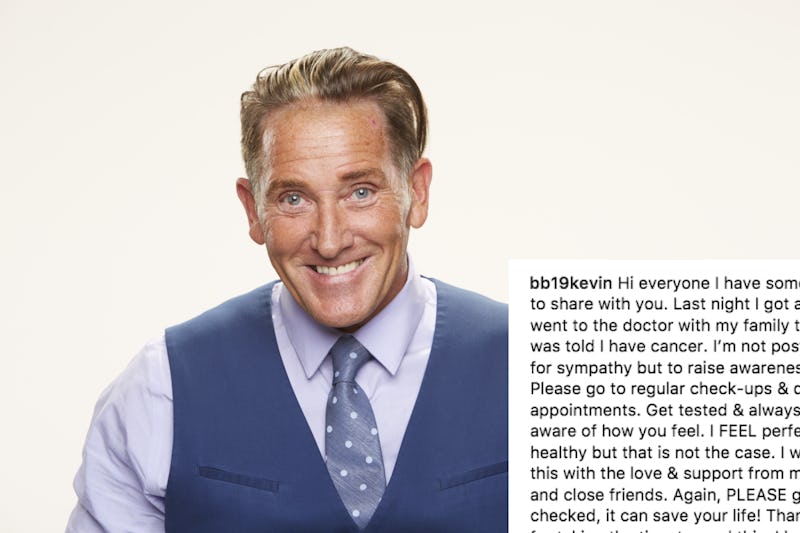 Sonja Flemming/CBS; Kevin Schlehuber/Instagram
Beloved Big Brother 19 cast member Kevin Schlehuber shared his cancer diagnosis on Instagram in an effort to raise awareness and encourage his followers to make regular appointments for checkups. On Oct. 22, he revealed, "Last night I got a call & went to the doctor with my family today. I was told I have cancer."
The reality TV alum explained to his followers,
"I'm not posting this for sympathy but to raise awareness. Please go to regular check-ups & doctors appointments. Get tested & always be aware of how you feel."
He continued, "I FEEL perfectly healthy but that is not the case." Later in the post, he emphasized, "Again, PLEASE get checked, it can save your life!"
He did not reveal any more specifics about his cancer diagnosis, but Kevin continued to be the positive guy that the Big Brother viewers loved during Season 19 of the show. The stay-at-home dad declared, "I will beat this with the love & support from my family and close friends." Not only does have support from his family and close friends, but he also has a lot of love from the Big Brother fans and the alumni cast members who commented on the Instagram post.
Paul Abrahamian, the runner-up from Kevin's season of Big Brother, responded to his Instagram post with love and that same positive attitude that Kevin is known for.
Another BB19 castmate Elena Davies sent sweet regards from herself and her boyfriend Mark Jansen, who was also on the same season as Elena and Kevin.
Christmas Abbott, another Big Brother 19 costar, declared that Kevin will be a cancer survivor just like her own mother, who beat breast cancer.
Ramses Soto and Kevin took their tight bond beyond the Big Brother house and into their real lives. The two of them truly became family. Ramses even went to Massachusetts to spend Thanksgiving 2017 with Kevin, his wife, and kids. There's no doubt that support from Ramses means a lot to Kevin, given their closeness.
On Twitter on Oct. 21, Kevin shared his appreciation for the love and support his family has received. It would be easy for anyone to get down, given this recent diagnosis, but Kevin is doing what he can to turn this tough obstacle into something positive. He also emphasized the importance of forgiveness during difficult times. (The tweet was shared a day before the post about his cancer diagnosis, but the sentiment seems applicable regardless.)
Kevin captured the hearts of the viewers the second he stepped into the Big Brother house in summer 2017. He is as real as they come, endearing, and hilarious. Even though he has a strong support system in real life, as a father of seven kids, he has lot of love from the Big Brother viewers and his fellow Big Brother alums. Let's just hope that all of that encouragement coupled with Kevin's constant optimism will help him beat cancer.
Nevertheless, Kevin did not share his diagnosis in a quest for sympathy. Hopefully his social media followers will heed his warnings about the importance of regular doctors visits and testing to catch cancer in its early stages.