Bill Cosby's Accusers Leave The Trial In Tears After The Jury Deadlock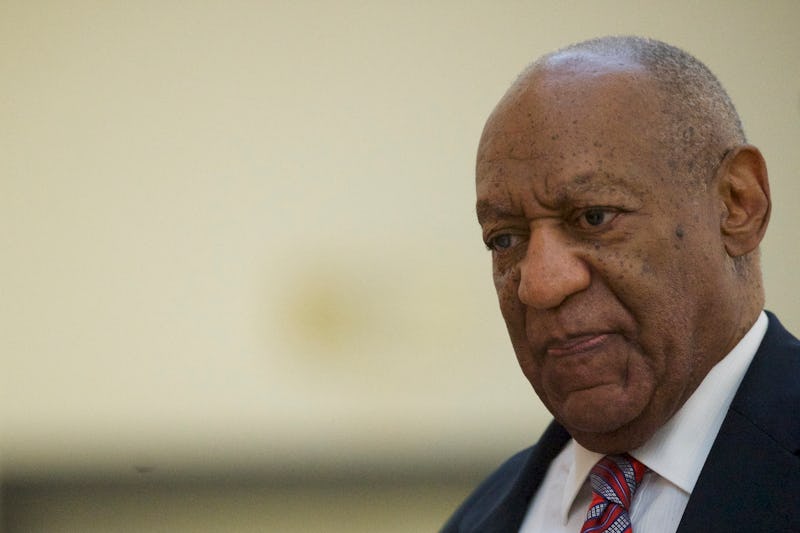 Mark Makela/Getty Images News/Getty Images
After 30 hours of deliberation, the Bill Cosby jury found itself in a deadlock Thursday, according to Reuters report. Since Monday, jurors — consisting of seven men and five women — have been attempting to reach a unanimous decision on whether Cosby is guilty of three acts of aggravated sexual assault against Andrea Constand. According to the Philadelphia Inquirer's Laura McCrystal, as news came out of the deadlocked Cosby jury, his accusers at the courthouse reacted by leaving in tears.
Constand, a former director of operations for Temple University's women's basketball team, has leveled the aforementioned charges against Cosby. According to an affidavit, Constand has accused Cosby of drugging her with three blue pills and then making physical contact without her consent including forcing his hands into her trousers and coercing her into touching his erect penis in 2004. Cosby denies Constand's allegations, claiming that their encounter was consensual and that he gave her Benadryl. He has pleaded not guilty to the charges and did not testify during the trial.
Reports of scenes outside the court have noted the polarizing effect of the Cosby trial on Americans. Cosby — who is also dubbed as "America's Dad" due to his long-running program The Cosby Show — was supported by several protesters carrying signs that said "Free Mr. Cosby" and "stop wasting taxpayer money."
One of Cosby's accusers and former guest star on The Cosby Show, Lili Bernard, was seen detailing her allegations against the comedian. (Cosby has denied Bernard's claim, too.) In a video clip shared by McCrystal, a visibly enraged Bernard told reporters, "I experienced firsthand when [Cosby] drugged me, when he raped me, when he threatened me to silence."
Some Cosby supporters allege that racial bias is a motivating factor behind the accusations of sexual assault against "America's Dad." Cosby's daughter Ensa has expressed similar views in the past, saying, "My father has been publicly lynched in the media."
The jury's impasse has raised the level of tension surrounding Cosby's trial. In the face of the deadlock, Cosby's defense team asked for a mistrial which was denied by Judge Steven O'Neill. Instead, the judge demanded that the jury work on the deadlock and reach its conclusive verdict. This is otherwise known as the "Spencer Charge" or "Allen Charge," an instruction provided by a judge to a jury reminding it to reach a definitive decision.
On Thursday morning, O'Neill told the jury, "Each of you has a duty to consult with one another [...] if it can be done without violence. But each of you must decide by yourself."