Blac Chyna Takes To Instagram Live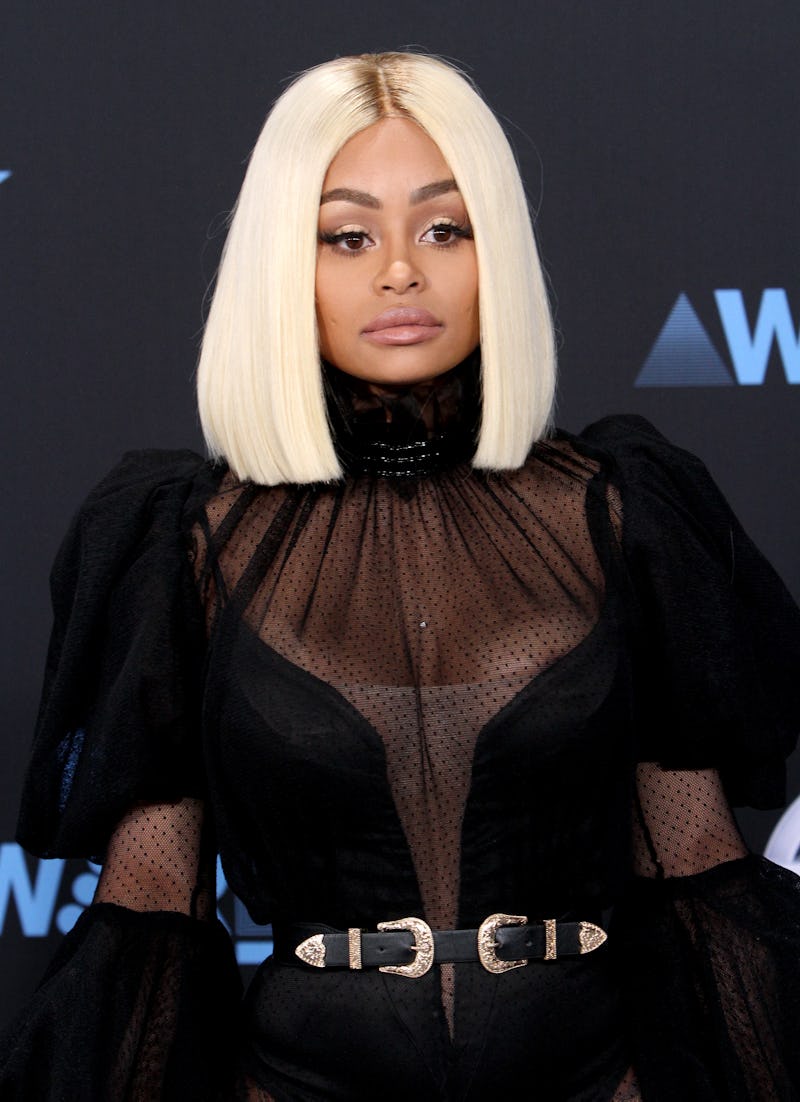 Maury Phillips/Getty Images Entertainment/Getty Images
Following a lengthy series of social media posts from Rob Kardashian in which he made numerous claims against his former fiancée, Blac Chyna took to Instagram Live to share a video with her followers. The video is a couple of minutes long, but only features a bed with what appears to be Versace sheets and/or a comforter and Chyna's hand and leg moving on top of the fabric as if to show it off. The video also features in the background the song "Bodak Yellow" by Cardi B, the lyrics of which are quite relevant to the situation involving Chyna and Kardashian.
UPDATE: Blac Chyna's lawyer told ABC News in a statement "We are considering all legal options and recourses at this time." Bustle has reached out to Kardashian for comment, but did not receive a response at the time of publication.
UPDATE #2: Kardashian's lawyer told TMZ in a statement that Kardashian's actions were a "spontaneous reaction that he regrets" and that they will not be contesting the restraining order. "Rob's only concern is for the well-being of baby Dream," the statement finished.
EARLIER: Beginning on Wednesday morning, Kardashian posted allegations about Chyna on Instagram including claims that she cheated on him multiple times, had a child with him to get back at her ex Tyga and his girlfriend at the time Kylie Jenner, and that he paid for her to have plastic surgery after they had their child and paid for other expenses of hers. Kardashian also posted nude photos he claimed were of Chyna. While Kardashian was posting on Instagram, Chyna claimed on Snapchat in since-deleted posts that Kardashian abused her. Bustle has reached out to reps for Kardashian and Chyna for comment on the allegations they made against each other, but has not received a response.
After deleting the Snapchats in which she alleged abused, Chyna posted two videos of a diamond watch and rings with the song "Cameras" by Drake playing in the background. The song includes the lyrics, "Don't listen to the lies, I swear they all lies." This, combined with Chyna's Instagram Live video make it seem that she is choosing to speak out via song lyrics, at least for the time being.
Cardi B's song "Bodak Yellow" features lyrics like "And I'm quick, cut a n*gga off/So don't get comfortable," "Look, I don't dance now/I make money moves/Say I don't gotta dance/I make money move," and "Got a bag and fixed my teeth/Hope you hoes know it ain't cheap." Considering how many of Kardashian's allegations about Chyna involved him claiming he paid for her lifestyle, including her cars, alleged surgery, and more, it doesn't seem to be a coincidence that Chyna would then post a video with a song about being rich and having her own money while flaunting Versace bedding. Making the song even more specific to her own life, Chyna, like Cardi B, used to be a stripper, but Chyna is now a business owner, model, and reality star — as in, "I don't dance now/I make money moves."
No one can know where Chyna and Kardashian's situation goes from here, but it's clear that they've taken very different paths when it comes to how they're expressing themselves on social media.