Designers Are Auctioning Off The Black Dresses Worn At The Golden Globes To Benefit Time's Up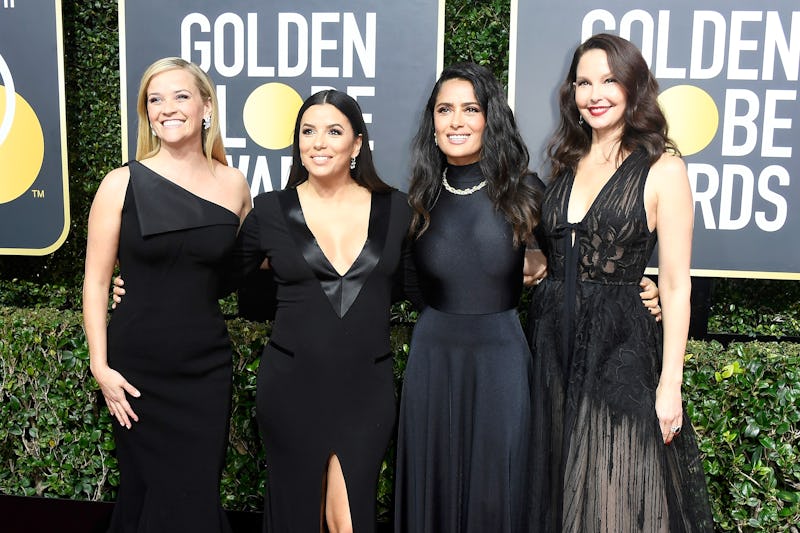 Frazer Harrison/Getty Images Entertainment/Getty Images
If you were paying close attention to the attire celebs wore to the 2018 Golden Globes, then you noticed it was a total black out. The all-black attire worn by almost all attendees of the awards show was donned in protest of the sexual assault allegations in Hollywood. Now, designers are auctioning off the black Golden Globes dresses they designed to benefit Time's Up, a fundraising effort and legal network to support survivors of sexual harassment and abuse in Hollywood and beyond.
Prior to the 75 annual awards show, rumors circulated that celebs planned to wear all black to protest sexual abuse and harassment in Hollywood. On Jan. 7, A-listers kept their word with a fashion show of solidarity. A profound moment for one of Hollywood's biggest nights, celebs and the fashion industry joined forces to fight for equality and take a stand against the sexual assault allegations that have been plaguing the entertainment sphere via uniformed red carpet attire.
Reese Witherspoon stunned in a sleek, one-shoulder gown, Eva Longoria went for a steamy, deep V-cut number, and Tracee Ellis Ross looked like a vision in head-to-toe black. For once, the hottest question on the red carpet was "Why are you wearing black?" rather than "Who are you wearing?".
The political activism isn't stopping at the red carpet, either. Now, Time's Up has partnered with Condé Nast and eBay to auction off the iconic pieces celebs actually wore to collect their trophies.
Beginning on Jan. 19 at noon ET/ 9 a.m. PT, the masses can surf ebay.com/timesup to shop the gorgeous LBD's celebs sported on one of the most memorable red carpets. The black gowns worn by the likes of Witherspoon, Ross, Viola Davis, Salma Hayek and more will all be up for grabs, with bids starting at a minimum $25 donation. Shoppers can also bid on tuxedos worn by Hugh Jackman, Jude Law, Neil Patrick Harris, and more, with all items being donated by the designers themselves.
With merch from top designers like Marc Jacobs, Stella McCartney, and Diane von Furstenberg on the line, that's certainly a small starting price point for luxe apparel— especially for gowns worn by Hollywood's hottest for such a significant cause.
All proceeds raised from the auction will benefit the Time's Up Legal Defense Fund, a financial reservoir set up to help those who have experienced workplace sexual harassment while in the pursuit of their career by connecting victims with legal representation and public relations assistance.
"At Condé Nast, we've always believed in the importance of swift action to support meaningful social change," Anna Wintour, artistic director of Condé Nast and editor-in-chief of Vogue, said in a statement to Vanity Fair. "Through this auction powered by eBay for Charity, and harnessing the compelling pull of both fashion and activism, we're hopeful that the black dresses worn at this year's historic Golden Globe Awards will raise funds for the Time's Up initiative, and serve to support the stories and voices of those who have been victims of sexual misconduct."
The auction will end on Jan. 26, giving fans just enough time to drool over the prospect of winning a designer masterpiece worn by entertainment royalty. Even if none of the attire appeals to you, it's worth making a donation to support the Time's Up movement anyway.
Longoria and Witherspoon, amongst others, have all shared videos via social media detailing how those at home can get involved. The movement's solidarity letter and GoFundMe page make it possible for anyone to support Hollywood's fight against sexual discrimination, harassment, and abuse. Considering, the legal defense fund has already raised just over $16.6 million in a 28-day span, hitting the $17 million goal is well in reach.
Owning a piece of Hollywood protest history while donating to make a difference. What's not to love?