Why 'Black Lightning' Stands Outside Of The CW's Arrow-Verse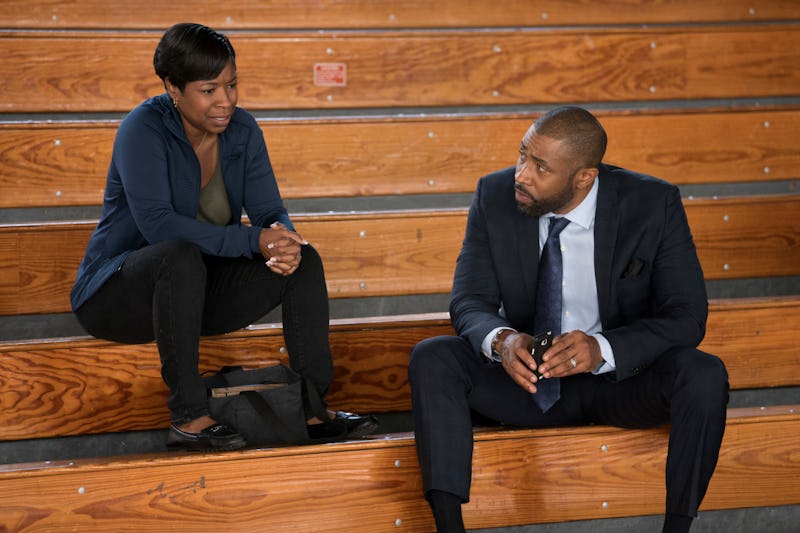 Richard Ducree/The CW
Four superhero series just weren't enough for the CW. So on Jan. 16, Black Lightning (executive producer: Mara Brock Akil) joins the network's comic book canon. But unlike the other four series based on DC lore — Supergirl, Arrow, Legends Of Tomorrow, and The Flash — Black Lightning is not connected to the Arrow-Verse. That news may come as a disappointment, but its standalone quality has a very good reason behind it.
The Arrow-Verse is a term that describes how those other four series are interconnected, even if some characters exist on different Earths than others. Normally that just means that the characters of one show are aware of the characters of another but don't interact much at all. But once a year there's a special TV event where the heroes unite to save the world, across four episodes. This year, Oliver Queen and Barry Allen married Felicity and Iris at the same ceremony and with the help of others, stopped Nazi versions of themselves from another Earth from taking over theirs.
But while all those other shows share a universe, The CW's president Mark Pedowitz confirmed Black Lightning (executive producer: Sarah Schechter) would not in an interview with Entertainment Weekly before this year's crossover event. "We do not aim to do a five-way crossover," he said. "Black Lightning, at this time, is not part of the Arrow-Verse. It is a separate situation." Moreover, the outlet also noted another important factor that would impede a crossover: simple logistics. While the other CW superhero shows film in Vancouver, Black Lightning films in Atlanta.
Series creator Salim Akil has said that there's more to the decision than just filming locations. At the show's Television Critics Association press tour panel, he said that he and his team made the series a self-contained entity, in part, just because they could. "This idea of why they're not in this universe or why they're not in the Justice League [cinematic universe] is because … [the studio told us], 'You've got to do this the way you want to do this. You're going to live and die by that, and we support you,'" Akil said. "That's what you're seeing."
The other reason Akil wanted Black Lightning to exist outside of the Arrow-Verse is because he wanted to establish a difference in tone. "I say this with all due respect, but [the other shows are] not really relevant to the show that we're doing," he said at the same panel. Black Lightning after all, doesn't focus aliens being a threat to humanity. Instead, it focuses on one man, a retired former superhero, called back into crime-fighting to protect his neighborhood from gang violence and corruption.
Akil explained in more detail how the show would differ from the other Arrow-Verse shows in an interview with The Hollywood Reporter. He said:
"We're not going to have the villain of the week. We're going to explore our villains and our good guys and we're going to stew in that and really get to know them. I didn't want to do a show where the villains were twirling their mustaches. I wanted you to understand how and why they were the way they were. That will be a big difference from what you may be expecting."
And that difference may already be paying off for the series. While fans haven't gotten a chance to weigh in about how they're enjoying Black Lightning, some critics have already gotten a chance to see it, and the reviews are stellar. On Rotten Tomatoes Black Lightning boasts a 100 percent fresh rating with favorable notices from literally every outlet that has reviewed it so far, including the Orlando Sentinel, Newsday, CNN.com, The Washington Post, The New York Post, and more.
Black Lightning is certainly a series blazing its own trail, despite being the fifth DC comics-based show to appear on The CW. The decision to have the series, at least for the time being, remain separate from the rest of the Arrow-Verse, is proof of that. However, circumstances may change as the show continues on. In another interview with Entertainment Weekly, Akil said "I'm not opposed to [a future crossover] at all." So Jefferson Pierce may meet Barry Allen or Sara Lance at some point. But first, he'll establish himself in his own unique world.