Letitia Wright Opened Up About Mental Health In A Refreshing, Honest Way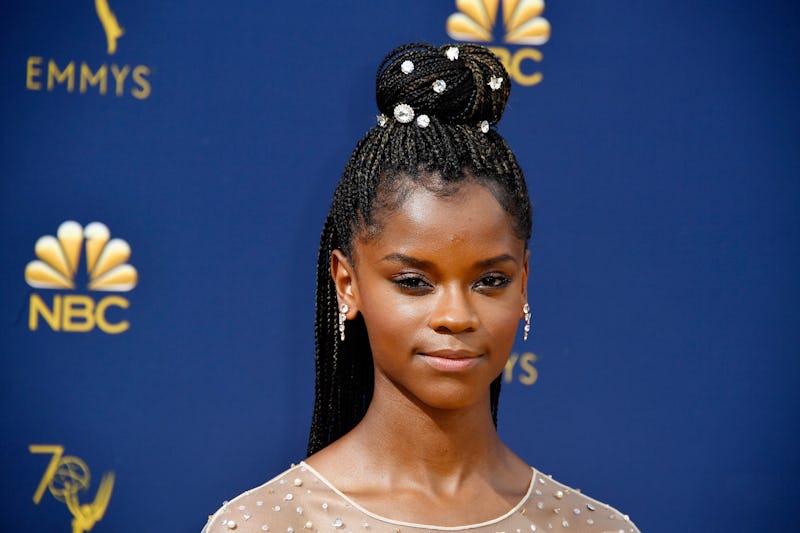 Frazer Harrison/Getty Images Entertainment/Getty Images
It's easy to think of Marvel stars as real-life superheroes, and often, they are — like Emmy-nominated actor Letitia Wright, who starred as Shuri in 2018's Black Panther. Letitia Wright opened up about mental health to The Hollywood Reporter, openly discussing her faith and how her healing process included turning down a role for a film with Nicole Kidman.
In a profile with THR, Wright talked about everything you aren't used to hearing from celebrities. At least, not all at the same time. The actor explained that after her breakout year in 2011, she had steady work in the industry and was cast in increasingly complex roles. Despite her flourishing new career, though, Wright felt herself "sinking into a bout of crippling depression." In 2015, she began Bible study, and found that "faith that rescued her from this very dark place." Discovering a newfound connection to Christianity helped the actor "find her [personal] equilibrium".
This new balance brought her clarity: Did she need to keep acting? No; what she needed was to take a break from trying so hard. As Wright told THR:
"I wrapped [acting] up and was done with it, happy to do anything that was more chilled. But that's not the way God had it with me."
During this healing phase, when she was reconsidering her career, the possibility of doing a film alongside multiple award-winning actor Nicole Kidman. Wright turned it down in order to take more time for herself. Fortunately, that was the right call for her. After taking the time she needed to return to herself, Wright's career took off again.
Even after her second breakout era (her role in Black Panther, her Emmy nomination for the "Black Museum" episode of Black Mirror), Wright is careful about the projects she selects. That's to help keep up her mental health, as well as her sense of self:
"I pride myself on keeping it the same as when I came into acting, to not just change the lane and take everything, just because it may have a big name or a big budget."
Per the actor, there are a few questions she asks herself to confirm she's made the right choice.
"Am I right for this part? Is this what I should be playing? If something feels off in my spirit, I know that's God's way of saying, 'You shouldn't do that.'"
Wright's relationship to religion is important to her and integral to her career. After Marvel first reached out to her about a Black Panther audition, for example, she reportedly told her agent that "I've got this role, God has told me". Now that's confidence.
Outside of the Marvel universe, she's already lined up a West End play (written by fellow Black Panther star Danai Gurira!) and the English-language remake of Le Brio. Within Marvel, there's Avengers 4 and the Black Panther sequel on the horizon. Not only that, but unnamed THR "sources" mention that producers want Wright for Men In Black and Jump Street franchises, too. So it's just a matter of time before Wright costars with Kidman for real. If that's something she's still interested in.