Blake Lively & Ryan Reynolds Are Couple Goals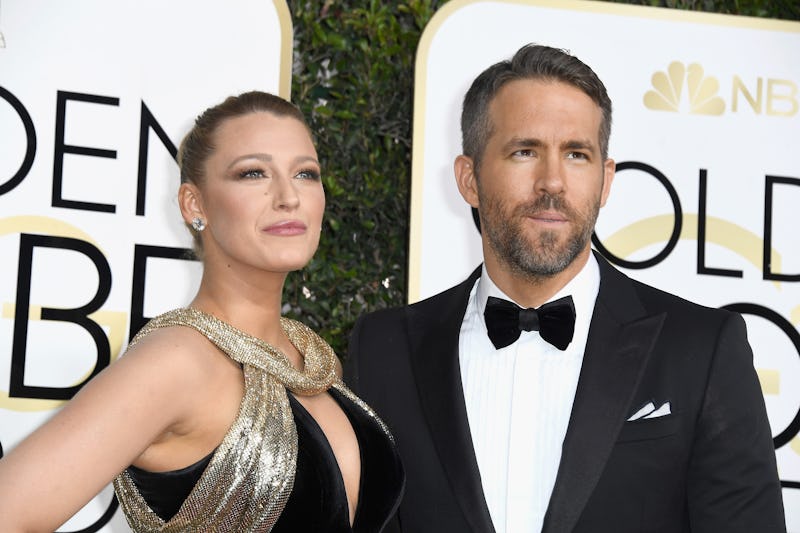 Frazer Harrison/Getty Images Entertainment/Getty Images
Prepare for your heartstrings to be tugged: Blake Lively and Ryan Reynolds have arrived at the 2017 Golden Globes and they are proving yet again that they are one of Hollywood's most adorable and stylish couples. The only complaint I have? They didn't bring their kids along with them. Let's be honest — those two wee ones would've made the cutest red carpet accessories. However, all is forgiven because their awards show get-ups are basically perfection. Let's break down each of their looks, shall we?
Blake Lively graced the Golden Globes red carpet at the Beverly Hills Hilton Hotel in a black halter gown with metallic gold straps and pockets. She wore her hair pulled back into a high bun and kept her makeup glowy and natural. Lively accessorized the look with emerald and diamond jewels, and truly, she couldn't look more like a glamorous Grecian goddess if she tried. Ryan Reynolds looked just as dapper in a sleek black tuxedo, sporting some handsome facial scruff. I nominate them as the evening's most stylish couple.
Earlier today, Blake Lively teased her look with a behind-the-scenes photograph of her getting ready. "I did not wake up like this. Thank you @rodortega4hair @kristoferbuckle @enamelle @lorealmakeup @lorealhair," her caption read. I love it when celebrities not only keep it real, but also give praise to their glam squad!
Here's her finished look.
I bow down.
And here is her handsome husband in black:
And here are both of their looks in action:
The last time we saw the gorgeous couple on the red carpet together was in early December when Ryan Reynolds received his Hollywood Walk Of Fame Star. Lucky for the world, they decided to bring their two daughters along to that event, marking the children's first public debut.
I hope that the entire Reynolds-Lively family makes more red carpet appearances together. Awards season has only just begun!