Instead Of Trolling Ryan Reynolds, Blake Lively Used His Birthday To Talk About Voting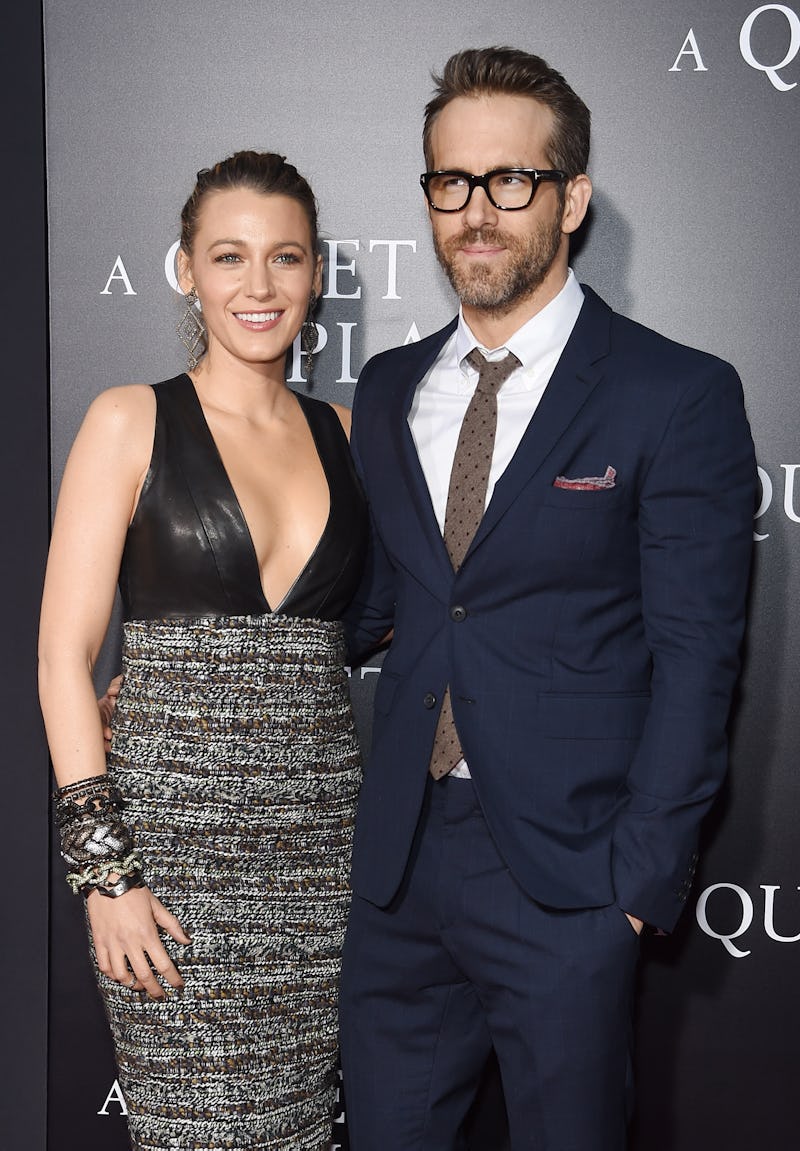 Jamie McCarthy/Getty Images Entertainment/Getty Images
Ryan Reynolds is celebrating 42 years of life, and it's no surprise that his wife has, once again, come in clutch with the perfect birthday message. On Tuesday, Blake Lively's birthday message to Reynolds also included the fact that, in honor of the special occasion, they voted early in the upcoming midterm elections. And knowing Lively and Reynolds' playful relationship, this is so typical of them — especially since they took the opportunity to share how important voting really is.
In the photo, Lively and Reynolds are smiling in front of a backdrop of birthday balloons, holding up their ballots to show the camera. "Happy Birthday to 2018's Sexiest Voter Alive," Lively wrote in the caption, adding the hashtag "#absenteeballot."
Now that early voting has kicked off all around the country, many celebrities (including Taylor Swift) have been encouraging their fans and followers to vote, and now, Lively and Reynolds are joining in. With their busy lives and careers, it makes sense that this couple would be voting with an absentee ballot, and it seems like they had a lot of fun doing it, especially since they were also celebrating Reynolds' birth at the same time. What better way to ring in another year of life than by doing your civic duty?
Although Reynolds and Lively often use opportunities like these to be snarky with one another, this post was really sweet — and it served as an important reminder to fans who hadn't voted yet.
Lively also shared another shot from their voting party on her Instagram Story, where, unfortunately, one of the blue balloons ended up covering her face as they tried to take the photo.
"Damn balloon. Tryin' to overshadow our birthday voting limelight," Lively wrote, adding a poll for her followers to share whether they plan to vote via absentee ballot or in person.
Reynolds shared a different photo of the two of them together from their voting session on his Twitter, tagging When We All Vote, a campaign aiming to encourage everyone to get out there and vote in this year's midterm elections.
"Best birthday ever ever. I have a new favorite four letter word. #JustVoted," Reynolds tweeted.
He shared the same photo on his Instagram, but this time, with a different caption — this one in true Reynolds style. "What a birthday! I just smoked a huge bowl of early voting," he wrote.
Just a day after Amy Schumer used her pregnancy announcement to encourage people to vote in November's elections, it's good to see Reynolds and Lively join in and help get the word out there, too. With how much is at stake for women, minorities, and the LGBT community in our country right now, it's absolutely imperative that people vote — whether they're voting early, in person, or absentee, like the birthday boy did.
Besides, it's hard to imagine a better birthday gift for Reynolds than to a huge voter turnout. If you're not going to vote for yourself, at least vote because Deadpool wants you to.