You Have To See Blake Lively & Ryan Reynolds Hilarious Instagram Convo About Dating Apps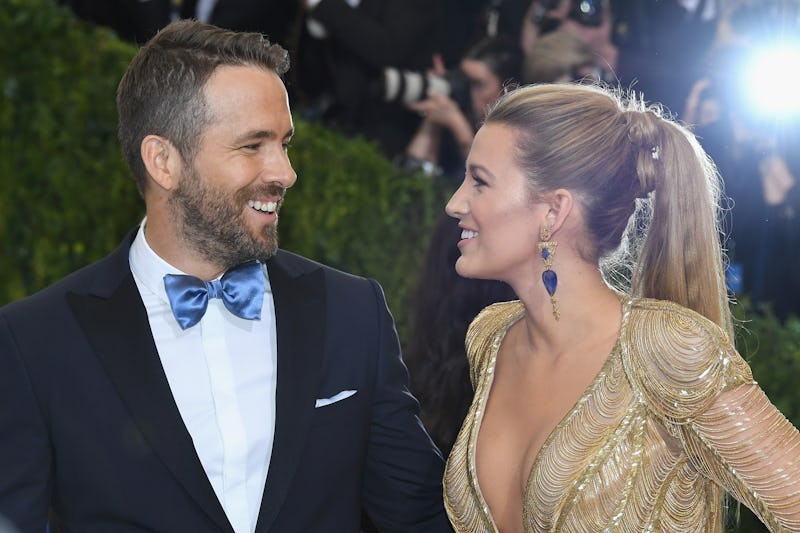 Dia Dipasupil/Getty Images Entertainment/Getty Images
It's always nice to see A-list couples being totally relatable and hilarious, just like the ever-awesome duo of Ryan Reynolds and Blake Lively. The pair are not afraid to show off their fun sides on social media. Ryan Reynolds and Blake Lively joked around on Instagram recently and results were truly hysterical, as Buzzfeed noted.
The whole exchange was prompted by Reynolds posting a seriously hot and funny gym photo on Instagram. He captioned his post with, "Ten minutes in to writing an email to my mom, when I realized there was no phone in my hand."
His wife couldn't help but joke around about his photo and caption, as she said, "Why won't this damn app swipe right?!?!!" an obvious play on some Tinder usage. But, the quips from the pair didn't stop there. Reynolds replied with, "Because it's the E-harmony app."
Lively then hit him with the comeback to end all comebacks when she said, "can you show me how to download that? Ever since Ashley Madison closed I've been so lonely." Considering Ashley Madison's history, it's a wee bit awkward for Lively to mention, but that shuts the whole back and forth down. Her husband ended it with a cheeky, "Awww. Happy Valentine's Day."
Obviously, the two were just joking with each other. So, there's no need to fret, Ryan/Blake shippers. They were just providing themselves and their fans with a few laughs.
That wasn't the only moment that saw the couple joking around on the love-filled holiday. Previously on Feb. 14, Reynolds posted a photo of a cake that he had baked for his wife. The dessert certainly looks beautiful, but if it is held together by some glue like he says, Lively's probably gonna take a pass on it. Although, knowing these two, there's a really good chance that he was joking around about their Valentine's Day treat.
Their Valentine's Day fun isn't the only time that the pair have shown off their silly sides on social media. On their respective birthdays, both actors had a lot of fun with their well wishes for their spouse's special day. In August 2017, Reynolds wished his wife a happy birthday, but conveniently cropped her out of a photo of the two of them together. Classic.
Lively had the last laugh in this birthday battle, as she seriously upped the ante for her October 2017 post for her husband. She not only cropped her husband out of a photo, but actually highlighted a totally different Ryan on her spouse's day: Ryan Gosling. Sorry, Reynolds, Lively definitely wins this round.
When they're not trading some birthday jokes, they're fooling around with some help from one of their famous roles. In one of their most hilarious moments on Instagram, the pair even involved Reynolds' Deadpool (Producer: Lauren Shuler Donner) turn in their shenanigans. Can these two be any more hilarious?
The gorgeous couple aren't always super-jokey with each other on social media. Sometimes they've gotten pretty serious about what makes their relationship work. In 2017, Reynolds spoke about Lively and what she meant to him in an interview with Humans of New York. He told them, "She always responds with empathy. She meets anger with empathy. She meets hate with empathy." He also noted that it was Lively that helped him get through the passing of his father, with whom he had a strained relationship with. There's nothing all that jokey about that; it's just a beautiful sentiment.
You know what they say: The couple that can joke around together, stays together. And Lively and Reynolds definitely know how to joke around with each other and keep things light. Whether they're goofing around on each other's birthdays, trading quips around on Valentine's Day, or even getting a little cheeky with some Deadpool help, these two are giving a new meaning to #couplegoals.