Blake's Reaction To Colton Being The Next Bachelor Will Only Make Fans Love Him More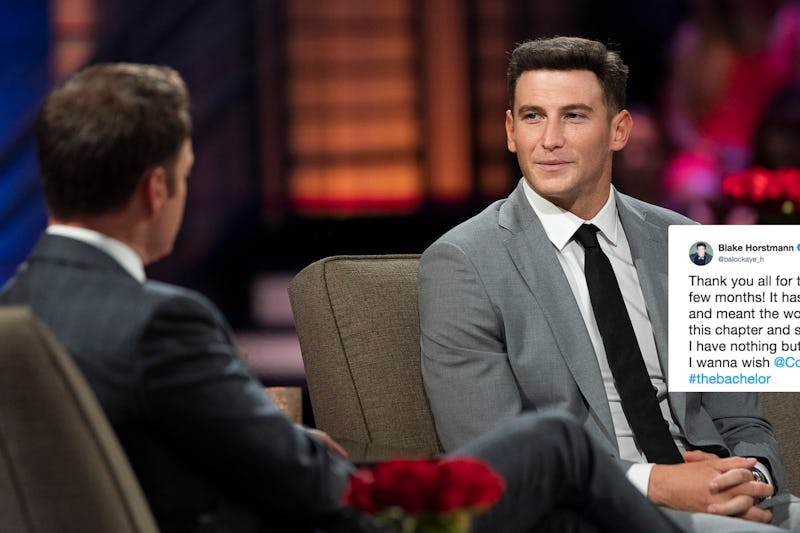 ABC/Paul Hebert; Blake Hortsmann/Twitter
On Tuesday morning, the news that Colton Underwood will be the next Bachelor shocked Bachelor Nation fans everywhere, mostly because the former NFL player wasn't exactly everyone's first choice. From Bachelor/Bachelorette alums to hardcore fans, it'd seemed that everyone had made an unspoken — or sometimes downright obvious — pact to support Blake Horstmann as the next Bachelor. So after Colton officially took that title, heads immediately turned to see Blake's reaction to the news that Colton is the new Bachelor. The fan-favorite took to Instagram to thank fans for pulling for him this summer. Along with a photo of himself, Colton, and fellow Bachelor front-runner Jason Tartick, Blake wrote,
"I wanna thank you all for the support over the last few months! It has been incredibly humbling and it means the world. There really is nothing like #bachelornation. I wouldn't change the man I am if I was the bachelor and wasn't going to change the man I am to become the bachelor. I am excited to close this chapter and see what the future holds!
"I have nothing but respect for these two and I wanna wish Colton Underwood luck on his Journey. I really truly hope you find the woman you wanna spend your life with! Good luck man!"
The Coloradan beer sales rep wrote his heartfelt message on a sweet photo, proving that he truly means his supportive words towards his Bachelor Nation friends.
The picture that Blake posted was the perfect choice considering that the three of them were rumored to be ABC's top three Bachelor picks for Season 23. For a lot of Bachelorette fans who watched Blake almost win Becca Kufrin's heart last season, it only seemed right that the runner-up should get his second shot at reality TV-born love.
According to Entertainment Tonight Blake's cast-mate from The Bachelorette, Chris Randone, felt that Blake deserved to become the new Bachelor following his rough heartbreak. Chris told ET, "He was so invested emotionally and Blake's heart was broken, there's no doubt about it, as was Jason and Colton's as well, but Blake was the last man there to get his heart broken and I think that should turn into him having a chance for redemption and finding someone that he could fall in love with."
Fans agree that Blake deserves as second shot at love, and some have even volunteered to participate in an "unofficial" Bachelor.
As much as many fans and Bach-alums campaigned for Blake, an equally robust squad championed Jason as the new Bachelor star. According to E! News, Becca rooted for Jason as the new Bachelor, as did Colton's ex, Tia.
While Bachelor Nation fans were divided over the choice between Jason or Blake, most people had agreed that Colton shouldn't become the new Bachelor.
Just as fans so often yell at their TVs when Bachelors or Bachelorettes hand out roses to the "wrong" contestants, sometimes ABC's choice for who gets an entire season of TV devoted to their search for love rubs people the wrong way. While fans may feel slighted by the choice of Colton as the Bachelor, at least it seems that Blake doesn't have any hard feelings. And maybe that's just what some fans need to get on board with Bachelor Colton.