Blue Ivy & Jay Z Give Beyonce A Standing Ovation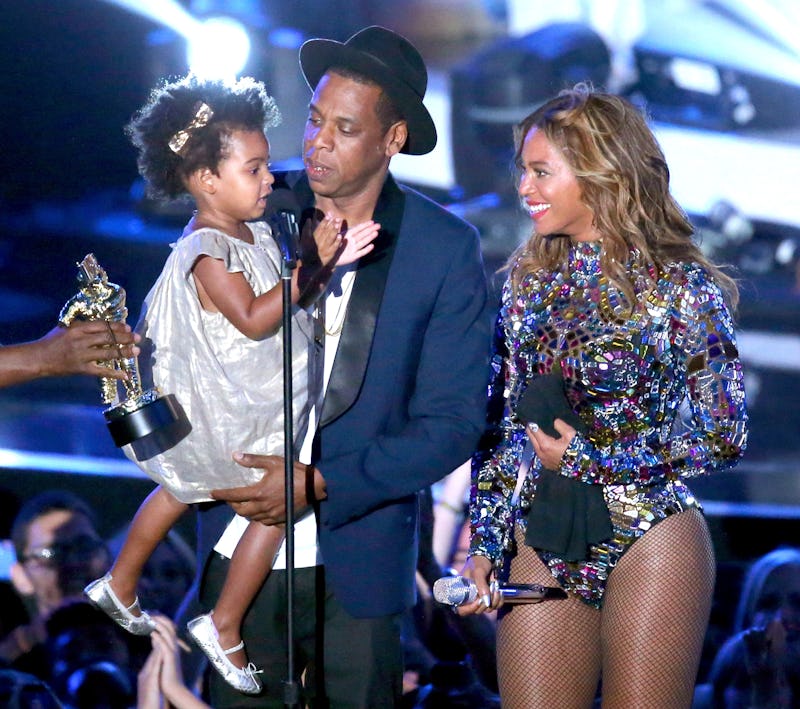 Mark Davis/Getty Images Entertainment/Getty Images
The 2017 Grammys were always going to be a show worth tuning in for, but the addition of a Beyoncé performance made it an absolute must-see. The Queen always gives it her all whenever she performs onstage, but the fact of her recently-announced pregnancy made this particular awards show appearance something totally special. And watching Jay Z and Blue Ivy react to Beyoncé's Grammys performance made the whole thing even better, because OMG, this family could not be any cuter.
As Beyoncé took the stage to perform "Love Drought" and "Sandcastles" off Lemonade, her husband and young daughter (who was adorably dressed as Prince!) watched from the audience. Although their reactions weren't shown for most of the duration of Bey's performance, a shot at the very end saw the duo clapping and smiling widely, giving her a standing ovation.
It's always great to see stars' families coming to awards shows to support them, but it's especially nice to see Jay and Blue there to support Beyoncé considering that the recent news that their family is expanding. Perhaps next year's Grammys will see Jay come to support his wife's performance with three kids in tow; how adorable would that be? One can only hope...
Look how proud they are. It's really just the best. Congrats, Beyoncé, on not only killing it on stage, but having the cutest family in the audience cheering you on.