Celeb Stylist Brad Goreski Is Convinced This Royal Wedding Moment Will Make Everybody Gasp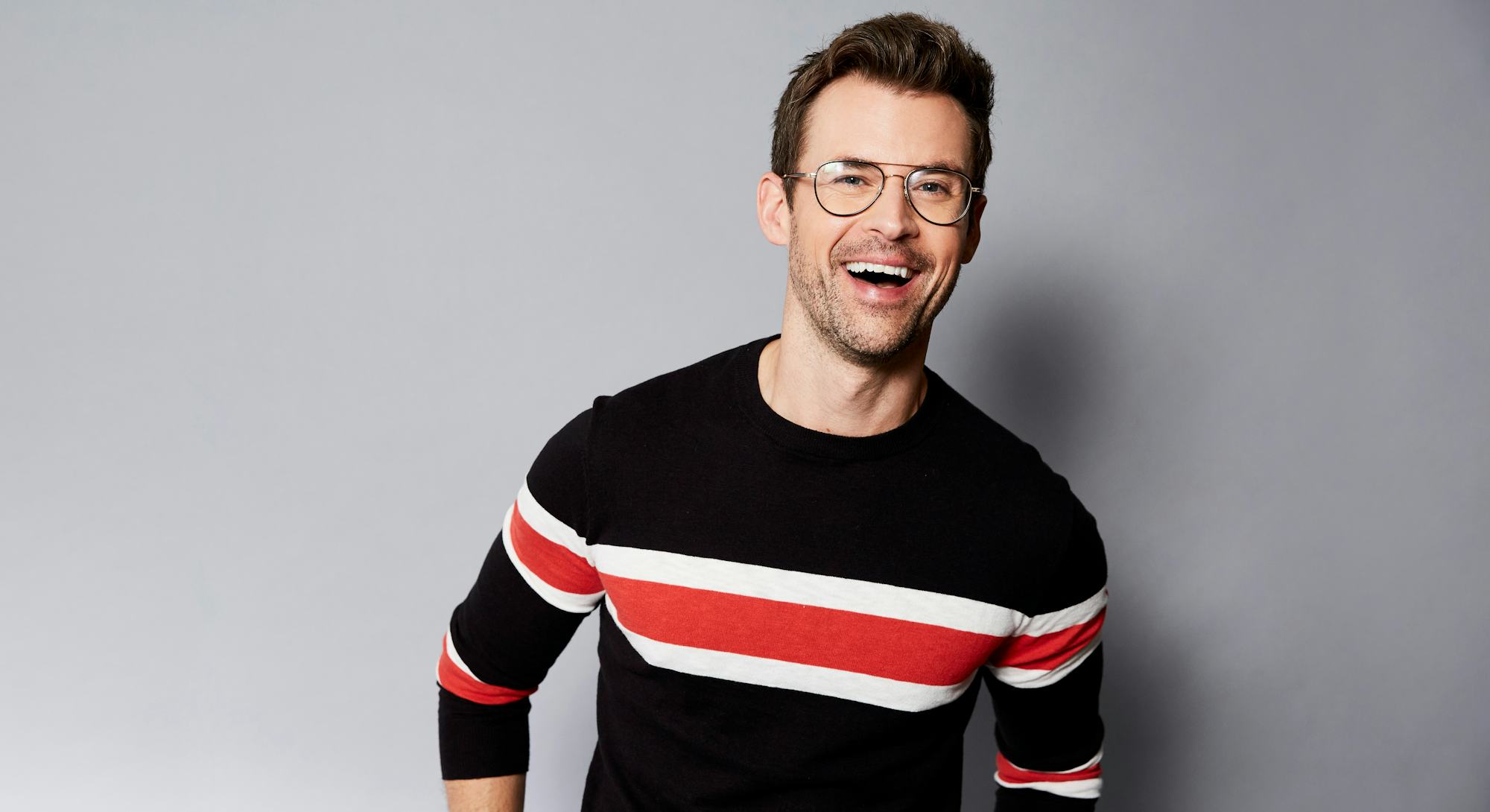 OK, fine: The glamour and intrigue of the royal wedding of Meghan Markle and Prince Harry has officially captured my attention, washing over me in waves of centuries-old tiaras and tulle. I wouldn't say I'm emotionally invested in their love story (though of course I wish them the very best), but I'm fully here for regal fashion moments of the highest key. That's why I sat down with celebrity stylist and E! News correspondent Brad Goreski to dish details: If anyone knows how to talk red carpet — or in this case, church aisle — fashion, it's him. The former style director for Hollywood fashion expert Rachel Zoe, Goreski has since grown into a fashion authority in his own right, styling celebrities like Jenna Dewan and Lea Michele and joins Giuliana Rancic and E! News on every Hollywood awards show red carpet.
Goreski will join Rancic and E! in Windsor on May 19 to cover all things wedding, from the guest arrivals to the official procession to the reveal of Markle's gown. Though the royal family hasn't given an official confirmation on which designer Markle will be wearing down the aisle, there is plenty of speculation — some say she will follow in the footsteps of Kate Middleton and wear Alexander McQueen, while others think she'll choose the same designer that she wore for her engagement photos, Ralph & Russo.
Goreski has his own predictions about Markle's dress, as well as a few other insights — including what Prince Harry might do with that beard.
Photographer: Lauren Perlstein
Photographer: Lauren Perlstein
Amanda Richards: Is this your first royal wedding? Were you covering William and Kate's?
Brad Goreski: No, I was in LA, but I was definitely watching. I don't have any specific memories of it, except the dress.
AR: Kate's, or Pippa's?
BG: Oh, are you talking about Pippa's? I was talking about Kate's.
AR: OK, fine, let's talk about Kate's. I suppose hers was more important.
BG: That Alexander McQueen gown was such a surprise to me, just because of [Alexander McQueen Creative Director] Sarah Burton, and also the legacy that Alexander McQueen left behind gown managed to check all the boxes of what we would want from a royal wedding, but also stayed very true to the DNA of that brand. I just thought it was such an interesting choice. And there have been rumors swirling around that Meghan's gown's going to be by Alexander McQueen as well, because Sarah's so in with the royals and knows the whole drill. But I think [Meghan} is going to throw a curve ball. I don't think she's going to go with the same designer.
AR: Do you think it's going to be [London-based couture house] Ralph & Russo?
BG: I do. I think they're definitely leading the pack. I think also in terms of her being American, being an American princess, and also coming from Hollywood as well... [their designs] either have some embellishment or some sort of embroidery, something that nods to more of a quintessential Hollywood princess look, rather than something that's very minimal.
The other rumor I'm hearing is that Stella McCartney's doing the gown. I think that that would be a very interesting choice. She does a great job of mixing in laces and mixing the old with the new. She was just at the Met Gala, [dressing] Miley Cyrus and Paris Jackson. But aside from that, we haven't really seen a ton of Stella McCartney on the red carpet recently. It makes me wonder whether or not they pulled everything back to have this big moment.
AR: Sarah Burton for Alexander McQueen, Stella McCartney, Ralph & Russo. If you had to put money on it...
BG: I'm going to say... Ralph & Russo. I think it could also be a huge moment to leverage their company, as well as do something for Meghan. Her choice of wearing them for her engagement photo — that showing of the skin, the embroidery — it felt like the perfect way to set the tone for her style. As far as the wedding, I really do think that the moment that the public sees her for the first time will probably be one of the most important moments for her as a royal. I think there's going to be a gasp worldwide where everybody sees her in her gown and literally falls in love with her.
AR: Do you think the gown will be a departure from her usual style, which is so pared down, simple, and chic?
BG: I don't think it will be full-on, I think it will be more about silhouette. I think it will be more about a very strategic and mindful use of any type of embellishment or embroidery. But I don't think it will be over-the-top.
AR: Now let's talk the sillhouette.
BG: I think the whole silhouette is going to be very streamlined. But if I were consulting with her on her wedding gown, I would want there to be a twist in there. Billions of people are going to watch this, and in my experience as a stylist and styling people for big moments like the Oscars or things like that, you want to be putting your clients in something that people are going to be talking about. It's got to be mindful and respectful of the rules of the royal family and of royal weddings, but I think it also has to have some sort of twist to it. There needs to be something for everybody to be talking about, aside from her being the most beautiful bride.
AR: Do you have any veil, tiara, or beauty predictions?
BG: She's definitely going to be wearing a tiara.
AR: Big or small?
BG: I think it's going to be small, or at least on the smaller side. I think it's probably going to be one that belonged to Diana — she has the two stones from Diana's ring on her engagement ring. The wedding band's going to be made out of Welsh gold. I think that there are going to be some very smart touches.
AR: Hair down?
BG: I personally hope hair up.
AR: What about Harry? We've been speculating on whether or not he's going to shave his beard.
BG: Hmm. You know, they're marching to the beat of their own drum. He's now, I believe, sixth in succession so he doesn't have to adhere to as many rules as William did. I would be telling him not to shave the beard. I think also that could, in a way, pull a lot of focus [off of the wedding in general]. That's basically like Meghan chopping her hair off into a bob on the day of her wedding.
AR: Yeah, it would be pretty jarring. To be honest, forget the bride and the groom. Which of the other guests do you think is going to have a big fashion moment?
BG: Priyanka. I think Priyanka Chopra will. Victoria Beckham, too. It really depends also who we see from the Hollywood side. I'm looking forward to Eugenie, seeing what she wears. I like her style. I love the idea of British hats. I love the tradition, I love the idea that the clothing itself doesn't really lend to a lot of self-expression because there's the length to consider — and the Queen prefers people wear hose, she doesn't like open-toed shoes, she doesn't like wedges. I love that contrast [of the hats] because it's like business on the bottom and then like party on the top. I'm really looking forward to seeing all the fascinators and headdresses — Philip Tracy prefers you call them headdresses, not fascinators. The fascinators, I think, are going to obviously be a big topic of conversation.
Roy Rochlin/Getty Images Entertainment/Getty Images
Carlos Alvarez/Getty Images Entertainment/Getty Images
AR: Speaking of the Queen, these days, she always dresses in one color. Which color is she going to choose?
BG: I'm going to say purple.
AR: I know she's a fan of yellow so I was thinking maybe she'll wear that, but she wore that for William and Kate's wedding. She looked so beautiful, like a perfect little yellow lady.
BG: I only say purple because purple is associated with royalty. I think that that would be like a double statement — just to remind everybody.
AR: What are you wearing?
BG: Well, I had — actually, thank you for asking me.
AR: Of course, I want to know!
BG: I actually did this last minute, but I wanted to feel like I was part of the experience. I had a three-piece grey suit with a blue windowpane made by Isaia — they custom-made it for me. They made it in two days. I fit and picked the fabric in New York, they sent it to Italy. Italy made it for me in two days and I tried it on yesterday, and it came out perfectly. I have never worn a three-piece suit on TV before. I just really want to look polished and smart and something that's pleasant for people to stare at for five hours.
AR: Thinking about that turnaround time is stressing me out.
BG: Same here. Two days.
AR: Also, you picked out a fabric in New York and had a suit custom-made for you in Italy — you are basically a royal at this point.
BG: Listen, they also sent it with a personalized hanger that had my name engraved in the hanger.
AR: How does your excitement for this compare to the other red carpets in Hollywood?
BG: This is a whole thing. E! is doing five hours of live coverage, so we start at 5 a.m. ET and go until 10 a.m. We cover every single angle. We're going to be talking about every attendee, every guest. Of course we're going to be talking about Harry when he arrives, Meghan, his family, her family and then the ceremony. This is unlike anything I've ever experienced before. There are no secrets anymore, either. We usually hear rumblings, or we get like a tease on Instagram, or I hear through the grapevine who people are wearing. But with this, we might all be wrong, too. I'm kind of excited to be right, but I'm also hoping that we all go like, "No she didn't. No way, that's who she went with?" I think it's really a big historical moment, and to be a part of it is great.
This interview has been edited and condensed for clarity.