Brad Pitt Just Obliterated Trump's Coronavirus Comments On 'SNL'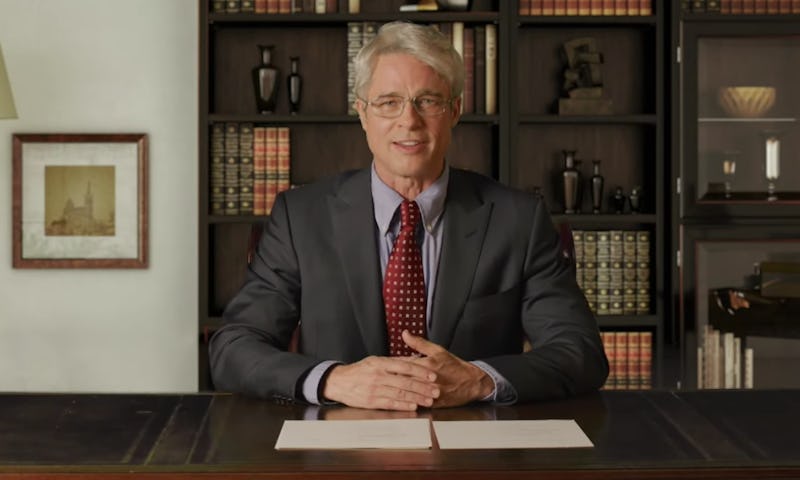 Screenshot courtesy of NBC
During the second "At Home" episode on April 25, a surprise guest opened SNL: Brad Pitt appeared as Dr. Anthony Fauci. Audiences watched various footage of Trump's recent press conferences about coronavirus, after which Fauci — the head of the National Institute of Allergy and Infectious Diseases and part of Trump's White House Coronavirus Task Force — tried to explain what exactly the President was saying...or rather, fact-checked his wild claims.
After a sound bite of Trump claiming that several companies, with whom he'd had meetings, were "gonna have vaccines I think relatively soon," Pitt's Fauci clarified, "'Relatively soon' is an interesting phrase. Relative to the entire history of Earth? Sure! The vaccines are gonna come real fast. But if you were to tell a friend, 'I'll be over relatively soon,' and then showed up a year and a half later, well your friend may be relatively pissed off."
After another Trump quote, in which the President claimed that COVID-19 tests are easily accessible, Pitt responded, "When he said, 'Everyone can get a test,' what he meant was, 'Almost no one.'" By the time it got to Trump's recent suggestion that disinfectant could be "injected" into the body in order to treat coronavirus, Pitt just stared dumbfounded into the camera.
At the end of the cold open, however, Pitt removed his wig and spoke honestly to the camera. He first thanked Dr. Fauci for his "calm and...clarity in this unnerving time," then applauded medical workers, first responders, and their families, for being on the front line.
As several Twitter users pointed out, Dr. Fauci recently joked that he hoped Pitt would play him on SNL. Looks like his wish came true — and unlike many celebrity impressions on the show, he got a pretty nice compliment out of it.