You Gotta See Britney Team Up With This Backstreet Boy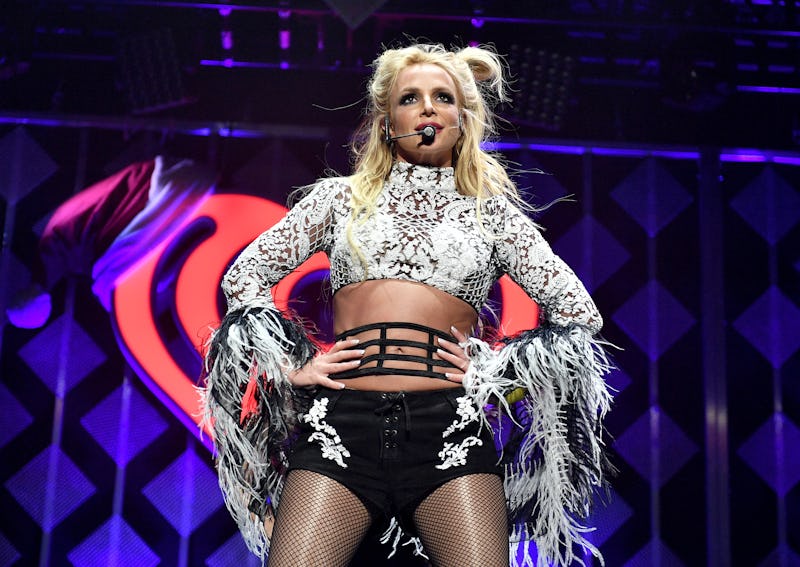 Mike Windle/Getty Images Entertainment/Getty Images
I don't think my eight-year-old self ever imagined that not only would Britney Spears be rocking a residency in Las Vegas, but that at least one day of said residency would feature a Backstreet Boy. But that is in fact the case, as Spears reunited with a Backstreet Boy in a very unconventional way during her Piece of Me show over the weekend. The pop singer was joined on stage at Planet Hollywood by the one-and-only sensitive softie of the group, Howie Dorough.
It's not surprising that a member of the BSB joined Spears in Vegas, as, after all, the musical acts are pursing residencies in Vegas alongside each other. And besides, in February 2016, Spears brought another member of the boy band onstage during her show: AJ McLean. What is surprising, and a little jarring for the eight-year-old that still lives inside of my heart, was what Spears did with the sweetest member of the Backstreet Boys. The entertainer called for someone to "come up here and play with me," and Howie D, who was sitting in the crowd, was the lucky winner. He hopped onstage to join Spears on her hit number, "Freakshow," and after a little song and dance, the willing participant found himself on stage in a harness.
Shortly after Dorough made it onto stage, Spears' leather-bound dancers leashed him up and pushed him on all fours. As he crawled forward, the woman of the hour held the leash and gently (I hope) whipped his boy band tushie to the continuous "wooos" of the crowd. Apparently, everybody loves a Britney Spears/Backstreet Boys crossover in any form, even one as, uh, intense as this one.
But the fans aren't the only ones who got a huge kick out of Dorough's cameo performance. The Backstreet Boys themselves got into the fun by sharing a video of the iconic pairing on the boy band's various social media accounts on Sunday. The caption reads, "Leave it to Britney Spears to bring out the freakshow in Howie D! What happens in Vegas..."
If this sort of thing is what happens in Vegas, I think we can all agree that it's time to book a trip to Sin City.