Vicki's Ex Got Married & 'RHOC' Fans Are Doing Whatever The Opposite Of Celebrating Is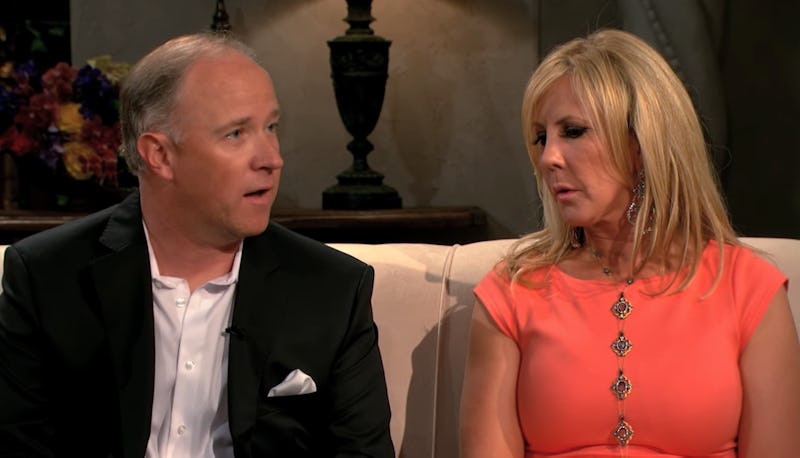 Bravo
If you're a Real Housewives of Orange County fan, you better brace yourself. E! News reported Monday that Brooks Ayers is married. You read that correctly. Vicki Gunvalson's ex-boyfriend, who was accused of faking cancer and admitted to fabricating cancer documents, is now a married man. According to E! News, Ayers updated his Facebook relationship status Sunday to "married" and changed his profile picture to him wearing a tux and his wife, Christy Ayers née Groves Lindeman, in her wedding dress.
Ayers confirmed his big news to E! News Monday by saying, "I'm moving on with life. I've never been better." He continued, "It's amazing. Her family's amazing — they were there with us. My parents were there."
They said "I do" in French Lick, Indiana in a "small white chapel" after meeting about a year and a half ago, per E! News. "She's an amazing young lady and I'm a very fortunate guy," he said about Christy, who originates from Ohio and has a 23-year-old son. He also called her "quite the catch".
The newlyweds currently reside in Indiana, but they are planning to move back to Mississippi, Ayers' home state. This way they can be closer to his parents and adult children. "My world is completely different than it was almost three years ago, in a great way," he told E! News. Ayers also spoke about his wedding with Us Weekly Monday and gushed, "I've never been happier!"
Ayers' marriage is difficult for RHOC fans to swallow, to say the least, especially after "Cancer Gate". In Season 10, the women couldn't figure out if Gunvalson's boyfriend really had cancer like he claimed he did at the time. It led to a season of drama and former Housewife Meghan King Edmonds even investigated Ayers' so-called cancer diagnosis.
In November 2015, Ayers stuck by his cancer diagnosis, but admitted to E! News he faked certain medical documents about his alleged cancer battle. His statement to E! read:
Words cannot express the deep regret that I have in fabricating documents to "prove" to the world that I, in fact, have cancer. What I did was wrong and inexcusable. I acted alone, without Vicki [Gunvalson]'s knowledge, to produce documents for a reality TV show in hopes of putting doubts about my cancer to rest. I never intended to disclose my actual medical records or details about my private and personal medical history, thus the rationalization of presenting documents that weren't true simply for a "storyline" for the show.
It's still one of the most shocking and unforgettable RHOC moments. So, to hear that he's actually married, well, fans are in total disbelief.
Really?
Some people are, of course, questioning the legitimacy of his marriage.
"Cancer Scammer Brooks Ayers"
He'll never escape it.
It's Laughable
According to Tamara Tattles, Ayers is now a medical sales rep in Indiana, which some can't help but laugh at.
"These Are Dark Times"
It's very dramatic.
It Isn't Possible
Seriously?
Sending Christy Condolences
Some fans can't even stomach to send her congratulations.
This Tweet Goes There
Remember when Gunvalson helped Ayers get new teeth?
It's A Lot To Take In
"#VickiDodgedABullet"
Is This Real Life?
How can this be happening, though?
This Sums It Up
That's how a lot of fans feel.
So far, it doesn't look like Gunvalson has responded to her ex-boyfriend's wedding news. As for Ayers, he doesn't want her commenting. He told E! News about whether or not he thinks he'll hear from the OG of the OC, "I hope not. I've moved on from all that drama for sure." Who knows if she'll react, but Gunvalson might be too busy with her new man, Steve Lodge, to even care. She's never seemed happier — and her daughter, Briana Culberson, likes him too.
It sure seems like both Gunvalson and Ayers have moved on from the cancer debacle and the rest of the drama he caused during his time on the show. As for RHOC fans, they'll never forgive Ayers or be happy for him.