Twitter Has Questions About BTS' NYE Performance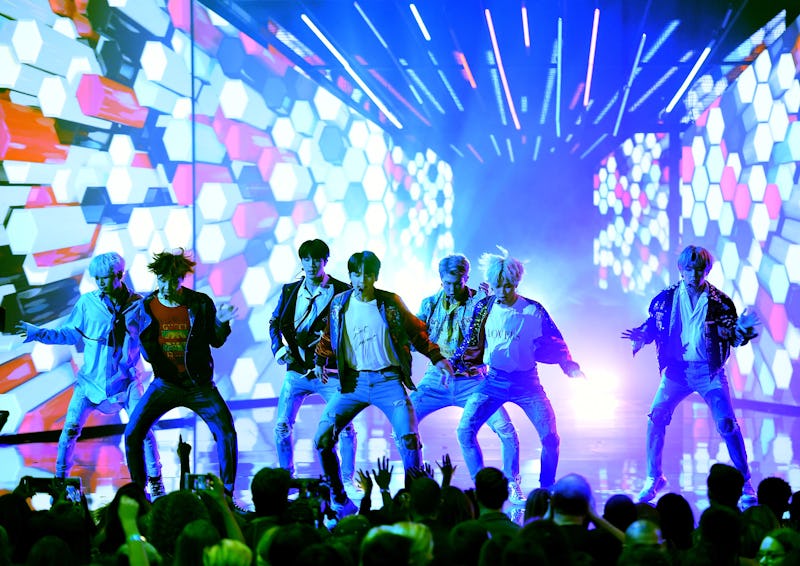 Kevin Winter/Getty Images Entertainment/Getty Images
The Army sure is proud of its boys, because BTS just made history on New Year's Rockin' Eve and crushed the performance. The band made the crowd wild with its hit "DNA," and although fans are ecstatic right now, Twitter has its questions. People are hitting social media to ask questions regarding who BTS is and *gasp* whether or not the guys were lip-syncing when they hit the stage. But of course, the Army is up in arms to address questions and defend its beloved K-pop group. After all, they didn't stay up all night anxiously awaiting from around the world for nothing.
After totally dominating 2017, BTS made TV history by becoming the first-ever Korean group to perform on the iconic special Dick Clark's New Year's Rockin' Eve. BTS' fan group "the Army" was determined to celebrate and make it a night to remember. After the performance, #BTSxRockinEve was trending worldwide on Twitter, even beating the show's hashtag #RockinEve. In 2017 (or wait, 2018?), that's fan dedication at its finest.
Although the group clearly has a rabid fanbase around the globe, it's still beginning to make waves and get attention in the US. But there's no denying the guys are coming in with a bang. BTS made K-pop history with the hit "MIC Drop" when debuting on the Billboard Hot 100 at No. 28 (the first for any K-pop group). BTS also made its American live-performance debut at the 2017 American Music Awards in November and has made its rounds in the late-night talk show circuit as well. If America isn't acquainted with BTS yet, it will be soon.
Still, people have their questions after the big NYE performance...
For one, when's the next song?
Before BTS even hit the stage, fans were already ready and eager for more. Twitter users complained about the fact that some artists (like Britney Spears) would be performing more than one song, but BTS only had one. But the Army shouldn't fret, because according to ComicBook.com, the band is slated to perform two songs total during the special.
Back it up, who is this?
OK, so not everyone is aware of BTS or who the guys are. BTS stands for "Bangtan Boys," or "bulletproof boy scouts" in English. The band is made up of seven South Korean male performers age 20 to 25. They make the ladies swoon all over the world and have an enormous social media presence with millions of combined followers. They have catchy tunes and killer dance moves, which brings us to the next question...
Why so many?
Yes, BTS sure can fill a stage. This isn't the days of the Backstreet Boys or *NYSNC with a five-member maximum (unless you were the iconic S Club 7, of course). BTS has seven guys: Jin, J-Hope, Jimin, Jungkook, RM (formerly known as Rap Monster), Suga, and V: The Series. They each auditioned to be in the group and why are there so many? Well, because each one is that good and they're even better together.
Why didn't they sing live?
This ambitious Twitter user and others who asked the same question are playing with fire. The Army quickly came out to argue that BTS didn't lip-sync (despite the group's extensive dance moves), and they never would. While Hollywood Life backed that notion and praised the band's "killer vocals," all bets are off when it comes to New Year's Rockin' Eve (hint: Mariah Carey). It hasn't been confirmed whether or not the band did lip-sync, but given the choreography, cold weather, and nature of the fast-paced broadcast, it wouldn't be a surprise if it did.
How are they here, anyway?
No, BTS isn't cloning itself. Yes, the band is that committed to ringing in the new year with as many fans as possible. Before hitting NYRE, BTS performed "MIC Drop" on the MBC War of Songs, an annual end-of-the-year music program in South Korea.
Are they clones?
Well, not only are they in the same age range and Korean, but they're all dripping with swag, talent, and good looks. Next question?
Why are fans so blessed?
BTS' good looks, moves, voices, and mesmerizing charisma have millions of loyal fans for a reason. Another reason to be extra excited and feeling #blessed for 2018: more BTS.
Lastly, why do haters gotta hate?
Because this is 2017 and hopefully the internet trolls will stay there. Regardless, BTS will prevail and continue to slay, proven by the NYE performance many are deeming the best of the night.