BTS Just Landed A New Gig That Will Have Them Making History Yet Again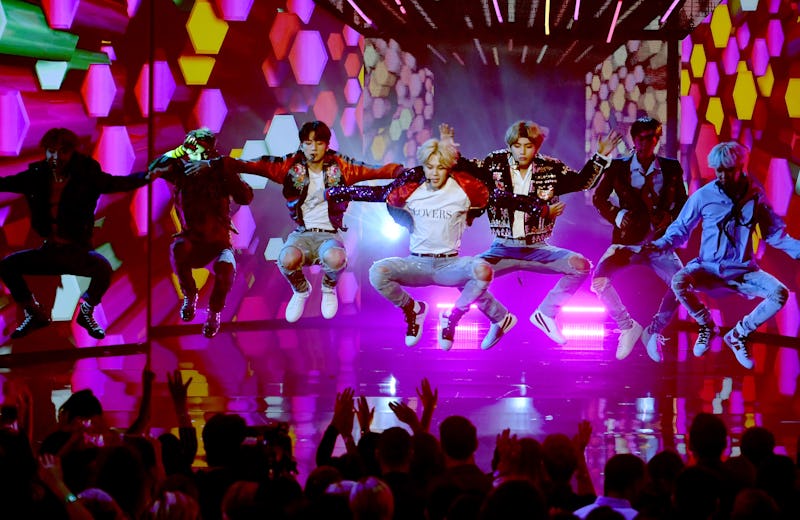 Kevin Winter/Getty Images Entertainment/Getty Images
At last, this K-Pop sensation is really making it big in the U.S. BTS will perform on Dick Clark's New Year's Rockin' Eve to start 2018 off right. Not only is the group going into the New Year with a bang, it's making history while doing so. At this year's annual televised event, BTS will be the first-ever Korean group to perform on the iconic show. It's completely fitting, seeing as how the group has been climbing charts, breaking records left and right, and making devoted fans around the world swoon all year long.
According to Billboard, BTS will be the second Korean act to ever perform on NYRE following PSY in 2013. BTS is blazing its way through the music world and has made exceptional accomplishments in the last few weeks alone. On Dec. 11, BTS was named a Billboard Top 10 artist in the publication's end-of-year list. BTS was ranked the No. 10 artist behind performers like Ed Sheeran, Bruno Mars, and Drake (and even beat Ariana Grande and Justin Bieber as the No. 1 artist on the Social 50 year-end ranking).
Just a few weeks prior in early December, BTS made Billboard history with "Mic Drop (Remix)," which reached No. 28 on the Billboard Hot 100 chart, making it the highest-ranking (and first-ever) song by a K-Pop group on the U.S. chart.
NYRE is hopping on the BTS train as other American shows have this year. On Nov. 19, the band made an American, live-performance debut of their hit "DNA" at the American Music Awards. About a week later, BTS made its U.S. daytime TV debut on The Ellen DeGeneres Show. And on Nov. 30, James Corden welcomed BTS to the States by throwing fruit at them on The Late Late Show (because how else would one do that?).
Needless to say, the group's social following is an internet force to be reckoned with. Back in May, BTS won the Top Social Artist Award at the Billboard Music Awards thanks to its rabid fanbase known as the Army. The group's momentum only accelerated throughout the year, and in early December, Twitter released data showing BTS was the most tweeted about celebrity of 2017... in the whole world.
While the BTS fandom has been strong in the group's home country of South Korea and in Asia for years, the group's buzz is rapidly gaining presence in the U.S. The success not only makes the group's fans thrilled, but is part of a larger picture about international stars breaking barriers abroad. Billboard's piece "How BTS' BBMA Win Proves K-Pop Can Compete & Thrive on a Global Scale" illustrates how genres like Korean Pop can compete with American Pop and beyond.
Fans can't wait to see BTS perform on New Year's Eve in just a few weeks, and they're so excited for the band and its huge U.S. opportunity.
BTS is made up of seven insanely talented young guys whose dancing and singing talents are seriously impressive. The band members write their own songs and clearly make dedicated efforts break distance and language barriers by speaking with fans beyond their home country — whether through their universal music or social media engagement. With millions of fans following the group on social media, these guys are doing their best to make them proud. The group's domination is on the rise, and there will likely be more TV, festival, and tour performances in 2018 fans can look forward to.
It's been quite a year for the breakout group, and it seems there's no better way for these guys to start the New Year than by making even more history.