What Happens When Makeup Pros Recreate Your Fave '90s Looks With Today's Products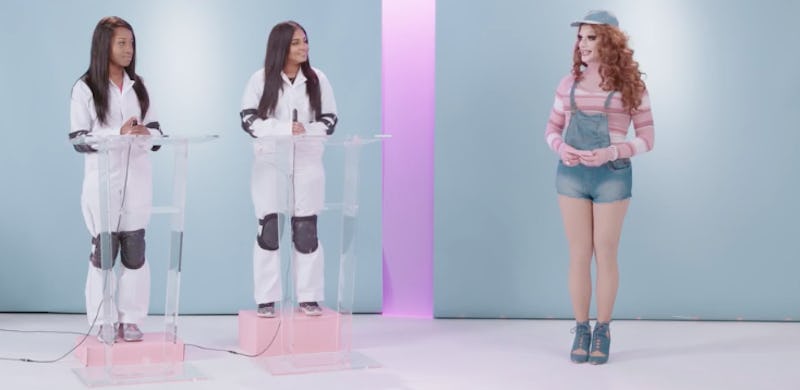 Bustle's 'Race 2 Face'
There's not much that brings people together quite like the winning combo of makeup and reminiscing about the wacky, weird time that was the '90s. Add a little bit of competition to that mix and you have Bustle's sixth episode of its makeup competition show Race 2 Face. Fittingly titled "Back To The '90s," this episode combines traditional game show competitions (think Double Dare) with an opportunity to watch artists be creative with makeup — and it's all extremely entertaining.
This week's Race 2 Face brought together makeup artists Kass Ediva and Krystal Paniaqua, both of whom have three years experience each as professional makeup artists — and cool social media pages to prove it . Hosted by NYC-based drag queen Ruby Woo, the episode starts with a trivia portion — and, yes, that part is all about the '90s, too. After answering questions about the Spice Girls, Clueless, and Caboodles, the contestants battle it out to gain an advantage in the next round of the competition. Once they answer the '90s trivia, the real fun is on the schedule. In true '90s game show fashion, next up is a physical competition to find products to bring into the actual makeup application part of the show (told you it was like Double Dare).
Through various makeup-themed physical challenges, Ediva and Paniaqua have to overcome obstacles (literally) to get their hands on makeup products that will help them complete their final looks. These obstacles include things like crawling through a tube of makeup and searching through tubs of ooey gooey foundation. While no one gets slimed at any point, it's still reminiscent of all your favorite teenage competition shows, adding to the fun.
Once the artists make it to the makeup application part of the show, they use the products they picked up in the physical challenges — these include items like Lime Crime lipstick, glitter, highlighter, and neutral eyeshadow palettes. While one artist opts to create a more grunge-inspired '90s look, the other chooses to mirror a Jennifer Lopez beauty moment. As the judges point out, both concepts leave a lot up to interpretation, and with only 15 minutes to complete each look, there's little room for error. Ediva and Paniaqua pull it off somehow, though. At the end of the 15 minutes, one model is rocking a decidedly '90s (though pretty subtle) matte look and the other (the one inspired by Jennifer Lopez) is a little more glowy, but still reminiscent of the best of '90s beauty, too.
The judges are split when it comes to what looks they like they best, even though they're impressed all around. Bustle Deputy Fashion and Beauty Editor Kara McGrath, Bustle Director of Editorial Operations Rosanne Salvatore, and Bustle Fashion and Beauty Editor Amanda Richards, are all impressed with the final looks from Ediva and Paniaqua, noting how much they'd like to rock the looks themselves. While Richards, Salvatore, and McGrath like both of the final looks, one makeup artist's look reigns supreme.
Indiciative of just how personal makeup is to individuals, the judges weren't in total agreement for who the winner was at the end of the show. All agreed that the beauty looks were absolutely gorgeous, though, indicating just how close the competition was.
Want to find out who came out on top? Tune in for the whole episode to see who's named the winner.
Bustle's Race 2 Face is the ultimate competition show for beauty lovers, with new episodes airing on Facebook every Monday. You can watch Race 2 Face Episode 1 and Episode 2 now. Ready, set, GLOW!