9 Quotes From Bustle's Rule Breakers Headliners That Will Motivate You To Shake Things Up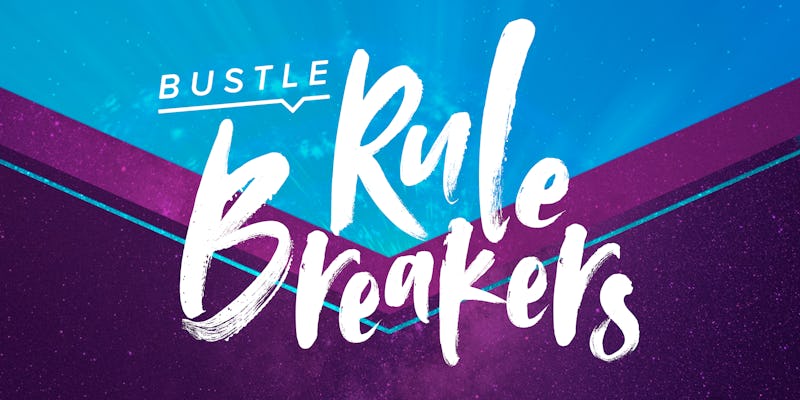 Today, Sept. 22, is the day. At LeFrak Center at Lakeside Prospect Park in Brooklyn, Bustle's Rule Breakers is happening. It's an especially exciting event because of the 2018 Rule Breakers performers. They're a group of influential musical acts who you'll want to see rock it out in person. But even if you didn't snag tickets, you can also read through these quotes from Janelle Monáe, Sofi Tukker, Va$htie, and Samantha Ronson to be just as inspired. Their words of wisdom will motivate you to shake things up, because sometimes there's nothing wrong — and in fact, a lot right — with breaking the rules.
Bustle's Rule Breakers is a celebration of female and non-binary boundary breakers everywhere, who don't define themselves by the expectations that society imposes on them. Yes, there will also be food, drinks, live music, and activities at the event, but the main focus is individuals who refuse to stay silent or abide by the societal rules we so often have been taught to follow. For examples of people rejecting those rules, look no further than Bustle's Rule Breakers digital issue, featuring a 2018 list of individuals who "refuse to do as they're told — and we're all better for it."
As for the event performers, they're talented individuals and rule breakers themselves. Most notably, headliner Monáe is an accomplished singer who has also made a name for herself as an actor in films like Moonlight and Hidden Figures. Then there is the Grammy-nominated musical duo Sofi Tukker (made up of Sophie Hawley-Weld and Tucker Halpern), who you probably recognize most for their hit "Best Friend." As for Va$htie and Ronson, they're both highly successful DJs who have made huge marks in their field.
With that, here are some quotes from our performers and musical acts that will inspire you to break some rules along your journey — if you haven't already.
1. "In songs like 'PYNK,' we're celebrating women — and not all women have vaginas or need to have a vagina to be a woman — but celebrating all of us. Celebrating all of the things that are beautiful about us in our sexuality. I was taught at an early age never to be open about how I feel sexually."— Janelle Monáe
As the September cover star of Bustle's digital issue, Monáe discussed sexuality. She made an important point that all women should celebrate who they are, because we are amazing. Plus, women shouldn't be afraid to embrace their sexuality, but rather find the beauty in it. There will always be someone who doesn't understand or disagrees with who you are, but never let that stop you from living your life freely and openly.
2. "We question the way we look or if we're coming across as a b*tch. Just be real with yourself. The story that you tell yourself [about who you are] is the story you're going to believe." — Va$htie
While speaking with Elite Daily in January 2016, Va$htie opened up about appearances and how women are constantly scrutinizing themselves thanks to society. Not to mention, if a woman stands up for herself it sometimes comes off as b*tchy. Well, take Va$htie's advice and be you, be real, and love yourself.
3. "We do no compromising. If we both aren't fully in love with it, it goes in the trash." — Sofi Tukker
This quote from Hawley-Weld in a July 2016 interview with The Huffington Post shows that if you don't like something, say so. It's OK to speak your mind and to never settle. When you refuse to stay silent, great things can happen.
4. "I just say, 'I'm an artist.' I hate when people — women especially — have to narrow it down. I don't use the 'DJ-slash-model' [label] because it's so small, and it's never the full story. I usually just say, 'I'm an artist!' I make things." — Va$htie
Like Va$htie told ELLE in July 2015, never allow anyone to put you in a box. You are so much more than what people think or label you to be.
5. "People have to start respecting the vagina. Until every man is fighting for our rights, we should consider stopping having sex. I love men. But evil men? I will not tolerate that. You don't deserve to be in my presence. If you're going to own this world and this is how you're going to rule this world, I am not going to contribute anymore until you change it. We have to realize our power and our magic." — Janelle Monáe
In 2017, Monáe opened up about respecting women in a Marie Claire interview. Now more than ever the treatment of women has come into the spotlight, especially with the #MeToo and Time's Up movements. Now is our time to let our voices be heard to make sure we're being treated like we've always deserved to be treated. And if we're not? Let the world know about it.
6. "I try to not have anything I do be dictated by what others expect." — Samantha Ronson
In February 2012, Ronson chatted with The Daily Beast about her music career. What makes this quote so great is how the DJ refuses to let anyone tell her who she should or shouldn't be as a person. She stays true to herself and lives her life exactly how she wants.
7. "Women automatically are told that this is how you should look. This is how you should get a man. This is how you should get a woman. You need to fit into all these boxes to be accepted. I don't subscribe to that way of thinking. I don't think we all have to take the same coordinates to reach the same destination." — Janelle Monáe
As one of Marie Claire's Fresh Faces in 2017, Monáe reflected on the ridiculous standards women are held up to, in addition to all of the boxes they are told they need to check off in order to live a happy and successful life. The singer's words are truly empowering and encourage everyone to embrace their uniqueness and to just say "no" to society's rules.
8. "I think people think I'm some asshole because I don't smile every time someone puts a camera in my face, or people think I'm cool but I'm not at all I'm just a big dork. I'm not at all a hater, people hate on me way too much for me to be a hater. I'm more of a positive person than people probably think." — Samantha Ronson
Far too often women are told to smile, but, guess what? We don't have to smile. Oh, and just because we aren't smiling all the time doesn't mean we're b*tches or that we are negative people, hence Ronson's quote she gave the Serial Optimist in June 2011. It's OK not to walk around with a constant smile. Never let anyone tell you how to live or who you are based on a facial expression.
9. "I would say just being really positive, bright stars no matter what's going on around us in the world. And a place where you can really smile and dance, and forget about the bullsh*t." — Sofi Tukker
In a May 2018 interview IEDM asked Sofi Tukker what the duo want their legacy to be. Halpern responded with the above quote. In a world filled with negativity, it's refreshing how positive Sofi Tukker is. It's how everyone should try to be: Don't feed into the hate or participate, but, rather, rise above it by making yourself happy and uplifting others in the process.
The only thing more impressive than the Bustle Rule Breakers musical acts' combined artistic vision is their vision for who they want to be — and want others to have the freedom to be, too. Did they inspire you to shake things up? Yes? Good.